A Reader Writes "...do you look into trying to time the purchase of your stock?"
Hello Friends! Thanks so much for stopping by and visiting my blog Stock Picks Bob's Advice! As always, please remember that I am an amateur investor, so please remember to consult with your professional investment advisers prior to making any investment decisions based on information on this website.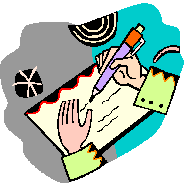 I really enjoy receiving emails and visits from readers. I especially enjoy receiving feedback from fellow bloggers like Andrew G. who writes G. Stocks, a blog well worth visiting!
Like so many intelligent readers of my investing methods Andrew finds my timing a little bit suspect. Couldn't there be a better way? Quite frankly, I am sure there are better ways to time things. I just want to try what I have described multiple times as an idiosyncratic system. But let me first get to Andrew's letter and then comment. Andrew wrote:
"Hi Bob, I really enjoy reading your blog. You do a great job analyzing the companies you review. I was wondering if you ever consider picking a stock to purchase, and then sitting on that decision until you see a valley in the stocks price? Your choosing strategy, of picking a top gainer, is a great way to find good stocks, but big gainers tend to always have a correction of some sort. Combine that with your -8% sell point and it seems like your strategy could cause you to sell a bit more then you'd like.

I recently scanned through some of your recent sells, knowing that if you picked the stock, it should be a good one. I took off the list any stocks that had obvious reasons for dropping, and actually ended up purchasing MLAB. I got it while it was round $20.70. This company has good numbers, a lot of potential for growth, and just seems like a well run company. It just seems like you had bad timing when purchasing it (at a peak). What do you think? Are your purchases solely based upon when you have a free pass to do so or do you look into trying to time the purchase of your stock?

Keep up the great blogging!
First of all Andrew I want to thank you for your continued support of my own blogging efforts. As a fellow blogger, you can imagine the time it takes to write up each of my entries. Way too much time lol. But I love doing it just the same. And readers like you make it all worthwhile!
On your question of entry points into stocks, you made a good observation on my awful timing on Mesa Laboratories (MLAB). I really did get whipsawed on that one even though there wasn't anything fundamentally wrong with the stock. But because of my own sale of MLAB on weakness,
MESA LABORATORIES (MLAB) IS RATED A HOLD

For me a sale of a stock when nothing seems wrong means that something is wrong somewhere else besides the stock itself. I do not know if you follow but I use my own portfolio as a 'barometer' of the market itself. Like the canary in the coal mine that historically was used to indicate poor air conditions, my own stock portfolio is what I use to indicate to me that something is rotten in the market itself.
Let's review that MLAB position. Going back in my own portfolio history, I can see that I purchased MLAB on 5/23/07 when the stock was selling at $24.00. I then sold my MLAB shares on 8/14/07 when the stock hit $22.20 triggering my loss limit. I pulled the plug on my share and haven't looked back.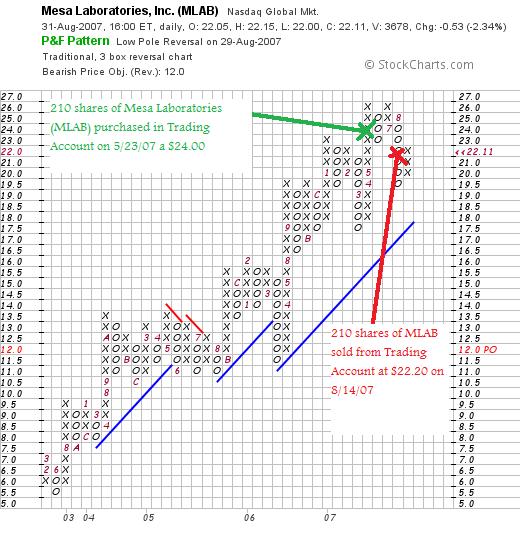 On May 23, 2007, when I purchased my Mesa Labs stock, the
NASDAQ closed
at 2,577.05. On August 14, 2007, the NASDAQ had dropped to close at 2,499.12. This was about 78 points lower from the purchase price. It wasn't exactly a rout, but the NASDAQ wasn't exactly acting healthy at that time.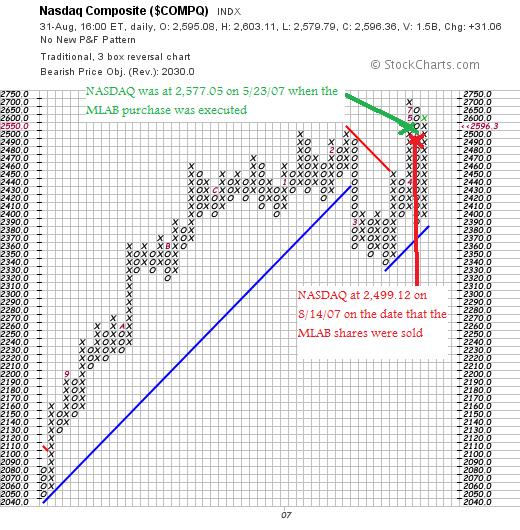 I really don't want to overstate the significance of these charts. I am not sure if they even make the point. But my basic point is that I trust the actions of my stocks. Whenever I think that I am smarter than the market then I really ought to hang it up. I believe strongly in my ability to select what I really think are high quality companies. Without some fundamental information to explain an unexplained drop in a stock, I have to assume there are other factors working on the stock price and I don't second guess. I sell my shares.
This doesn't always work. But it works well enough for me.
Now you asked actually about entry points. You could be right on this one. Probably it is a bit risky to buy them on daily momentum indicators. Many stocks sell off after making a move higher. But then again, after screening through these names, I am only buying the shares of companies with the best characteristics that I have identified over and over again.
A lot of what this blog is about is being successful at investing. Not at necessarily being the most successful of any technique. If I can simply consistently or often stay ahead of the market, then I shall be successful more than a multitude of investors. Anyhow, that's my goal.
Good luck with you MLAB stock! I often revisit stocks after I have sold them when the circumstances are right. However, to answer your question, if I haven't done so already, I don't buy stocks unless I have a "permission slip" and that stock is on the top % gainers list on the day that I make a purchase. So no, I don't wait for a stock to pull back to make a purchase.
I want my system to be easy. I don't want to rely on my thinking and intuition. Every time I do that I open myself up for more errors. My portfolio talks to me loud and clear. I just need to listen!
Thanks again for writing and reading and linking to Stock Picks! Your support is greatly appreciated and your kind words and intelligent questions are welcomed!
If any of you have comments or questions, please feel free to leave them on the blog or email me at bobsadviceforstocks@lycos.com.
Bob