Snap-On (SNA)
Hello Friends! Thanks so much for stopping by and visiting my blog, Stock Picks Bob's Advice! As always, please remember that I am an amateur investor, so please remember to consult with your professional investment advisers prior to making any investment decisions based on information on this website.

I wanted to try to be brief this evening as I actually have some plans to attend to! I wanted to review Snap-on (SNA), a stock that I do not own any shares or options, but a stock that I do believe belongs on the blog.
SNAP-ON (SNA) IS RATED A BUY
First of all, Snap-On made the list of top % gainers on the NYSE today, closing at $50.50, up $3.21 or 6.79% on the day. The stock rose today after the company announced strong 3rd quarter 2007 results, with increasing revenue and earnings. The company beat expectations of analysts both on earnings and revenue results.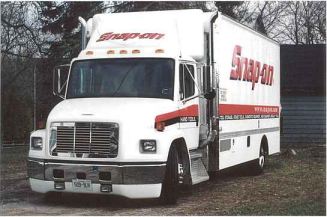 Longer-term, the company has virtually a perfect
Morningstar.com "5-Yr Restated" financials page
, with steady revenue growth, increasing earnings, increasing dividend, stable outstanding shares, growing free cash flow and a solid balance sheet.
Finally, the 'point & figure' chart from StockCharts.com looks strong with a steady recent price appreciation.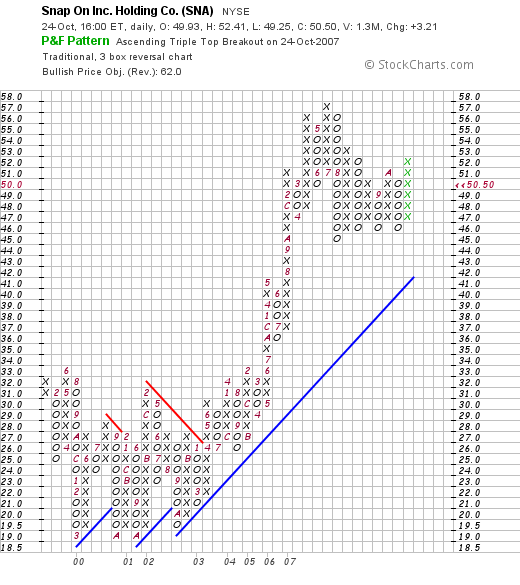 Valuation-wise, per the
"key statistics" from Yahoo
, the company has a trailing p/e of 20, a PEG of 1.43, and minimal shares out short.
This is the kind of stock that deserves a spot on my blog, if not a place in my portfolio in the future!
Thanks so much for dropping by! I hope you don't mind this brief entry; I may well move towards briefer posts and let you do some of the grunt work with the links :).
If you get a chance, drop by and visit my Covestor Page, my SocialPicks page, and if you are interested, take a look at Prosper.com, the person-to-person lending website that I have started getting involved with. Be sure to be aware of all the risks involved in participating in unsecured loans that can also default, but you have to admit that this website is pretty amazing and a preview of what the Internet can offer all of us in the future!
Bob