Interactive Intelligence (ININ) "Revisiting a Stock Pick"
Hello Friends! Thanks so much for stopping by and visiting my blog, Stock Picks Bob's Advice! As always, please remember that I am an amateur investor, so please remember to consult with your professional investment advisers prior to making any investment decisions based on information on this website.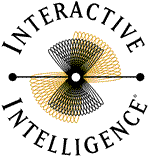 I wanted to give a brief post this afternoon on Interactive Intelligence (ININ) and why I think
INTERACTIVE INTELLIGENCE (ININ) IS RATED A BUY
First of all, ININ had a great day today in an otherwise mediocre market. ININ made the list of top % gainers on the NASDAQ, closing at $24.60, up $2.06 or 9.14% on the day. I do not have any shares nor do I have any options on this stock.
This is a 'revisit' for me, as I first posted Interactive Intelligence on Stock Picks Bob's Advice on June 30, 2006, when the stock was trading at $14.27.
Here is the 'point & figure' chart on ININ from StockCharts.com with my purchase price/date highlighted: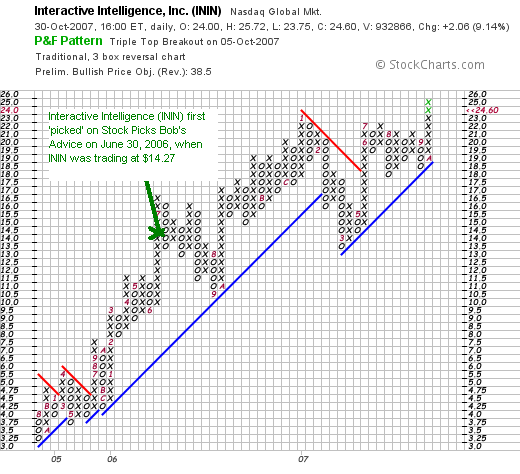 A couple more points to make. ININ reported their
3rd quarter 2007 results
yesterday after the close of trading. Disregarding a one-time tax benefit in 2006, revenue came in at $28.7 million for the current quarter, up 29% over revenue of $22.2 million in 2006. Operating income climbed 23% to $2.1 million from $1.7 million in 2006 and non-GAAP earnings were $.17/share this quarter vs. $.12/share last year (taking out the one-time gain in 2006.)
The company beat expectations as analysts, according to Thomson Financial, expected profit of $.12/share on revenue of $26.9 million.
Finally, the Morningstar.com '5-Yr Restated' financials appear quite solid, with steady revenue growth, steady earnings growth, stable outstanding shares, steady improvement in free cash flow, and a solid balance sheet with no long-term liabilities reported at all.
This is the kind of stock I would be buying if I were buying shares today. In any case, thanks for dropping by! If you have any comments or questions, please feel free to leave them on the blog or email me at bobsadviceforstocks@lycos.com. Be sure and visit my Stock Picks Podcast page, my Covestor page where my trading portfolio is analyzed, and my SocialPicks page where that website assesses the quality of my stock picks--at least since early this year.
Bob