U.S. Global Investors (GROW) "Weekend Trading Portfolio Analysis"

Hello Friends! Thanks so much for stopping by and visiting my blog, Stock Picks Bob's Advice! As always, please remember that I am an amateur investor, so please remember to consult with your professional investment advisers prior to making any investment decisions based on information on this website.
It has been several weeks since I last discussed an actual holding of mine on this blog. In fact, almost a month has passed since I reviewed Covance (CVD) on this blog. Going alphabetically (by symbol) through my list of 15 holdings, I am now up to U.S. Global Investors (GROW).
Let's take a closer look at GROW and I will show you why it still makes sense for my portfolio and whether it still represents an "investable" company.
U.S. GLOBAL INVESTORS (GROW) IS RATED A HOLD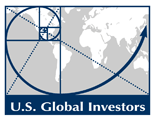 Currently I own 245 shares of U.S. Global Investors (GROW) that were purchased October 10, 2007, at a cost basis of $21.27. GROW closed 11/2/07 at a price of $22.30, giving me an unrealized gain of $1.03 or 4.8% since my purchase.
When would I sell the stock next?
Assuming the stock continued to appreciate in price, my first targeted sale on the upside is at a 30% appreciation point. For GROW and my purchase, this represents a price of 1.30 x $21.27 = $27.65. At that point I would plan on selling 1/7th or 245/7 = 35 shares. If the stock should decline sufficiently, I shall sell all of my shares. Since I haven't sold the stock yet at a gain, the price on the downside remains at an 8% loss limit, or .92 x $21.27 = $19.57.
What exactly does this company do?
According to the Yahoo "Profile" on GROW, the company

"...through its wholly owned subsidiaries, provides mutual fund management services. It provides investment advisory services to institutions and individuals; transfer agency and record keeping services; mailing services; and distribution services to mutual funds advised by the company. The company primarily invests in early-stage or start-up businesses."
How did they do in the latest quarter?
On September 12, 2007, GROW announced 4th quarter 2007 results. Revenue for the quarter ended June 30, 2007, came in at $21.83 million up from $18.96 million the prior year. Net income was reported at $6.41 million or $.41/share, up from $5.62 million or $.37/diluted share the prior year.

Assets under management increased 33.9% from the prior year to $4.61 billion from $3.44 billion the prior year same period.

In another vote of confidence for the stock, GROW doubled the monthly dividend to $.02/share from $.01/share.
How about longer-term results?
Reviewing the Morningstar.com "5-Yr Restated" financials on GROW, we find that revenue has dramatically increased from $7.5 million in 2003 to $58.6 million in 2007. Earnings have also increased from $0 in 2003 to $.20/share in 2004, dipped to $.10/share in 2005, then rebounded to $.70/share in 2006 and $.90/share in 2007. Meanwhile, shares have been stable at 15 million since 2003. The company does pay a dividend which is listed at $.30/share in the trailing twelve months (TTM).

Free cash flow has also grown from $1 million in 2005 to $5 million in 2006 and $8 million in 2007.

The balance sheet appears solid with $15 million in cash, which by itself could easily pay off the current liabilities of $8.7 million. No long-term liabilities are reported. In addition, the company has another $22 million in other current assets.
What does the chart look like?
Taking a look at the "point & figure" chart on GROW from StockCharts.com, we can see that the stock has had a strong run from the $6.00 range in March, 2006, to a high at $35 in December, 2006. Unfortunately, the stock has not exceeded that high, even after a strong run in April, 2007. Currently, the stock has broken through the main support line at $21 in July, 2007, and is struggling to find new support to move higher.

I am not prepared to sell the stock at this time and am awaiting the soon to be announced earnings for the first quarter of fiscal 2008. The earnings reported last quarter were strong, the Morningstar.com report was strong, but the chart doesn't inspire me to think too confidently about this stock. Thus the "hold" rating.
Thanks for stopping by and visiting my blog! If you get a chance, be sure and visit my Stock Picks Podcast Page, my Covestor Page, and my SocialPicks Page. The Podcast is a companion to my blog, the Covestor site is useful as an analysis of my actual Trading Portfolio (including this stock) and my SocialPicks page is a general overview of all of my stock picks the past year.
If you have any comments or questions, please feel free to leave them on the blog or email me at bobsadviceforstocks@lycos.com.
Bob
Posted by bobsadviceforstocks at 4:55 PM CDT |
Post Comment
|
Permalink
Updated: Saturday, 3 November 2007 4:59 PM CDT