Mea Culpa "Admitting an Error in Trading!"
Hello Friends! Thanks so much for stopping by and visiting my blog, Stock Picks Bob's Advice! As always, please remember that I am an amateur investor, so please remember to consult with your professional investment advisers prior to making any investment decisions based on information on this website.
I messed up today. I would like to apologize to my readers and to myself. (Can one really apologize to oneself?) In any case I would like to dissect this error a bit. Yesterday I was feeling particularly brilliant about moving into Graham (GHM) Friday and then exiting Monday with a nice gain. And success went right to my head. This is why I have all of these trading rules. I don't do well when I am doing it seat of the pants style.
Even so, I still reserve the right to 'take a chance' on any particular investment as long as the bulk of my entire portfolio is still with my relatively rigid trading rules. But I do not think I shall be doing too much of this when the rest of my portfolio is working just fine.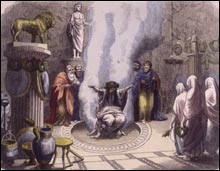 This is the picture of the 'Oracle at Delphi'. As opposed to the Oracle of Omaha, the Delphi Oracle is thought to be the originator of the phrase "Know Thyself." As related:
"The best known Delphic injunction was carved into the lintel at the Temple of Apollo: GNOTHI SEAUTON, Know Thyself. These words may have originated in Apollo's response to a question Chilon of Sparta asked: "What is best for man?" The reply, "Know thyself," is similar to the one believed to have been given to the Lydian king, Croesus, when he was told that he must know himself if he would live most happily. Croesus, a man of action and not philosophical, took this to mean that he should know his own strength, know what he wanted, and should rely on his own judgment. Others have found deeper meaning in these words, taking the "self" to mean the higher self, the true Self; to imply that as man is the microcosm of the macrocosm, he who knows himself knows all."
And I am still learning to 'know myself' even after 40 years of investing! I like to believe that I am a good trader, that I can pick a stock that may move higher that day, and then sell it a few moments ago. But frankly, that is a talent and knowledge-base entirely different from my stock-picking strategy. I think I am pretty good at 'picking investments' and really pretty lousy at 'picking trades'. There is a big difference between investing and managing a portfolio and trading stocks over the short-term.
Ironically, both of these two stocks: Graham (GHM) and Bolt (BTJ) share some similar criteria that allowed me to fool myself that since I had done well in one on Monday, I could do well with the other on Tuesday :). What I mean is that both of these companies are involved in the petroleum industry, Bolt in exploration, and Graham in refining. Both are AMEX stocks, both have small cap size with outstanding shares in the single digit millions of shares, and both are stocks that have great Morningstar.com reports and have been subjects of my reviews on this blog.
One big difference.
Momentum.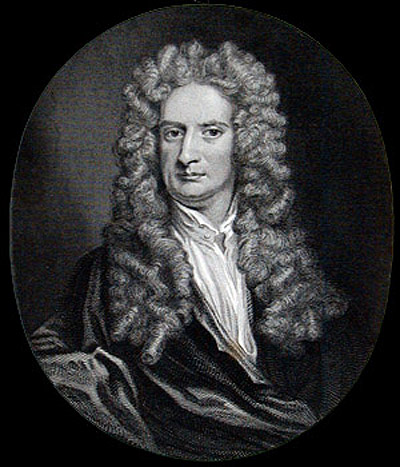 Isaac Newton expressed this best in his First Law of Motion in 1686 in the "Principia Mathematica Philosophiae Naturalis":
"A body continues in a state of rest or uniform motion in a straight line unless made to change that state by forces acting on it."
Graham (GHM) had positive price momentum when I bought it the other day. Bolt (BTJ) didn't. Graham was noted to be on the top % gainers list when I thought of investing in it, Bolt was something I thought about first rather than by evaluating the top gainers. What a world of difference!
So I apologize to all of you for this diversion. As I like to state, I am always learning about the market and yes, I am learning about myself. I tend to work best in a fairly rigid, rule-framed investing situation. I don't do as well just 'shooting from the hip'. There is so much more in picking up stocks for a trade that I really don't understand. For the time being, I shall leave these trades alone (until I break all of my rules once again!)
Anyhow, that's what happened. So today, when the market was moving higher, and virtually every single stock in my regular portfolio participated as they should, my over-sized investment in Bolt (BTJ) brought down my overall portfolio performance to just under break-even. I hope I learned my lesson.
Thanks so much for stopping by and visiting my blog! If you get a chance, you might be interested in listening to my Stock Picks Podcast. Furthermore, to see more about my actual trading portfolio, be sure and visit my Covestor Page. And if you would like to review some of my picks from the past year, be sure and stop by and visit my SocialPicks page.
Thanks again for visiting! If you have any comments or questions, please feel free to leave them on my blog or email me at bobsadviceforstocks@lycos.com. Wishing you all a wonderful Tuesday evening and a successful trading week.
Bob
Posted by bobsadviceforstocks at 8:05 PM CST |
Post Comment
|
Permalink
Updated: Tuesday, 27 November 2007 8:16 PM CST