Commscope (CTV) "Trading Transparency"
Hello Friends! A quick update on my Commscope (CTV) purchase. The stock really seemed to be out of steam today and with this oversized purchase sitting in my portfolio, I decided to sell 1/2 of the position, 300 shares, which I sold at $45.86. This was a loss of $(.51)/share or (1.1)% since purchase.
I am still learning.
In retrospect the biggest weakness in the Commscope purchase is not about the fundamentals which still look strong. It is just technically, the stock is fighting for support, so to speak, needing to move higher to confirm the resumption of a bullish move to the upside. Take a look at the "point & figure" chart from StockCharts.com: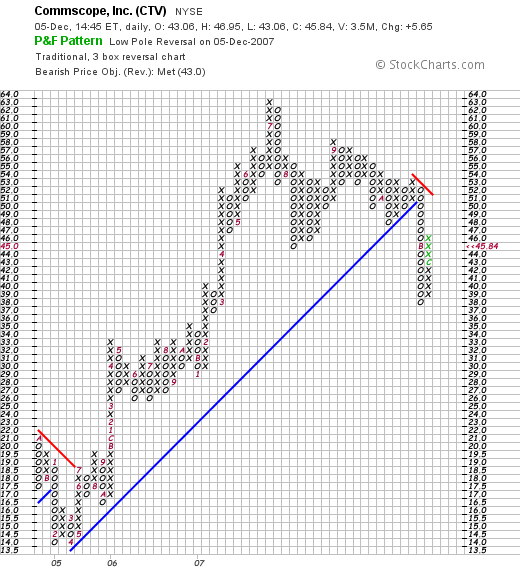 Quick confession. I didn't look at the chart before making this trade. Last time I do THAT. The stock price appears to have broken down in October at about the $51 level. A good move higher above that level would be required to establish a reliable challenge to this change in price momentum. Anyhow, that's my amateur assessment of the situation.
I have left 1/2 of my 600 shares of CTV. And unless the stock breaks down further, will try to ride this portion higher as I did with my Bolt (BTJ) shares. I am still learning and hope you are learning with me as well.
If you have any comments or questions, please leave them on the blog or email me at bobsadviceforstocks@lycos.com.
Bob