Esco Technologies (ESE)
Hello Friends! Thanks so much for stopping by and visiting my blog, Stock Picks Bob's Advice! As always, please remember that I am an amateur investor, so please remember to consult with your professional investment adivisers prior to making any investment decisions based on information on this website. I was rather excited about my new Seeking Alpha affiliation....o.k. it is just another website, but I really am an amateur, and this is big stuff :). (This is really new, so they haven't even posted an article yet....I shall have to wait and see how this works out!)
And it is late (9:30 pm Wisconsin time) and I have to be up at 5:00 to get out and do my walk at the University. I am a confirmed couch potato, but have been working at increasing my activity of late....besides the markets aren't open that hour anyhow. I generally get into rather heated political discussions with my fellow walkers....but that is another story as well.
What I am trying to get at is I want to make this a brief entry and instead I am writing word after word trying to explain to you why I want this to be short. Now does that make sense?
There wasn't any follow-through from yesterday's big rally as the market closed today (3/12/08) at 12,1110.24, down (46.57) and the Nasdaq closed down (11.89) at 2,243.87. Oil charged ahead over the $100 level closing at $109.92, and gold continued to push the $1,000/ounce level closing at $4.70. It really wasn't the kind of trading day to make an investor smile.
But back to my review. (If those Seeking Alpha folks had read this before they certified me I might never had gotten that medal!)
Esco Technologies (ESE) made the list of top % gainers today, closing at $41.06, up $3.99 or 10.76% on the day. I do not own any shares or options of this stock.
In a nutshell, this company that produces devices for the electric utility business, reported an order for 88,000 electronic devices from PG&E and has a
potential for up to 4.1 million 'gas units' over the life of this contract. With the price of natural gas going through the roof, the 'street' liked this report and I guess figured Esco was in the right business at the right time :).
O.K. keeping it simple, the last quarter reported on February 7, 2008, was solid. The Morningstar.com "5-Yr Restated" financials look great, and the point and figure chart from StockCharts.com, appears to show that the company is breaking through recent resistance on the upside and is far from over-extended!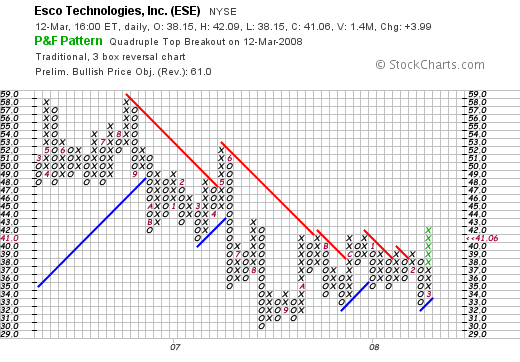 With all of this in mind,
ESCO TECHNOLOGIES (ESE) IS RATED A BUY
O.K. that was briefer than usual. But did it make my point?
Thanks so much for stopping by and visiting my blog. If you have any comments or questions, please feel free to leave them on the website or email me at bobsadviceforstocks@lycos.com.
Yours in investing!
Bob