ResMed (RMD) "Trading Transparency"
Hello Friends! Thanks so much for stopping by and visiting my blog, Stock Picks Bob's Advice! As always, please remember that I am an amateur investor, so please remember to consult with your professional investment advisers prior to making any investment decisions based on information on this website.

A few moments ago I sold all of my shares of ResMed (RMD), which amounted to 150 shares, at $38.46. These shares were purchased 2/4/05 at a cost basis of $29.87 giving me a long-term gain of $8.59 or 28.8% on these shares.
This sale brings me down to my 'minimum' portfolio size of 5 positions. I have set my maximum at 20 positions and my minimum at 5. What this means is that with this sale, as before, since it is on 'bad news', which means selling on a defensive basis as part of a decline, I shall be 'sitting on my hands' with the proceeds. That is, I shall not be replacing this position.
However, since I am now at 5 positions, if any of these are sold on 'bad news' I shall be looking for new stocks to replace them. I hope you follow this 'strategy'.
I would also like to explain the why of my sale.
Basically after my initial purchase of ResMed (RMD), I had two partial sales at appreciation targets--at 30% and 60% appreciation levels. My approach to stocks requires me to sell stocks if they decline to certain levels. After an initial purchase, I sell a stock if it declines to an (8)% loss. After a single sale at my first appreciation target (30%), I sell if a stock declines--slips back--to 'break-even'. With additional sales, my sell-point is increased to 50% of the highest appreciation sale. With ResMed having been sold partially at a 60% appreciation level, this means that when the stock dropped to under a 30% appreciation level I was given the 'signal' to sell the stock.
Actually, the stock was 'flirting' with a sale yesterday as it bounced at that 30% appreciation level under and over. I hoped it wouldn't break through but with today's market weakness, ResMed dipped and I sold shares.
Even though I still 'like' the stock from the good 3rd quarter report and the decent Morningstar.com '5-Yr Restated' financials, with my own sale, the best I can do:
RESMED (RMD) IS RATED A HOLD
If we look at the ResMed "point & figure" chart from StockCharts.com, we can see the technical weakness with the stock, after peaking at $56 in February, 2007, has struggled to move higher, failing to make a new high in December, 2007, when it reached $54, and then breaking through support currently.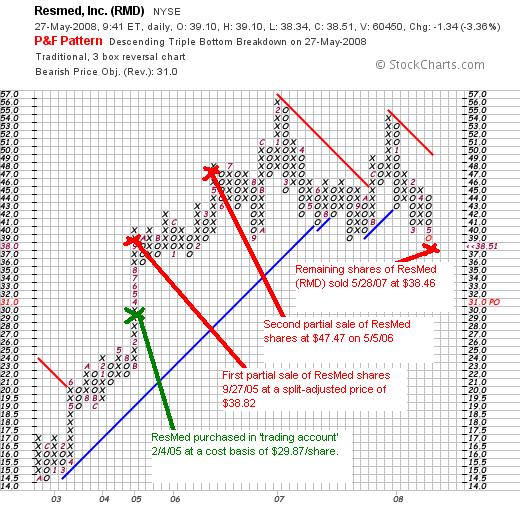 This isn't about 'liking' a stock. I like ResMed a lot. But my trading system required me to part company with the shares. Successful trading is about some sort of discipline and I try hard to depend on my own trading rules to succeed. I hope that I shall be a shareholder in this stock in the future, but for now.....
Thanks again for stopping by and visiting! If you have any comments or questions, please feel free to leave them on the blog or email me at bobsadviceforstocks@lycos.com. If you get a chance, visit my Covestor Page where my trading account is tracked, my SocialPicks page where all of my stock picks for the last year-and-a-half have been monitored, and my podcast page where you can download some mp3's and listen to me discuss a few of the many stocks I write about here on the website.
Yours in investing,
Bob