A Reader Writes "I am trying to figure out how the blogs are ranked..."
Hello Friends! Thanks so much for stopping by and visiting my blog, Stock Picks Bob's Advice! As always, please remember that I am an amateur investor, so please remember to consult with your professional investment advisers prior to making any investment decisions based on information on this website.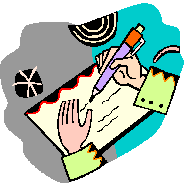 I had a nice letter from Neil this afternoon who had some general questions about my blog. He wrote:
"I am trying to figure out how the blogs are ranked and who gets the most readers. How is yours? Also it sounds like your an amateur, do you work also?

Neil

I trade some, but find it difficult to beat the overall markets, I think I over trade, ever heard that before......"
Thanks so much for writing Neil. I also am not sure how 'blogs are ranked'. I guess that is determined by the particular website doing the ranking. One of the more reliable blog ranking services is Technorati.
I found this explanation about how Technorati goes ahead and rates blogs:
"Technorati Authority is the number of blogs linking to a website in the last six months. The higher the number, the more Technorati Authority the blog has.

It is important to note that we measure the number of blogs, rather than the number of links. So, if a blog links to your blog many times, it still only count as +1 toward your authority. Of course, new links mean the +1 will last another 180 days.

Technorati Rank is calculated based on how far you are from the top. The blog with the hightest Technorati Authority is the #1 ranked blog. The smaller your Technorati Rank, the closer you are to the top."
Well that at least is how Technorati does it.
What about some other rankings? I found this explanation about how Google Blog Search ranks blogs:
"Positive factors affecting blog rank:


How many RSS subscriptions there are to the blog.
How often people click on a link to the post in

search

results

.
How many blogrolls the blog is in.
How many "high quality" blogrolls the blog is in.
If the blog offers visitors the chance to tag posts, whether people are tagging them.
References to the blog by sources other than blogs.
PageRank.

Negative factors affecting blog rank:


If new posts appear in short bursts or at predictable intervals.
If the content of the posts doesn't match the content of feeds from the posts.
If the content includes a lot of spam related keywords.
If a lot of content is duplicated in multiple posts from a blog.
Whether posts are the same size, or roughly the same size.
Link distribution of the blog.
If posts primarily link to one page or site."
Then of course there are other lists of top blogs. For instance Wikio offers a list of the top 300 blogs.
Here is a list of the Top 100 Personal Finance Blogs by FIRE Finance (a website I am not very familiar with).
I even found a list of "Finance Blogs Readability Ranked" to help determine how "readable" some of the more popular blogs are.
Finishing up with Technorati, this is a list of the top 100 blogs broken down by "number of fans". I suspect this is the sort of list you were looking for.
You asked about how "popular" my blog is. At least on this main website, you can find out about my visits on my Sitemeter Page. Checking this evening, the 'counter' relates that I have had 209,921 total visitors and average 126 visitors/day.
In terms of getting a good review, probably the nicest review I have ever received came fromValueWiki that discussed the Most Popular Finance Blogs. They commented about my blog:
"Some of you point out that Alexa rankings are occasionally dubious. I agree the system is not perfect (I blogged about Alexa accuracy here), but it's the least bad system we've got. BobsAdviceforStocks made number 1 on my list of Ten Great Finance Blogs Flying Under the Radar but is not included on the list below because the tripod.com domain does not give him an Alexa ranking. Unfair! I've included technorati whereever possible. Let me know if you have suggestions on how to make the list more comprehensive (or fair!). Look for an update Tuesday."
They wrote me up in this Ten Great Finance Blogs Flying Under the Radar as their #1 choice. So that was a great comment from them. I hope I can live up their review.
And the other part of your question---yes I do have a full-time job not involving investing. And I do spend far too many hours blogging about investing and stocks! And yes I am an amateur---if by amateur you mean a non-investment-professional!
I am sorry to hear about you not keeping up with the market.
You are not alone.
Most mutual funds also underperform the market.
As this Motley Fool article points out:
"Though countless millions of dollars of shareholders' money is spent annually by mutual funds promoting themselves and the notion that they have "expert" stock pickers, the sad truth (or the funny truth, if you're in a laughing mood) is that the vast majority of mutual funds underperform the returns of the stock market (as represented by the S&P 500 index). Because of their excessive annual fees and poor execution, approximately 80% of mutual funds underperform the stock market's returns in a typical year. Over the past couple of years, that number has been going up, as mutual funds have been raising their fees to even higher levels.

The average actively managed stock mutual fund returns approximately 2% less per year to its shareholders than the stock market returns in general. There is currently no reason to believe that this differential will improve, or that actively managed mutual funds as a group can ever outperform the stock market's average returns. For that reason, investors who are going to invest in mutual funds rather than in individual stocks should hold a very, very, very strong bias toward investing in index funds, which invest across the board in a stock market index."
I hope that helps answer your questions and comments Neil! I greatly appreciate the time you took to write and I hope that my answers are helpful.
We all work hard to do a bit better than the market. Generally, when I follow my disciplined approach (which I didn't do today!), I have been pretty good at least keeping up with the S&P.
If you have any other comments or questions, please feel free to leave them on the blog or email me at bobsadviceforstocks@lycos.com.
Yours in investing.
Bob