McDonald's (MCD) and Walgreen (WAG) "Trading Transparency"
Hello Friends! Thanks so much for stopping by and visiting my blog, Stock Picks Bob's Advice! As always, please remember that I am an amateur investor, so please remember to consult with your professional investment advisers prior to making any investment decisions based on information on this website.
As one of my basic strategies for dealing with my investments and managing my cash and equity balances, I utilize predetermined sale points for all of my holdings both on the upside and downside after an initial purchase. Sales on appreciation are considered "good news" and generally result in a purchase of a new holding. This is contrasted with sales on the downside, which I refer to as "bad news" signals that result in a shift from equity into cash.
Earlier today my holding in Walgreen (WAG) reached a first appreciation target--a gain of 30% in stock price after an initial purchase and I sold 1/7th of my holding. I purchased 77 shares of Walgreen in my Trading Account on March 27, 2009, at a cost basis of $26.73/share. I sold 11 shares of Walgreen (WAG) today at $34.75 for a gain of $8.02 or 30% since purchase. Since I currently ownly hold 6 positions, well under my maximum of 20 holdings, this sale on "good news" generated a purchase signal for me, and I added a new position into my trading account.
Recently I have been refining my purchases of positions trying to address the question of not only what and when to buy but to deal with the matter of 'how much'? This question became apparent when my portfolio, during the worst part of the correction, dipped to a minimum of 5 holdings. As these occasionally needed to be sold on losses, and yet reflecting my own desire to maintain a minimum of 5, I needed to address the problem of replacing losing holdings with similarly sized holdings in spite of their sale on 'bad news. Initially I chose to replace them with holdings 50% of the average of the other positions. Subsequently I have decided that 80% or 4/5 of the size of the remaining holdings made reasonable sense to me.
However, with a shrinking position size, conversely I needed some approach that would enable me to increase the size of these downsized holdings as the market improved so that new positions would be more 'normal' in value. Thus, I have chosen to add new holdings at a level of 125% of the value (5/4) of the other positions held in the portfolio. You can see that as a market firms, my new positions will continue to grow in size; when the market is very weak, my replacement holdings will diminish in value.

With my buy signal in hand, I chose to purchase 52 shares of McDonalds Corp (MCD) at a price of $56.18. I recently reviewed this company but would like to touch on some of the updated financial underpinnings to this decision. Unfortunately for me I purchased shares just before the Fed announced its decision to leave short-term interest rates unchanged at near zero, but commented that economic activity had "picked up" since the last Fed meeting in August. As should be expected, the skittish market understood good news to be bad news and sold off shares. Somehow, any comment that things had "picked up" was enough to convince an inflation bear that interest rates would be heading higher soon. Although there appears to be little in the announcement to justify that assessment.
In any case, McDonald's (MCD) closed at $55.54, down $(.27) or (.48)% on the day, a bit under my own purchase price at $56.18.
Much has been written about McDonald's being "recession-resistant". We do know that the recession has hit upscale restaurants hard! Recently The Motley Fool labeled McDonald's as "recession-resistant". Intuitively, I view McDonald's as the high-quality, clean-store, good-value and consistent product offering that also represents comfort foods in this rather uncomfortable time of steep unemployment numbers and economic slowing.
But let's get back to McDonald's and why I like it as an investment.
The latest quarterly report came in July 23, 2009 as reported. The company's earnings actually dipped to $1.09 billion or $.98/share down from $1.19 billion or $1.04 billion in the year ago period. Revenue would have actually climbed 4% except for currency fluctuations. The company beat expectations of earnings of $.97/share (they reported $.98) but missed expectations on revenue of $5.7 billion (they reported $5.65 billion).
Interestingly, it was a strong dollar that led to adjustments in revenue. When local currency remains stable and the dollar soars, each unit of foreign currency means less dollars reported. If the converse is true, then global revenue should be increasing in the next report due to dollar weakness. Of course, I am not a currency expert, but it could make one wonder! In fact as this article noted:
"Stifel Nicolaus & Co. analyst Steve West told investors that the August results were worse than anticipated, but he expected further benefits in foreign exchange rates would help McDonald's overcome any weakness in the monthly metric."
However, the company continues to do well globally. These same-store sales results are reported in local currency, and represent consumer interest in the product. As reported:
"Same-store sales - or those at outlets open at least 13 months -- rose 4.8%, including a 3.5% rise in the U.S. Europe was up 6.9% and the Asia/Pacific, Middle East and Africa rose up 4.4%."
Longer-term, except for the recent dip in revenue, the "5-Yr Restated Financials" on Morningstar are impressive. Revenue has climbed from $19 billion in 2004 to $22.5 billion in the trailing twelve months (TTM). Earnings have increased from $1.79/share in 2004 to $3.77/share in the TTM. The company pays a nice dividend and has grown it from $.55/share in 2004 to $1.88/share in the TTM. The company appears to have a reasonable cushion on its dividends with a payout ratio of 50%.
Outstanding shares have been held steady with 1.27 billion in 2004, declining to 1.13 billion in the TTM. Free cash flow continues to be strongly positive with $2.6 billion in 2006 in creasing to $3.6 billion in the TTM.
The balance sheet appears reasonable with $3.6 billion in cash and other current assets compared with the $2.8 billion in current liabilities. The company does have significant long-term debt reported at $13.1 billion.
Checking the Yahoo "Key Statistics" we can see that this is a 'large cap' stock with a Market Capitalization of $60.61 billion. The trailing p/e is 14.72 and the p/e is moderate at 14.72. The PEG is a tad rich at 1.59.
There are 1.09 billion shares outstanding and only 10.28 million shares out short representing 1.3 trading days of volume (the short ratio). The company pays a forward dividend of $2.00/share yielding 3.6%. The last stock split was more than 10 years ago, a 2:1 split on March 8, 1999.
Taking a quick look at a 'point & figure' chart from StockCharts.com, we can see that the stock moved strongly higher from $25.00/share in June, 2005, to a high of $64 in August, 2008. Over the past year it has traded in a tight range between a low of $45 and $62. It appears to have found a new level of support and does not appear over-extended.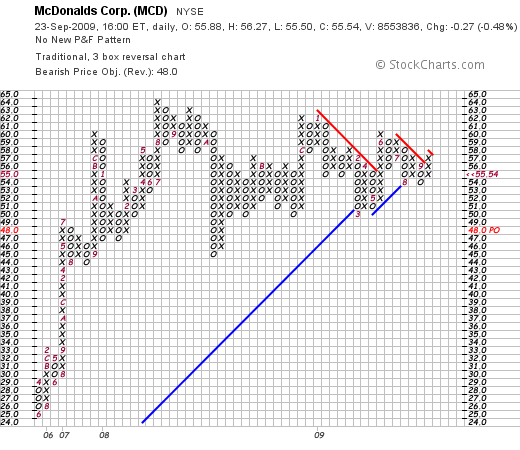 To summarize, my Walgreen shares hit a first partial sale point on the upside triggering a 'buy signal' in my own trading strategy. The small portion of Walgreen (WAG) was sold and a new position in McDonald's (MCD) was established at a slightly larger size than my other positions as was indicated.
I like McDonald's both from its well-established brand, its ability to innovate in a mature market, its reasonable valuation and its solid dividend. I believe we are still working ourselves out of a rather severe recession and that the value both in the stock and the product it sells will play out well for me. Now, if I can only avoid super-sizing any fries, I shall not have to worry about my ever-struggling diet :).
Thanks for stopping by! If you have any comments or questions, please feel free to leave them on the blog or email me at bobsadviceforstocks@lycos.com.
Yours in investing,
Bob