Iron Mountain (IRM) "A Friend Asks...."
Hello Friends! Thanks so much for stopping by and visiting my blog, Stock Picks Bob's Advice! As always, please remember that I am an amateur investor, so please remember to consult with your professional investment advisers prior to making any investment decisions based on information on this website.
Over the last seven years I have enjoyed getting up way too early to get myself over to the La Crosse Exercise and Health Program where I try to at least get out and walk a few miles with some really great people and graduate students. We manage to talk about our children, sometimes grandchildren, spouses, politics, the weather, and offer our sage advice to the University of Wisconsin, La Crosse graduate students getting their degrees in exercise physiology.
Recently I have been prompted a time or two about my thoughts on Iron Mountain (IRM) by Jerry H. (in the front in the middle below) a good friend of mine and fellow walker in our 3 mile walking group. Jerry has been very interested in stocks and has made some very good picks (Netflx (NFLX)) and other stock investments like Wachovia that haven't worked out quite as well.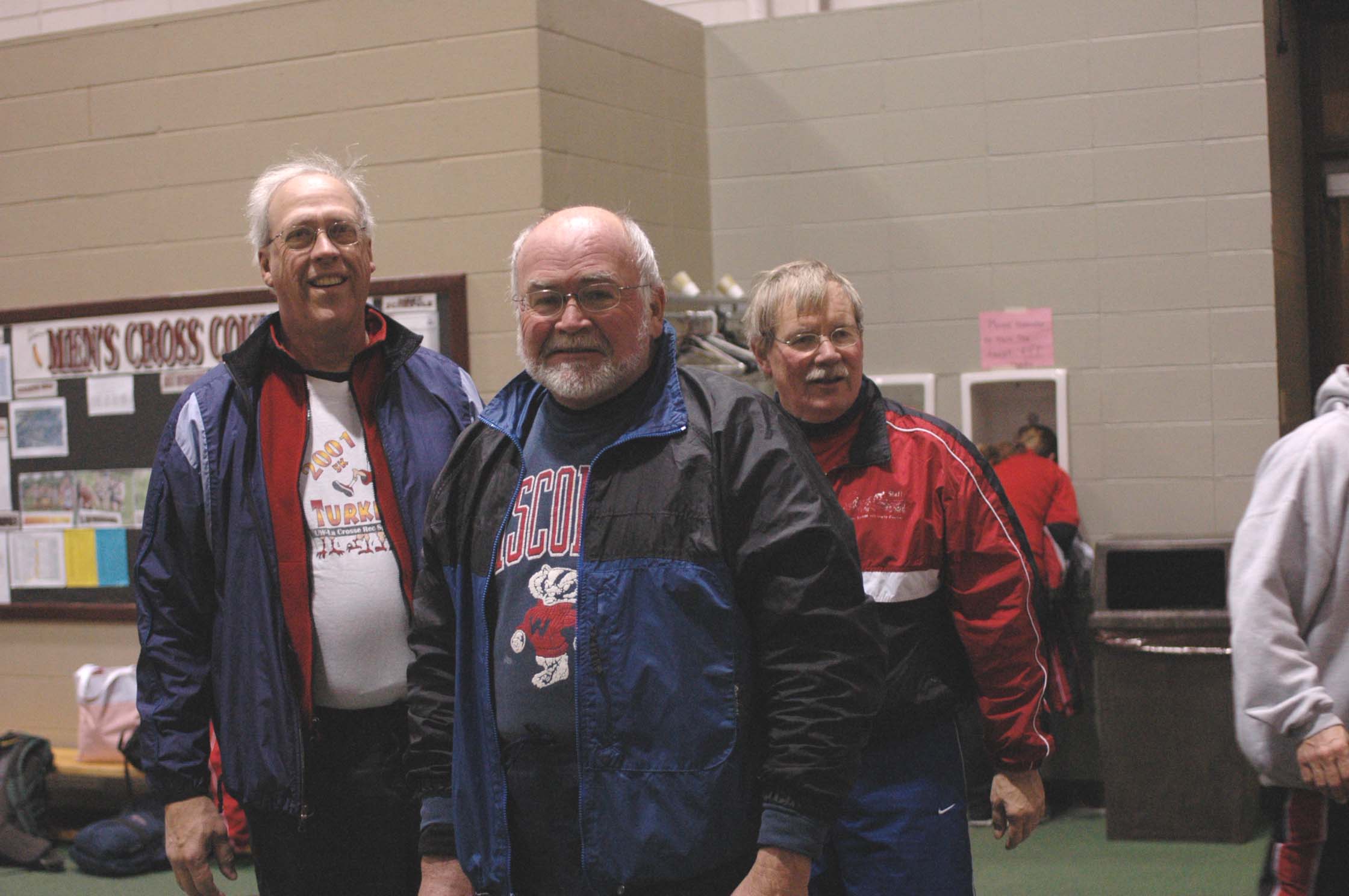 Recently he has been quite interested in Iron Mountain (IRM) which he recently switched for Cintas (CTAS). He has been asking me about this stock telling me he was putting limit prices and I suggested if he wanted to buy the stock to just go ahead and buy it at the market.
Jerry did that today and it didn't work out very well. In fact, in the midst of the big market rally today, his recent purchase of shares in Iron Mountain (IRM) moved in the opposite direction.
Jerry emailed me with this comment:
"Great! Been chasing the damn thing for a couple of weeks with limit order buys, then some guy in my exercise group says, "Just do a market order buy." So I do that and the damn thing drops 8% at that very moment.
IRM Iron Mountain Inc (IRM) 25.80 -2.20 (7.86%)"
That "guy" was me.
Let's take a closer look at this stock and see if it looks like Jerry made a good purchase and that the stock price move should be ignored or whether this price decline may be a sign of greater weakness in the future.

As Jerry pointed out, Iron Mountain (IRM) closed at $25.80, down $2.20 or (7.86)% on the day.
According to the Yahoo "Profile" on IRM, the company
"...provides information management and related services for various media in North America, Europe, Latin America, and the Asia Pacific. It offers records management, data protection and recovery, and information destruction services. The records management services include records management program development and implementation to help customers comply with specific regulatory requirements; implementation of policy-based programs that feature secure storage for media consisting of paper, flexible retrieval access, and retention management; digital archiving and related services for secure long-term archiving of electronic records; and specialized services for vital records and regulated industries, such as healthcare, energy, government, and financial services."
What drove the stock lower today was the 1st quarter 2010 results this morning which were reported this morning. Net income for the quarter came in at $26 million, down 11% from the $29 million in the prior year. This worked out to $.12/share down from $.14/share. 'Adjusted' earnings came in at $.23/share against last year's adjusted $.19/share. Revenue increased to $777 million, up from $723 million the prior year.
Since analysts, as assessed by Factset Research, were expecting $.22/share of earnings, on $778.2 million of revenue, the company actually exceeded earnings expectations and missed slightly on revenue results. At first glance it really seems like the selling got overdone. OK that doesn't get you any money back on your apparently poorly timed purchase. However, maybe there were whisper numbers on the earnings that just weren't loud enough to reach Western Wisconsin? Also, just meeting expectations or barely exceeding and selling off in the face of this news seems to indicate the frothy level of the market rally today. OK that doesn't make you feel any better either I know.
Longer-term, reviewing the Morningstar.com "5-Yr Restated" financials on Iron Mountain (IRM), we can see that revenue which came in at $2.08 billion in 2005, climbed to $3.06 billion in 2008, and dipped slightly to $3.01 billion in 2009. Earnings increased from $.56/share in 2005 to $.76/share in 2007, before dipping to $.40/share in 2008 and then rebounding to $1.08/share in 2009. Outstanding shares have been fairly stable at 198 million shares in 2005 increasing slightly to 204 million in 2009. No dividends are paid.
Free cash flow, per Morningstar, increased from $47 million in 2007 to $304 million in 2009. The balance sheet shows that the company has $447 million in cash and $765 million in other current assets which when compared to the $815 million in current liabilities yields a current ratio of 1.49, a healthy ratio. However, the company does have a significant amount of long-term liabilities totaling $3.89 billion. With the growing free cash flow, servicing this debt doesn't seem to be a problem.
In terms of valuation, the company is a mid cap stock with a market capitalization of $5.25 billion. The trailing p/e is a moderate 23.87, the forward (fye Dec 31, 2011) works out to 19.25 estimated. The PEG ratio is a bit rich at 1.65. (I find reasonable valueof growth stocks with PEG's at 1.5 or lower).
There are 203.6 million shares outstanding and 180.05 million that float. Currently there are 12.08 million shares out short (as of 4/15/10), and with the average daily volume of 1.36 million shares, this works out to a short ratio of 10.50, well above my own arbitrary '3 day rule' for significance. According to Yahoo the company does pay a small dividend of $.25/share with a yield expected to be at 0.9%. The last stock split was a 3:2 split in January, 2007.
Reviewing the 'point & figure' chart on Iron Mountain (IRM) from StockCharts.com, we can see that the stock which traded as low as $9/share in October, 2002, climbed to $38/share in November, 2007, only to dip to $17/share in November, 2008, and once again in March, 2009. Recently, the stock has been moving higher as the entire market has recovered, breaking through resistance at $21, and hitting a recent high of $31/share. The stock is currently correcting from its recent break-out and does not appear wildly over-valued technically from this amateur's perspective.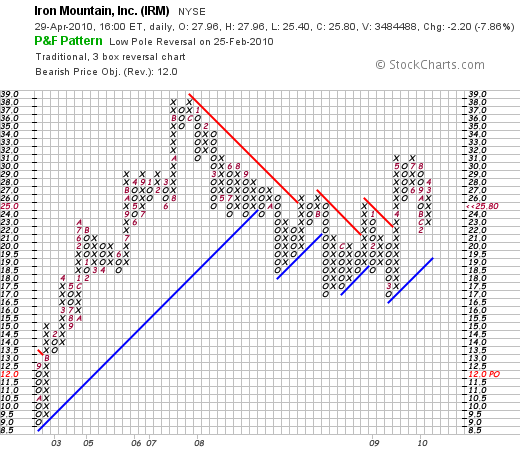 To summarize, Iron Mountain is in an interesting business which I do not completely understand that apparently deals with record management, data storage and recovery. They overall are a successful company with reasonable earnings and revenue growth, decent balance sheet, and a reasonably strong technical performance for the stock.
As is often the case, earnings releases often result in unexpected price volatility as stock prices climb on expectations and whispered numbers. It is common for stocks to paradoxically drop on what appears to be good news and climb on what should otherwise have been a disappointment. Frankly, there is a lot of madness in the trading activity around earnings releases. I am sorry my friend that you got caught in this volatility.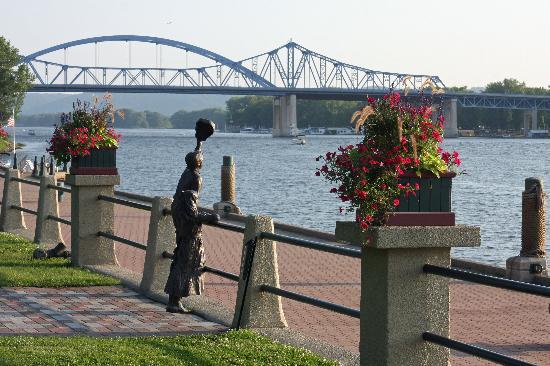 Closing with a view of the Mississippi that we often see as we walk in the morning from UWL down to the River, I thank all of my good friends both here on the net as well as right at the University who provide me with great conversation, challenge and support my own ideas, and make sure that I get out and get some fresh air and exercise many mornings of the week!
If you have any comments or questions, please feel free to leave them right here on the blog or email me at bobsadviceforstocks@lycos.com.
Yours in investing,
Bob