Johnson & Johnson (JNJ) "Trading Transparency" and a Birthday Greeting
Hello Friends! Thanks so much for stopping by and visiting my blog, Stock Picks Bob's Advice! As always, please remember that I am an amateur investor, so please remember to consult with your professional investment advisers prior to making any investment decisions based on information on this website.
Earlier today with the market declining sharply my 50 shares of Johnson & Johnson (JNJ) hit an 8% loss for me and triggered a sale of the entire position. I purchased these shares 12/28/09 at a cost basis of $65.15/share. I sold this position when the stock hit $59.64 representing a loss of $(5.51) or (8.46)% from my purchase price.
This sale is not based on my own like or dislike of Johnson & Johnson (JNJ) shares. It simply represents a part of my own trading discipline which requires me to part with shares that incur an 8% loss after an initial purchase. This is exactly what happened to JNJ and the shares were shold. Frankly, I would hope that I shall have another opportunity to own shares in this fine blue chip in the future. Meanwhile the funds are moved to cash.
Since this sale is on a decline in a holding and not a partial sale at a gain, this generates a signal, which is a 'bad news' signal requiring me to leave the proceeds of this sale in cash. As with the rest of the market, JNJ did rebound at the close closing at $60.35, down $(.22) or (.36)% on the day.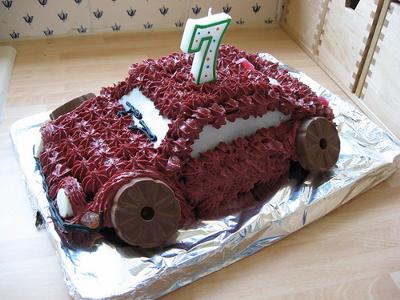 On a lighter note, I should share with you the fact that this blog passed its seventh birthday and I am now going on to my 8th year blogging hear at Stock Picks Bob's Advice! Thank you all for stopping by and reading my amateur commentary on the stock market and my own attempt at dealing with the vagaries of investing in some sort of rational fashion.
On May 12, 2003, I posted an entry on St Jude Medical (STJ) when the stock was trading at $53.30.
This is what I wrote:
May 12, 2003 St Jude Medical



This is one I picked up today. STJ is the stock symbol. I do not as I write and publish this own any shares. Am thinking about suggesting this to my stock club. Company had a great day today with a nice move on the upside. Last Quarter was good and the past five years have been steady growth. Closed at $55.30 up $2.92. So the daily momentum helped it make the list.
For reference, St Jude Medical (STJ) closed today (5/25/10) at a price of $37.05. St Jude split its stock 2:1 on November 23, 2004, making today's effective price $74.10, giving this pick a gain of $18.80 or 34% which isn't a shabby return in the difficult market we have all faced since 2003.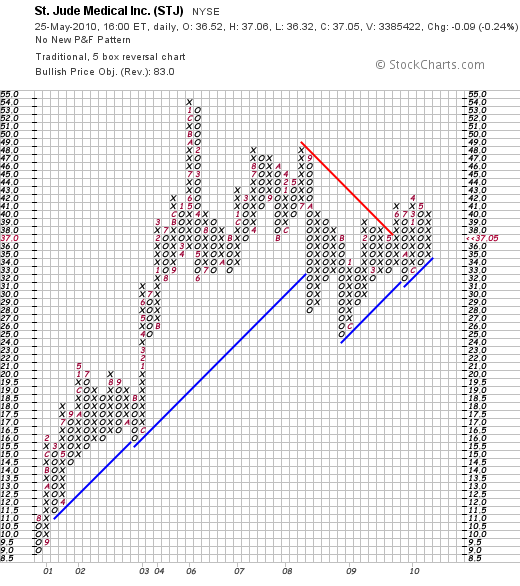 Since May 12, 2003, I have posted 1,994 entries discussing stocks, answering letters, commenting on my own trades, and making friends with all of you.
Probably my greatest honor has been to be recognized by ValueWiki as one of the 10 Great Finance Blogs Flying Under the Radar. You might enjoy reading Jon and Zach's review!
Later I was invited to participate over at SocialPicks and then on Covestor.com where I posted my actual trading portfolio. Covestor has been kind enough to invite me to become one of their model managers and I have been a participant over at Covestor Investment Management since they launched it with just 10 models. They are now up to 64 and I find myself rubbing elbows with some very prestigious investors and analysts over at that site.
Seeking Alpha has invited me to be a participant on their terrific website and they have been reposting my articles there for the last couple of years. Here is my profile page for your review! So many exciting things for this amateur investor and writer. I am very thankful.
Occasionally, I have made the time to put out an amateur podcast over at Podomatic.com. You are more than welcome to peruse those shows at well. Here is my homepage for my podcast.
In other words, the seven years have gone quickly and I thank all of you here at Lycos where my blog originated, SocialPicks which chose to encourage me on their website, Covestor.com which asked me to share my own portfolio with a larger audience and Seeking Alpha which asked me to share my content with them.
You are all wonderful and all my friends!
I hope that these entries have been of interest to many of you, may have encouraged some of you to dabble in stocks and may also have been of solace to those of you who can see that I am also an amateur faced with the same questions of what, when, and how to deal with the fickle stock market.
Here's for another 7 years!
Yours in investing!
Bob