May 18, 2004 Staples (SPLS)
Hello Friends! At least we got a little reprieve from that downward spiral we have ben in for the last few weeks. The Dow finished at 9,968.51, up 61.60 on the day and the NASDAQ finished at 1,897.82, up 21.16 on the day. As always, please remember that I am an amateur investor so you always need to do your own investigation of all stocks discussed on this website and please consult with your own investment advisors!

I came across Staples (SPLS) as I was scanning the lists of greatest percentage gainers today. SPLS closed at $26.39, up $1.97 on the day or 8.07%. According to Yahoo, Staples is "...an office supplies retailer that sells its products through a superstore concept."
This morning, SPLS
reported 1st quarter results
. For the quarter ended May 1, 2004, net income rose to $125.7 million or $.25/share, up from $24.8 million or $.05/share a year earlier. Total sales for the chain were up 12% to $3.45 billion, and North American same store sales (open at least a year) were up 5%. Most importantly, the $.25/share exceeded analysts expectations of $.22 by $.03. SPLS announced that it expected earnings of $.22/share for the second quarter which is an increase over analysts expectations of $.16/share for that quarter. These results are just what the stock needed...and the price result subsequently developed as the day progressed!
Morningstar is down as I write, but the "5-Yr Restated" financials look just fine with growing revenue, solid free cash flow, and a nice balance sheet.
If we look at
"Key Statistics"
on Yahoo.com, we can see that the trailing p/e is moderate at 26.93, a forward p/e (fye 31-Jan-06) is even nicer at 16.92. The PEG is thus reasonable at 0.93, and the Price/sales is also under 1.0 at 0.93.
There are 499 million shares outstanding with 495 million of them that float. Currently, there are 4.99 million shares out short, which isn't really that bad with 1.01% of the float out short representing only 1.038 trading days.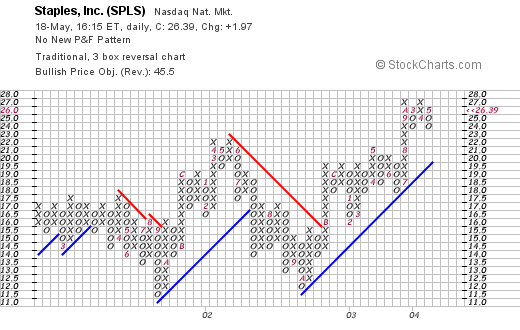 If we look at the point & figure chart on SPLS we can see that the stock was trading sideways through 2001 and 2002. In Septemeber, 2002, SPLS broke through a resistance level at around $15 and has traded higher since.

What do I think? I like this stock a lot. The valuation is nice, the sales are nice, the balance sheet/free cash flow is great, an all this with a PEG under 1.0. Now, if I only had some cash to invest! LOL.....thanks again for stopping by! If you have any questions, comments, or words of encouragement, please feel free to email me at bobsadviceforstocks@lycos.com

Bob