May 26, 2004 Copart (CPRT)
Hello Friends! Thanks so much for stopping by! You would be surprised (or would you?) by how MUCH your click on the counter means to me. In fact, I would love to hear from any or all of you directly if you have any suggestions, comments, questions, or just words of encouragement regarding this blog by emailing me at bobsadviceforstocks@lycos.com . As always, please remember that I am an AMATEUR investor and that you should seek PROFESSIONAL advice prior to making any investment decisions based on information on this website. Also, please remember to do your own investigation on all stocks discussed!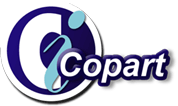 Scanning through the list of greatest percentage gainers, I came across Copart (CPRT). As I write, about 30 minutes before the close, CPRT is trading at $23.02, up $3.37 or 17.15% on the day! I do NOT own any shares or options on Copart. According to Yahoo, CPRT "...is a provider of salvage vehicle auction services in the United States. It provides vehicle suppliers, primarily insurance companies, with a range of services to process and sell salvage vehicles through auctions...." Sounds almost a little like a related business to the Schnitzer Steel we discussed in an earlier entry....well, not exactly like SCHN...which is involved in junk steel...but still what do you think?
Guess what? The stock jumped today on a TERRIFIC earnings report! Now is that non surprising or what? That is the whole basis of what I write about on this blog...is that it is EARNINGS, EARNINGS, and more EARNINGS that drives the price! ANYHOW, they
reported 3rd quarter 2004 results
for the quarter ended April 30, 2004. Revenues came in at $116.6 million, a 24% increase over the prior year. Net income was even better at $25.0 million, a 62% increase over the $15.4 million last year. Fully diluted earnings/share came in at $.27 or a 59% increase over the $.17/diluted share reported last year. These ARE great results! Apparently they have "stores" because "same store sales" were up 23% over the prior year's figures.
Looking at
Morningstar.com "5-Yr Restated" financials
, we can see that revenue has been steadily growing from $141.8 million in 1999 to $347.4 million in 2003. Earnings growth has been a bit erratic increasing from $.27 in 1999 to $.68 in the trailing twelve months. Free cash flow has not been consistent but HAS improved from $11 million in 2001 to $31 million in the trailing twelve months.
What about the Balance Sheet? According to Morningstar, CPRT currently has $105.6 million in cash and $144.3 million in other current assets. This is balanced against $60.6 million in current liabilities and only $9.2 million in long-term liabilities. In other words, the balance sheet, in my opinion, looks GREAT!
How about "Valuation?" Looking on Yahoo for
"Key Statistics"
, the Market Cap is a Mid-Cap level at $2.06 billion. The trailing p/e is 34.45, with a forward p/e of 26.53 (fye 31-Jul-05). Thus the PEG is moderate at 1.26. Price/sales is a bit richer at 4.80. Yahoo reports 89.16 million shares outstanding with 70.30 million of them that float. Currently there are 1.78 million shares out short (4/7/04) representing 2.54% of the float or 3.044 trading days. This is approaching a significant short-interest level in my opinion, as the trading-days to cover passes 3.0.
No cash dividend is paid and no stock dividends are reported on Yahoo.
What about "Technicals?"
Looking at the Point & Figure chart, in my amateur view, it appears that the stock has been trading rather sideways with a recent price pullback during 2002, and a nice price improvement since March, 2003, when it bottomed at about $6.5/share. The stock broke through a resistance level at around $12 in October, 2003, and has been heading higher fairly steadily since then.

So what do I think? I do not know if the industry in auctioned vehicles is a growth business or not but CPRT has certainly been growing steadily the last five years! Valuation seems pretty reasonable with a PEG just over 1.2, and the balance sheet is beautiful with continued generation of free cash. With the beautiful latest quarterly report, this stock does appear very nice to me...now if ONLY I hd some MONEY to invest! But I shall be sitting on my hands until I can sell a portion of my holdings at a gain!

Thanks again for stopping by! If you have any questions or comments, please feel free to email me at bobsadviceforstocks@lycos.com

Bob