May 27, 2004 "Update on Trade" Gen-Probe (GPRO)
Hello Friends! As I already wrote today, I had a nickel just BURNING A HOLE IN MY POCKET....and like a kid....had to spend it. Reminds me of that old Cracker Jack Song...."What do You want when you gotta have something....and you only have a dime!"...anyone else remember that? So was scanning the lists of stocks making a nice move today and saw Gen-Probe was on the list (GPRO). I had posted this stock on Stock Picks back in September, 2003, but had never owned a share. GPRO closed today at $41.81, up $3.64 or 9.54% on the day today.

Just to refresh your memory, according to Yahoo, GPRO "...is engaged in the development and marketing of rapid, accurate and cost-effective nucleic acid probe-based products used for the clinical diagnosis of human diseases and for screening donated human blood."
Before I purchased any shares, I quickly searched out the latest earnings report...and it looked nice to me! Three weeks ago, on May 3, 2004, GPRO
reported 1st quarter 2004 results
and ALSO raised guidance for the full year! Revenues for the first quarter came in at $76.5 million, a 66% increase over last year's revenues of $46.2 million. Net income came in at $19.7 million, or $.39/share, a 117% increase over the $8.7 million, or $.18/share reported the prior year. These are GREAT results in my humble opinion. In addition, my favorite part of the news, was that they RAISED estimates for the year. That is almost always bullish for a stock!
Taking a look at
Morningstar.com "5-Yr Restated" financials
, we can see that revenue has been increasing steadily since 1999 and that the RATE of increase has actually been ACCELERATING. Revenue came in at $117.5 million in 1999, increasing to $207.2 million in 2003, and extrapolating the current quarter should be coming in around $300 million for 2004!
Earnings came in at $.72/share in 2003, and extrapolating the current quarter, would get us closer to $1.50 in 2004.
The free cash flow picture has been nice, increasing from $11 million in 2001, to $40 million in 2003.
The balace sheet also looks beautiful with $156.3 million in cash and $52.6 million in other current assets with $39.9 million in current liabilities and $14.5 millioin in long-term liabilities. I think you are starting to see why I like this stocks!
If we check
"Key Statistics"
for GPRO on Yahoo, we can see that the stock is NOT cheap with a p/e of 45.30, however the forward p/e (fye 31-Dec-05) is better at 36.68, and the PEG is at 1.56, a little steep but not that bad. However, the Price/Sales ratio is quite rich at 7.91.
There are 49.19 million shares outstanding with 48.40 million of them that float. As of 5/10/04, there are 1.41 million shares out short representing 2.91% of the float or 1.677 trading days. By my yardstick, under 3.00 trading days isn't bad...or rather doesn't represent as much of a "squeeze" opportunity....as short sellers sometimes scramble to cover.
No cash dividend is paid and the stock last split 2:1 in October, 2003.
Taking a look at a "Point & Figure" chart for GPRO: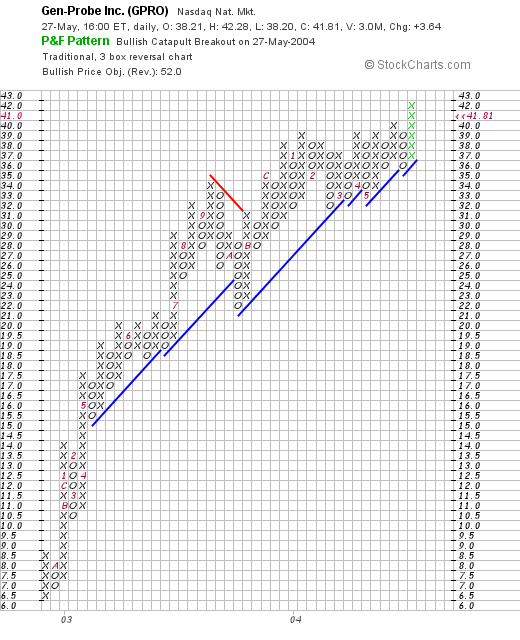 we can see that this stock has been very strong since early 2003 when it was trading at the $6.50 range and has been flying higher ever since. Is it over-extended? Hard to see when there haven't been much of any correction!

What do I think? I like this stock. In fact I like it so much that I BOUGHT this stock (No I DIDN't MARRY THIS STOCK...lol)...the latest report is terrific, the balance sheet is beautiful with wonderful free cash flow, the chart is impressive....and it just ISN'T that cheap a stock...but even so it is growing so FAST that the PEG reported at 1.50 may even be over-stated....just my opinion. I will sell if it drops to an 8% loss like everything else!

Thanks so much for stopping by! I hope this is informative for you. Please remember that I am an amateur investor and that you should do your own investigation of all investments discussed on this website and PLEASE discuss these with your professional investment advisors prior to taking any action to make sure that they are appropriate, and timely for you!

If you have any questions, comments, or words of encouragement, please feel free to email me at bobsadviceforstocks@lycos.com . I will probably reply to you directly in the blog.

p.s. There is a GREAT article on blogging in today's New York Times online. Bloggers beware...it describes this new online disease called blogger-addiction or something like that.....now just because I have over 500 entries in this blog this past year...doesn't mean I am addicted....or does it? lol.

Bob