June 2, 2004 Micronetics (NOIZ)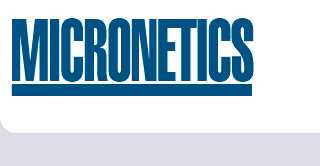 Hello Friends! Was pretty busy today and finally towards the end of the day got around to working the lists of greatest percentage gainers. I sold 75 shares of CYTC thinking that was my SECOND sale...approaching the 60% gain level...but when writing it up realized it was my THIRD sale....so I shall skip the 90% sell point and look forward to a solid 120% gain before making the next sale. Anyway, I still worry about anyone thinking I am giving out investment advice for THEM...so PLEASE remember to do your own investigation of all stocks discussed on this blog as I am an AMATEUR investor....and you need to discuss these investments with YOUR professional investment advisors before taking any action on the equities discussed.
I came across Micronetics (NOIZ) which was having a GREAT day today, and in fact closed at $9.33, up $2.04 or 27.98% on the day! I DID purchase 400 shares of NOIZ just before the close of trading at $9.40, so I am actually DOWN $.07/share already! I generally AVOID stocks under $10 as the % volatility almost always causes me to sell at an 8% loss fairly quickly....but the numbers looked nice, and I decided to give them a try! According to the Yahoo "Business Summary", NOIZ "...manufactures microwave and radio frequency (RF) components and integrated subassemblies used in a variety of commercial wireless and defense and aerospace products, including satellite communications, electronic warfare and electronic counter-measures."
This morning, just before the open, NOIZ
reported 4th quarter and year 2004 results
. For the quarter ended March 31, 2004, net sales came in at $13.8 million, an increase of $3.2 million or 29.6% from $10.7 million the prior year same quarter. For the 4th quarter, net income came in at $480,275 or $.11/diluted share compared to net income the prior year of $223,241 or $.05/dilued share, an increase of 115%. The "street" liked the report and thus the nice price move.
Looking at the Morningstar.com
"5-Yr Restated" financials
, we can see the fairly steady revenue growth from $4.5 million in 1999 to $12.7 million in the trailing twelve months.
Earnings, while slightly erratic, have increased from $.08/share in 1999, to $.28/share in the trailing twelve months. Extrapolating the latest quarter gets us to a level of $.44/share.
There has unfortunately been negligible free cash flow with $0 reported in 2001, $(1) million in 2002, and $0 million in 2003.
Balance-sheet-wise, the company looks fine with $1.4 million in cash and $6.2 million in other current assets balanced against $1.5 million in current liabilities and $1.0 million in long-term liabilities.
Looking at
"Key Statistics" from Yahoo
, we can see that this is a TINY company, truly a "micro-cap" stock with a market cap of $39.50 million. The trailing p/e is 33.93, but NO PEG is reported, and the Price/sales ratio came in at 2.44.
There are only 4.23 million shares outstanding with 3.00 million of them that float. Currently there are only 17,000 shares out short as of 5/10/04, representing 1 trading day or 0.57% of the float.
No cash dividend is paid, and no stock dividend is reported on Yahoo.
How does the graph look?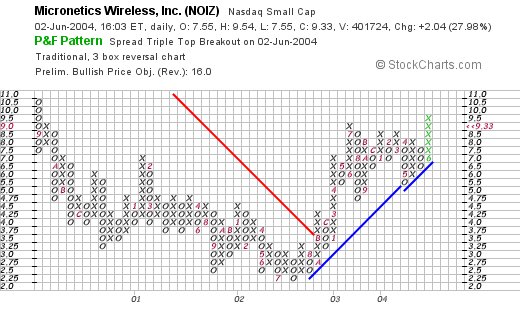 Looking at a Point & Figure chart from Stockcharts.com, we can see that NOIZ actually traded LOWER through much of 2000, through September, 2003, when it broke through a resistance level at about $3.50. The stock has traded higher since that time...and looks strong technically to me.

What do I think? Well THIS one I liked enough to actually BUY some shares...I sold some CYTC shares to allow me to add a position. (And I HONESTLY thought that was a SECOND sale!). What I don't like is that this is a micro-cap stock under $10/share, and I will likely see this stock retrace some of its great gains tomorrow...unless we can get a bit of a cushion on this purchase...there is a significant chance I get stopped out around 8%. The earnings were impressive, the balance sheet is fine, and frankly, the valuation doesn't look bad.

Thanks so much for stopping by! Please drop me a line at bobsadviceforstocks@lycos.com if you have any comments, questions, or words of encouragement! Have a great evening everyone!

Bob
Posted by bobsadviceforstocks at 3:48 PM CDT |
Post Comment
|
Permalink
Updated: Wednesday, 2 June 2004 3:50 PM CDT