June 21, 2004 Amedisys (AMED)
Hello Friends! I am sure glad you took the time to stop by and read the blog. Please remember that I am an AMATEUR investor so please do your own investigation of all investments discussed on this website, and please consult with your PROFESSIONAL investment advisors! I hope all of you had a Happy Father's Day! My daughter took me out to see "The Terminal" with Tom Hanks...and that would be my MOVIE pick! (Is this an idea for a new blog or what?) Cute flick.

I came across Amedisys (AMED) today scanning through the lists of the greatest percentage gainers. AMED closed at $30.74 today, up $2.35 or 8.28%. According to the Yahoo profile, AMED "...is a multi-state provider of home healthcare nursing services."
On May 4, 2004, AMED
reported 1st quarter 2004 results
. Net service revenue grew from $31.1 million in 2003 to $47.3 million in 2004. Net income grew from $1.1 million or $.12/diluted share in 2003 to $4.2 million or $.34/diluted share in 2004.
If we look longer-term at the
"5-Yr Restated" financials
on Morningstar.com, we can see that except for a dip from 1999 to 2000, revenue has grown from $97.4 million in 1999 to $142.5 million in 2003. Earnings per share have grown during this period from $.42/share to $.83/share in 2003.
Free cash flow has improved from $(12) million in 2001 to $20 million in 2003.
The balance sheet is quite good with $29.8 million in cash and $19.8 million in other current assets balanced against $34 million in current liabilities and only $7.1 million in long-term liabilities.
If we check
"Key Statistics"
on Yahoo, we can see that this is a small cap stock with a market cap of $378.29 million. The trailing p/e isn't bad at 29.70, the forward p/e (fye-Dec-05) is nicer at 19.21. The PEG is reasonable (imho) at 1.21.
There are 12.31 million shares outstanding and only 8.00 million of them that float. Of these, there were 869,000 shares out short as of 5/10/04 representing 10.86% of the float but only 1.814 trading days of volume.
No cash dividend is paid and no stock split is reported on Yahoo.
What about technicals?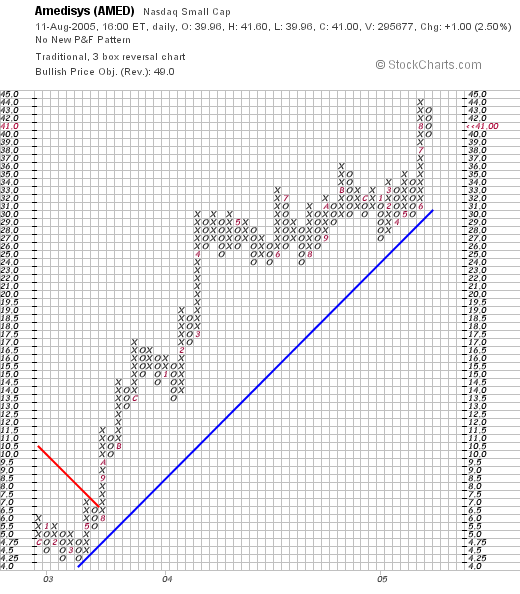 The "Point and Figure" chart from Stockcharts.com shows a stock consolidating across 2001 and into 2003 in the $3.50 to $12.00 range. In August, 2003, AMED broke through a resistance level at about $6.00 and headed higher almost uninterrupted to the current level around $30. The graph looks strong to me.

So what do I think. Overall, I am not excited about home healthcare. Just my gut feeling. However, on a more scientific basis, the latest earnings report looks nice, the steady revenue growth is impressive, the improving free cash flow is important along with a nice balance sheet, and the technicals appear strong. Just one thing.......I do NOT have any money to BUY anything! LOL. Anyway thanks so much for stopping by. If you have any questions, comments, or words of encouragement, please feel free to email me at bobsadviceforstocks@lycos.com

Bob
Posted by bobsadviceforstocks at 11:11 AM CDT |
Post Comment
|
Permalink
Updated: Monday, 21 June 2004 8:32 PM CDT