A Reader Writes "Check out MDCC!"
Hello Friends! Happy Thursday everyone. Thanks so much for stopping by. If you are new at this site, please make yourself at home, explore what is available here, and remember that I am an amateur investor, so please do your own investigation of all investment matters discussed on this website and please consult with your professional investment advisors prior to making any investment decisions to make sure they are appropriate and timely for your investment needs!
Leon was kind enough to write again. He writes:
Check out MDCC !

That might satisfy your requirements and they are now in the process to merrge with an aussie company with a nice product line coming to market which should help MDCC with more revenue growth.....

PE around 17x i think.....not much debt less than 20m when equity is more than 150m

revenue and eps growing last few years.

actually eps positive for few years now......


Leon
I actually am a little familiar with this company and I DO think Leon is onto something here! Let me take a closer look at MDCC:
First of all, Molecular Devices (MDCC), closed at $17.78 yesterday. According to the
Yahoo "Profile"
, MDCC "...is a supplier of bioanalytical measurement systems that accelerate and improve drug discovery and other life sciences research." I personally do NOT own any shares of MDCC, although I do not know whether Leon does or doesn't.
On April 22, 2004, MDCC
reported 1st quarter 2004 results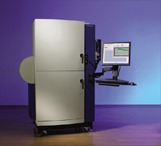 Revenues for the quarter came in at $27.3 million, an 11% increase compared to the prior year. Net income came in at $1.4 million, compared to $721,000 the prior year. On a diluted per share basis this came in at $.10/share vs $.05 per share, a 100% increase. This was a nice earnings report. In addition, MDCC projected continued growth for the upcoming quarters.
What about longer term? Taking a look at the
"5-Yr Restated"
financials on Morningstar.com, we can see a relatively uninterrupted revenue growth from 1999 to the latest twelve months (except for a small dip between 2000 and 2001), with revenue growing from $71.9 million to $118.4 million in the TTM.
Earnings have also been a bit erratic, growing from $.26, but dipping to $(.32) in 2001, and then increasing steadily to the $.56 reported by Morningstar in the TTM.
Free cash flow also looks very nice with $10 million in 2001, $13 million in 2002, $16 million in 2003, and $18 million in the TTM. Not only is it positive but it is growing!
Balance Sheet? Couldn't be prettier! They have $50.4 million in cash, enough to pay off their TOTAL liabilities almost 3x over! They also have $46.2 million in other current assets with NO long-term liabilities and only $17 million in current liabilities. Very nice indeed....Leon you and I are thinking alike!
How about Valuation? Looking at
"Key Statistics"
on Yahoo, we can see that this is a small company with a market cap of $253.4 million. The trailing p/e is a bit richer than the 17 you suggested Leon, and is actually at 31.64 with a forward p/e (fye 31-Dec-05) of 21.42. However, with the rapid growth anticipated, a PEG of 1.17 is reported which looks just fine to me.
Yahoo reports 14.25 million shares outstanding with 13.60 million of them that float. Of these 459,000 shares are out short as of 6/7/04, giving us a short ratio of 5.598 trading days. This is also bullish for the stock...WHO in their right mind would be going SHORT against these numbers? O.K. I just don't understand the short strategy.
No dividend is paid and Yahoo does not report any prior stock splits.
What about Technicals? Taking a look at a point and figure chart from Stockcharts.com: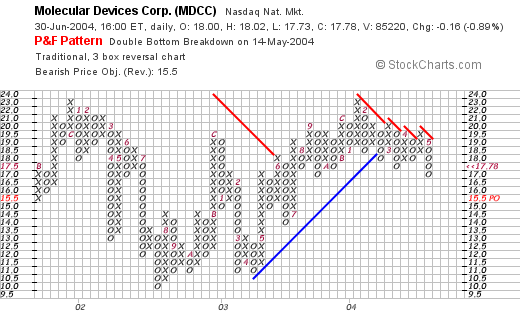 I would have to say that sometime in February, 2004, this stock turned down, failing after several attempt to break through its resistance level. I would like to see this break through the $19.5 level in a strong fashion, maybe with some additional good news, before committing funds to this stock. Now I am NOT a very good chart reader, but what do you think?

Overall the company looks great. They have had great earnings, revenue growth, free cash flow, balance sheet is pretty, PEG only just a bit over 1.0, but the charts looks suspect....maybe the SHORTS do know something I don't. One thing I do is watch CLIMBING stocks that are showing a lot of same-day momentum so that I know that at least for the moment, the technicals are in my favor. This company should stay on the screen for this website....Thanks so much for following up with another question!

If YOU have questions, or comments, please feel free to email me at bobsadviceforstocks@lycos.com or post them right on the website.

Bob