Masonite Intl (MHM)
Hello Friends! I don't usually post any new stock ideas on Saturday, but I had this stock I wanted to share with you on Friday but never got around to it! I am sure glad you stopped by and please do make yourself at home. If you are reading this on a third party website, like thegoldencoast.com, then be sure to come by and visit my
blog
where you can review all of my endless commentary on stocks of interest. Please do remember, I am an amateur investor, this is my hobby, so please remember to consult with your professional investment advisors before taking any action on stocks discussed on this website to make sure they are timely, appropriate, and profitable for you!

Yesterday, while scanning the
list of top % gainers on the NYSE
, I came across Masonite (MHM) which closed yesterday at $24.99, up $1.16 on the day or 4.87% in an otherwise mediocre market. First of all, I do not have any shares of this stock nor do I own any options. I believe that the stock is moving up on anticipation of 2nd quarter 2004 earnings, which should be released Monday per an
announcement
from Masonite this past Tuesday. According to the
Yahoo "Profile"
, Masonite International "...is a manufacturer of doors, door components and door entry systems for new residential construction, home repair, renovation and remodelling, and commercial use."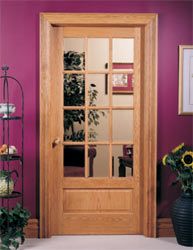 We will have the 2nd quarter 2004 earnings results in just a couple of days, but let's take a look at the
1st quarter 2004 results
which were released April 21, 2004. For the quarter ended March 31, 2004, sales increased 16% to $468 million from $402.2 million the prior year. Net income jumped 36% to $27.7 million from $20.3 million. And on a per share fully diluted basis, earnings jumped to $.51/share from $.38/share, a 34.2% increase. These were pretty nice results.
If we look longer-term, we can see from
Morningstar "5-Yr Restated" financials
that revenue has grown steadily since even before 1999 when they reported $1.1 billion in revenue, and increased to $1.8 billion in the trailing twelve months. Earnings/share, while dipping from $1.00 in 1999 to $.84 in 2001, have steadily increased from that time. Free cash has been postitive and strong with $44 million reported in 2001 and $105 million reported in the trailing twelve months (TTM).
The balance sheet looks just fine with $129.7 million in cash and $625.9 million in other current assets, enough to easily cover the $370.6 million in current liabilites and much of the $589.6 million in long-term liabilities as well.
Looking at
"Key Statistics"
on Yahoo we can see that the Market Cap is a mid-cap level $1.36 billion. The trailing p/e is a very reasonable 11.84 with a forward p/e of 8.89. I do not see a PEG on Yahoo, but with an
"Analysts Estimates"
of $2.81 for Dec 05 on Yahoo and $2.54 from Dec 05, we can see that analysts are expecting a $.27/share growth or a $.27/$2.54 10.6% growth in earnings. If we divide the p/e of 11.84 by the 10.6 we get a PEG of 1.12 which isn't too high either! The Price/Sales is also very cheap at 0.70.
Yahoo reports 54.43 million shares outstanding with 52.30 million of them that float. Currently there are only 60,000 shares out short as of 6/7/04, but this does represent 3.75 trading days due to the low average trading volume on this company. No cash dividend is paid and no stock splits are reported on Yahoo.
How does the chart look like? If we look at a Point & Figure Chart from Stockcharts.com: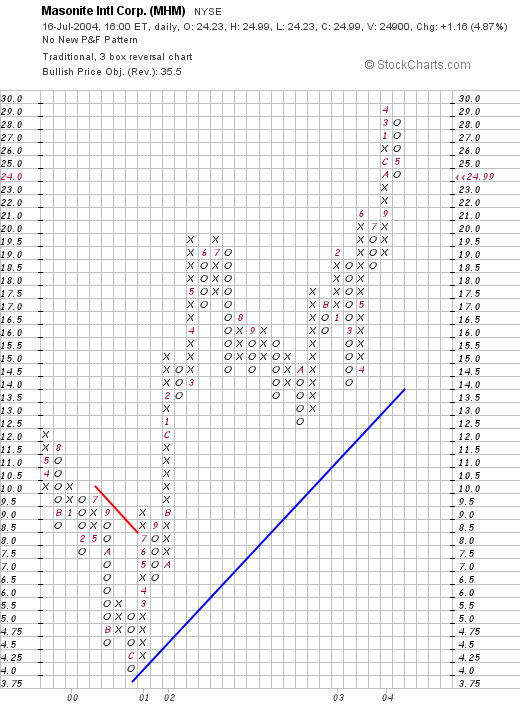 it appears that this stock was trading lower through late 2000, then in July, 2001, it broke through a resistance level at about $9.50 and has headed strongly higher since then to its current levels. The chart looks strong to me.

So what do I think. Frankly, I decided to post this one today because I thought it was too pretty a picture to ignore. I would pay close attention to the earnings results coming out Monday morning and this could confirm my assessment or cause me to give pause. I would look for continued strong revenue growth and earnings growth to confirm that this company is continuing on its excellent past record. I like the latest quarter earnings that I have available, the past revenue growth is superb, the cash flow and balance sheet look nice, the valuation is excellent and the chart is impeccable. My only hesitation is the rather low trading volume...but that is only a small footnote to my evaluation. I cannot personally buy any shares as my system of waiting for a sale at a gain to purchase shares is holding me back! But then again there are so MANY stocks that I do like!


Thanks again for stopping by! If you have any questions, comments, or words of encouragement, please feel free to email me at bobsadviceforstocks@lycos.com .

Bob