August 2, 2004 DHB Industries (DHB)
Hello Friends! Thanks so much for stopping by. I am trying to do my posting of stocks in the evening. My days just get busier and busier! As always, please remember that I am an amateur investor and that all information on this website should be read with that in mind. Please consult with your professional investment advisors and do your own investigation on all stocks discussed here prior to making any investment decisions.

Looking through the lists of top percentage gainers, I came across DHB Industries (DHB) on the AMEX that closed today at $17.05, up $1.84 on the day or 12.10%. This is a security/armor company, and the recent announcements of Orange terror alert drove this stock higher. According to the
Yahoo "Profile"
, DHB "...is a holding company consisting of two divisions: DHB Armor Group (Armor Group) and DHB Sports Group (Sports Group)." I do not own any shares nor do I have any leveraged positions in this company.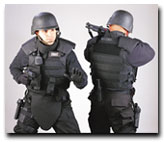 On May 6, 2004, DHB
announced 1st quarter 2004 results
. For the first quarter ended March 31, 2004, revenues came in at $74.4 million, a 61% increase over the prior year's $46.2 million. First quarter income available to common stockholders was $6.269 million, or $.14/diluted share, as compared to $4.929 million or $.12/diluted share in the first quarter of 2003. On a bullish note, the company raised its previous guidance on revenue and "...now expects revenues of at least $275 million for the full 2004 year."
As many of you will realize, at this point in the investigation of a stock, I like to look at a longer-term picture. For this I turn to the
"5-Yr Restated" financials
on Morningstar.com. Here we can see a steady and impressive growth in revenue from $35.1 million in 1999 to $258.3 million in the trailing twelve months. Generally, earnings have gradually improved from $(1.24) in 1999 the $.36 in the trailing twelve months. Free cash flow which was $(3) million in 2001, $(16) million in 2002, improved to $2 million in 2003 and $6 million in the trailing twelve months.
The balance sheet on Morningstar.com shows only $500,000 in cash but $103 million in other current assets. This easily covers BOTH the $27.8 million in current liabilities and the $25.9 million in long-term liabilities. This looks very strong!
How about "valuation"? Looking at
"Key Statistics"
on Yahoo, we can see that this is a small cap stock with only $695.84 million in market capitalization. The trailing p/e is a bit rich at 47.23, but the stock is growing so fast that the PEG is reasonable at 1.19. Yahoo reports 40.81 million shares outstanding with 24.20 million that float. There were 3.84 million shares out short, representing only 2.085 trading days of activity.
No cash dividend and no stock dividends are reported on Yahoo.
How about "technicals"? If we look at a Point & Figure chart from stockcharts.com: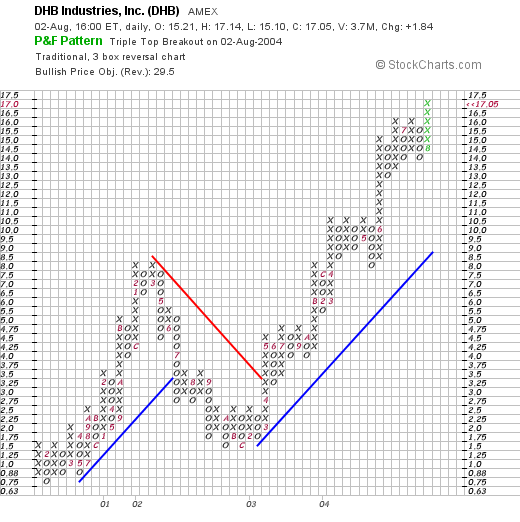 we can see that this stock rallied from $.75/share in 2000 to a level of $8.50 in March, 2002. It then pulled back to the $1.50 level in November, 2002, then charged ahead not looking back to its current level in the $18.00 region. The chart looks quite strong to me!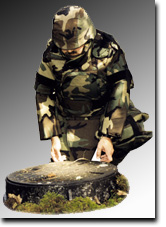 So what do I think? This is the third Armor type company I have reviewed here including Ceradyne (CRDN), and Armor Holdings (AH). Certainly, this "terror problem" does not appear to be disappearing anytime soon. This company has a great track record of revenue and earnings growth. They are spinning off increasing free cash flow on top of an already healthy balance sheet. The p/e is a bit steep, but the growth rate anticipated over the next five years is such that the PEG is just a little over 1.0. Thus, the value isn't bad. Technically, the stock chart looks just fine to me as well. Overall, I like this stock, but simply cannot buy any shares in my portfolio until I have once again confirmed the market's strength with a sale of one of my existing holdings at a gain!

Thanks so much for stopping by! If you have any questions, comments, or words of encouragement, please feel free to email me at bobsadviceforstocks@lycos.com .

Bob
Posted by bobsadviceforstocks at 9:02 PM CDT |
Post Comment
|
Permalink
Updated: Monday, 2 August 2004 9:08 PM CDT