A Reader Writes "What about IDEV"
Hello Friends! Thanks again for stopping by. I received a note from a rather sophisticated reader asking me about my opinion on IDEV. First of all, I am an amateur investor, so please consult with your investment advisors before making any decisions based on information on this website. But let me get to the letter:
Bob D. writes:
Hi Bob:

I just recently came across your site and I like it. I most likely will subscribe.

I guess I'd like a little personal attention beforehand. I'd like to know if you would buy IDEV on 8/12 at the open (or soon after) with just taking into consideration the following factors (to be brief) from my perspective and then your own analysis:

1.) IDEV recvd. FDA approval for Sanctura (a best-in-class drug for a $1.3B market) about a month ago and the stock has pulled back sharply (profit-takers after the run-up before the anticipated approval?). Stock is currently ~$6. Stock traded as high as $10 on the day of approval.

2.) Sanctura officially launches next week. 500 new sales reps, etc.

3.) IDEV revcd. a total of $300M cash infusion from Pliza (a Eurpoean pharma.) in a joint-venture co-op fund for the launch of Sanctura.co-op.

4.) Downtrend seems to be reversing (last 2 days) and I believe the target price is $15. by factoring in a capture of 25% marketshare by the end of 2005. They say the drug is that good against its competition.

5.) Cash position is about $4.50 a share (w/cash infusion).

6.) Dry powder is there doing nothing and this stock seems compelling. The sizzle is there.

Would you please let my know what you think tomorrow morning?

Sincerely & TIA,

Bob D
Let's take a look at IDEV.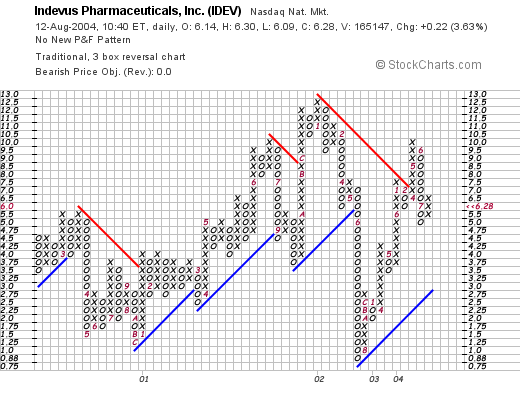 align="center">


Well technically, the graph looks nice having broken through its recent resistance level. What about the earnings?

(I do not own any shares of this stock by the way). IDEV currently trading up $.17 or 2.81% on the day at $6.23 in an otherwise weak market. Earnings are to be released on 8/16/04. On May 11, 2004, IDEV announced 2nd quarter 2004 results. They reported a net LOSS of $(11,370,000) or $(.24)/share for the quarter ended March 31, 2004, compared to a net loss of $2.9 million or $(.06)/share the prior year. Not only are they LOSING money, but they are LOSING MORE MONEY than last year. This isn't material for this website. I don't pick stocks that are losing money.

Furthermore, if we look at the "5-Yr Restated" financials on Morningstar.com, we can see that revenue peaked at $27.8 million in 2000, and has dropped to $5.4 million in the trailing twelve months. Again an "F" in my department. I am looking for growing revenues.

Free cash flow has grown increasingly negative from $(2) million in 2001 to $(32) million in the trailing twelve months.

Cash looks o.k. to cover their increasing liabilities for the time being.

What do I think? I think this website is increasing its readership. However, my investing techniques are based on investing discipline, staying with a strategy, using rational methods to assess a stock, and not going with hype or possible future markets. These may be profitable investment techniques for some, but I am looking for a specific type of company with progressive earnings and revenue growth, free cash flow, balance sheet, valuation, technicals and not just a bunch of potential products with a "great story".

Bob, I hope I have not disappointed you in your suggestion, and good-luck to you if you choose to pursue this one....it may turn out to be a "ten-bagger", it is just not my style! Thanks so much for stopping by. If you have any questions, comments, or words of encouragement, please feel free to email me at bobsadviceforstocks@lycos.com

Bob