September 14, 2004 eResearch (ERES)
Hello Friends! I do not have time for a full post right now but I came across eResearch (ERES) on the top gainers this morning and it appears to fit well into my criteria for a stock pick! ERES is trading at $17.36 as I write, up $.96 or 5.85% in an otherwise sloppy market. According to the
Yahoo "Profile"
on ERES, the sompany "...provides technology and services that enable the pharmaceutical, biotechnology and medical device industries to collect, interpret and distribute cardiac safety and clinical data more efficiently." I do not own any shares or options on this company.
On July 21, 2004, ERES
reported 2nd quarter 2004 results
. Revenues came in at $28.2 million, a 91% increase over the $14.8 million reported in the 2nd quarter 2003. Net income was $8.1 million, or $.15/diluted share, an increase of 194% compared with net income of $2.8 million or $.05/diluted share the prior year.
In addition, the company predicted positive sequential growth for the upcoming quarter of $30.0 to $30.5 million in revenue with earnings of $.16 to $.17/diluted share. In addition they RAISED guidance for the full year to revenues of $117 to $119 million from previous guidance of $114 to $116 million. This represents at least a 75% increase in revenue over the prior year. In addition they raised guidance on earnings per share to $.62 to $.63 for the full year, increasing from prior guidance of $.59 to $.60/share. This is a great report!

How about longer-term? If we look at a
"5-Yr Restated" financials
from Morningstar.com, we can see that although revenue did drop between 1999 and 2001, from $42.8 million to $28.0 million, it has subsequently rebounded strongly to $67 million in 2003, and as noted in the prior paragraph, current estimates have been raised to at least $117 million in 2004.
Earnings during this period also dropped from $.11/share in 1999 to $(.08)/share in 2001, but subsequently rebounded strongly to $.27 in 2003, and again as noted earlier, estimates are for $.62 to $.63/share in 2004.
Free cash flow has been growing steadily with $(2) million in 2001, increasing to $32 million in the Trailing Twelve Months (TTM).
How about the balance sheet? Morningstar reports $62.1 million in cash and $21.7 million in other current assets, enough to cover the Current liabilitis of $27.3 million, almost three times over! In addition, ERES, per Morningstar, has NO long-term liabilities.
And valuation? Looking at
"Key Statistics"
from Yahoo.com, we can see that this is a small cap stock with $987.61 million in market capitalization. The trailing p/e is a bit rich at 42.83, but with the fast growth the forward p/e (fye 31-Dec-05) is only 20.72 and the PEG is only 0.79.
Yahoo reports 51.82 million shares outstanding with 43.10 million of them that float. Of these, there were 9.89 milion out short as of 8/9/04, representing 22.95% of the float or 5.211 trading days. I like to use 3 trading days as an arbitrary point of reference, and with that as a guide, there are quite a few shares out there that have been sold short.
Yahoo reports no cash dividend and the company did recently split their stock 3:2 in May, 2004.
How about "technicals"? Looking at a Point & Figure chart from
Stockcharts.com
: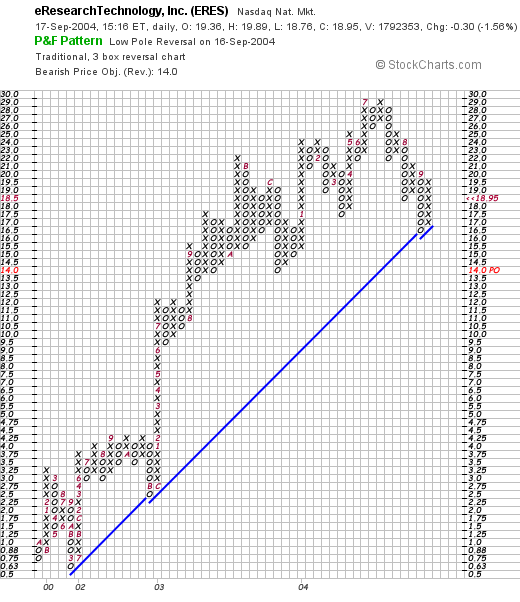 We can see that this stock has been trading very steadily higher since late 2001 from a $.75/share level to its current $20.00 level. The stock did manage to hit $29 in July, 2004, but has pulled back to its support level just recently.

So what do I think of this stock? I think it is a great investment! It recently reported great earnings results, raised guidance, has been steadily growing the last 3-4 years, is spinning off ever-growing amounts of free cash, has an excellent balance sheet, reasonable valuation wit a PEG under 1.0, has some short sellers that will need to cover, and a graph that shows it is not currently overextended imho. Only this is, like so often lately, I don't have any money to be investing. I am still waiting to sell a portion of one of my positions at a gain prior to adding a new position!

Thanks for stopping by! If you have any questions, comments or words of encouragement, please feel free to email me at bobsadviceforstocks@lycos.com. Please remember I am an amateur investor so please consult with your professional investment advisors prior to making any investment decisions as I am not responsible for either your losses or your gains!

Bob


Posted by bobsadviceforstocks at 9:15 AM CDT |
Post Comment
|
Permalink
Updated: Friday, 17 September 2004 2:20 PM CDT