September 24, 2004 Digital Theatre Systems (USA) (DTSI)
Hello Friends! Thanks again for stopping by my blog,
Stock Picks Bob's Advice
. Please remember that I am an amateur investor, so before making any decisions based on information on this website, please make sure you consult with your professional investment advisors to make sure such trades are appropriate and likely to be profitable for you. If you have any questions about this blog, or have any comments, please feel free to email me at bobsadviceforstocks@lycos.com .

I came across Digital Theatre Systems (DTSI) this afternoon while scanning the list of
top % gainers on the NASADAQ
. DTSI closed today at $18.68, up $2.13, or 12.87% on the day. I do not own any shares of DTSI nor do I own any options.
According to the
Yahoo "Profile" on DTSI
, DTSI "...provides entertainment technology, historically focused on digital multi-channel audio technology, products, and services for entertainment markets worldwide."
On August 5, 2004, DTSI
reported 2nd quarter 2004 results
. For the quarter ended June 30, 2004, total revenues increased 13% to $13.3 million from $11.7 million in the same quarter in 2003. Net income was $3.1 million, a 126% increase over the $1.4 million in the same quarter the prior year. This worked out to $.17/diluted share compared with $.13/diluted share in the same quarter in 2003.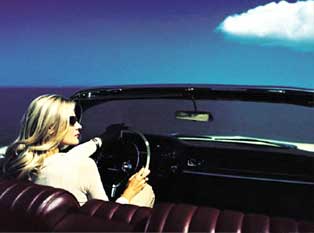 How about longer-term? Looking at a
"5-Yr Restated" financials from Morningstar.com
, we can see that revenue has grown steadily from $22.8 million in 1999 to $55.5 million in the Trailing Twelve Months (TTM).
DTS came public in July, 2003. No earnings are reported on Morningstar.com.
Morningstar reports free cash flow of $3 million in 2001, $4 million in 2002, $8 million in 2003 and $9 million in the TTM.
The balance sheet looks great with $95.6 million in cash and $21.6 million in other current assets with $10.7 million in current liabilities and $0 million in long-term liabilities.
How about "valuation"? Taking a look at
Yahoo "Key Statistics" on DTSI
, we can see that this is a small cap stock with a market cap of only $317.54 million. The trailing p/e is a moderate 25.38 and the forward p/e (fye 31-Dec-05) is only 21.47. The PEG is 1.07, and price/sales is 4.93.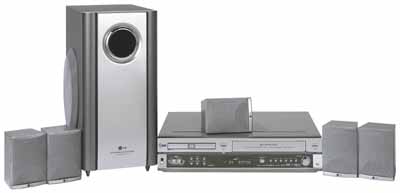 Yahoo reports 17.00 million shares outstanding with only 6.50 million of them that float. There are 940,000 shares out short as of 8/9/04, representing 3.357 trading days to cover the short interest. Yahoo reports no cash nor any stock dividend in this issue.
My favorite place to look at charts is on
Stockcharts.com
. Of the many charts available to review, I find the "Point & Figure" chart the most reliable in providing guidance in terms of price activity. For DTSI this "point & figure" chart: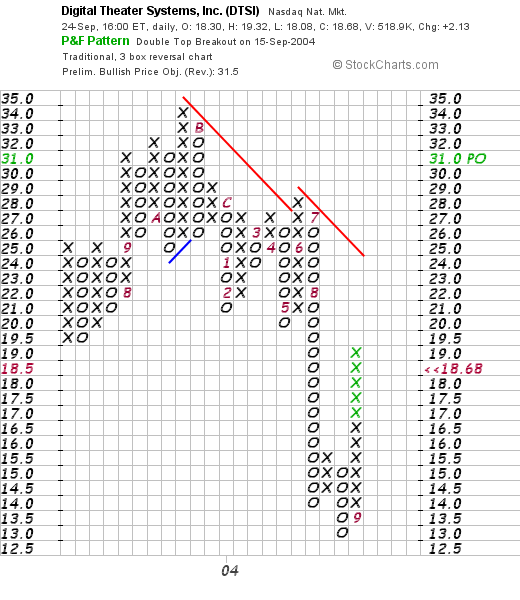 shows that DTSI came public in July, 2003 at around $19.5, rose to the $34.00 level in October, 2004, before failing to maintain a support level and instead falling to a los of $13.5, before moving higher recently.

O.K. what do I think? I think this is quite a small company but they DO have an interesting product. Their growth is steady, valuation is reasonable, the balance sheet is superb, but technicals look mediocre. I would like to see this stock close strongly above the $25 level to break through its recent resistance level.

Thanks so much for stopping by! Please feel free to email me at bobsadviceforstocks@lycs.com if you have any particular questions.

Bob