October 6, 2004 Wolverine World Wide (WWW)
Hello Friends! Thanks so much for stopping by. If you are new to this website, you might want to see my main page:
Bob's Advice for Stocks
, where I review some of the parameters I like to consider when evaluating a stock. In a nutshell, I like to start first evaluating the
lists of top % gainers for the day
. Often I will start first with the NASDAQ, but sometimes, like today, I review the NYSE lists first. In any case, I go through a screening process, first checking the latest quarter financial results, then looking at the last 5 years on Morningstar, checking valuation issues with yahoo, and then look at a chart from Stockcharts.com.
There really isn't anything 'magic' about what I do. I had a semi-professional investor tell me what I was doing was just "due diligence". I guess that was a compliment. But please remember that I am an amateur investor, so consult with your own professional investment advisors prior to making any investment decisions based on information on this website.

How about a shoe company for a change? I was scanning the
list of top % gainers on the NYSE
, when I came across Wolverine World Wide (WWW). WWW was the second-best %-gainer on the NYSE today, closing at $28.90, up $2.53 or 9.59% on the day.

According to the
Yahoo "Profile"
, WWW "...is a designer, manufacturer and marketer of a broad line of casual shoes, outdoor and work footwear and constructed slippers and moccasins. The Company's footwear products are organized under five operating units: The Wolverine Footwear Group, the Outdoor Group, Caterpillar Footwear, The Hush Puppies Company and Other Branded Footwear."
What drove the stock higher today, was that the company
announced 3rd quarter 2004 earnings
. For the quarter, revenue rose 13% to $260.9 million from $230.6 million last year. Earnings rose 34% to $21.9 million or $.55/share from $16.4 million, or $.40/share in the year-ago period. Even nicer, the company RAISED guidance for 2004 to a range of $1.60 to $1.62 per share on revenue of $975 to $985 million. Previously, they had guided to $1.44 to $1.52/share on revenue of $960 to $980 million.
'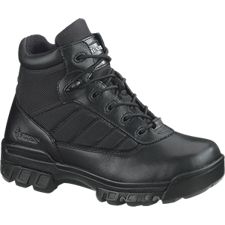 How about longer-term? Well, if you have visited here before, you will know that the next place I like to look is the
Morningstar.com "5-Yr Restated" financials
. There we can see the steady improvement in revenue from $665.6 million in 1999 to $937 million in the trailing twelve months (TTM).
Earnings have been a bit more erratic, dropping from $.78/share in 1999 to $.26/share in 2000, but then steadily improving to the current $1.43/share in the TTM.
Free cash flow has been outstanding, improving from $43 million in 2001 to $94 million in the TTM. The balance sheet also looks nice per Morningstar.com with $63.6 million in cash and $342.2 million in other current assets, enough to cover the current liabilities about four times over. In addition, the company has $62.9 million in long-term debt.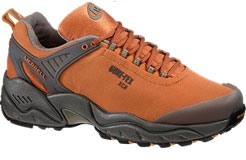 How about the "valuation" of WWW? Looking at
Yahoo "Key Statistics"
, we can see that the market cap is a mid-cap $1.13 billion. The trailing p/e is 20.21 with a forward p/e (fye 3-Jan-06) of 16.71. The PEG is at 1.35, a little steep.
Yahoo reports 39.12 million shares outstanding with 38.00 million of them that float. As of 9/8/04, there are 1.17 million shares out short, representing 3.07% of the float or 7.535 trading days (!). This appears significant to me as I use a 3 day cut-off for signifance for this figure.
WWW also pays a small dividend of $.26/share yielding 0.99%. The last stock split reported on Yahoo was a 3:2 split as of May 27, 1997.
Looking at a "Point & Figure" chart from
Stockcharts.com
: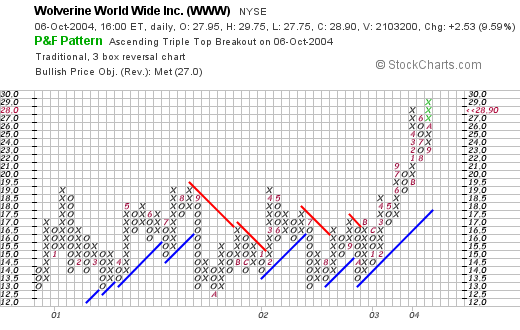 We can see that this stock has been trading sideways from 2001 through 2003 and in early 2004, this stock broke out to a higher level.

At this point in the discussion, I like to summarize. First, the stock had a nice move today, showing good daily momentum. The recent earnings are solid (came out today), the latest five years shows steady revenue growth and fairly steady free cash flow improvement, with an outstanding balance sheet. Valuation is reasonable. There are even a few shorts outstanding that may add to an upward move of this company.

By the way, I do not own any shares of this company nor do I own any options.

Currently, in my "Trading Portfolio", I am patiently waiting hopefully for American Healthways to hit a sale point (30% appreciation) which would permit me in my trading allowance to add a new position. If you have any comments or questions, please feel free to email me at bobsadviceforstocks@lycos.com

Bob
Posted by bobsadviceforstocks at 11:51 AM CDT |
Post Comment
|
Permalink
Updated: Wednesday, 6 October 2004 10:39 PM CDT