November 10, 2004 ASV, Inc. (ASVI)
Hello Friends! I really mean to warmly welcome you to my blog. With all of the tumult of the election fading into the distance, it is nice to get back to just arguing about which stock is a good idea or not! As always, however, please remember that I am an amateur investor, so PLEASE do your own investigation on all investment ideas mentioned on this website. In addition, PLEASE consult with your professional investment advisors prior to making any decision to make sure such investments are appropriate, timely, and likely to be profitable for you. If you have any comments, questions, or what I like the most, words of encouragement, please email me at bobsadviceforstocks@lycos.com .

I came across ASV, Inc. (ASVI) today on the
list of top % gainers on the NASDAQ
today. ASVI closed today at $44.07, up $4.49 or 11.34% on the day. Unlike most of the stocks I discuss on this blog, I DO own some shares of ASVI in a managed account in which I do NOT make any investment decisions. According to the
Yahoo "Profile" on ASV
, ASVI "...designs, manufactures and sells track-driven all-season vehicles."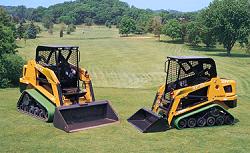 On October 28, 2004, ASVI
reported 3rd quarter 2004 results
. Net sales totaled $40.6 million for the quarter up from $29.2 million in the same quarter last year. Net earnings increased to a record $4.4 million or $.34/share compared with $3.1 million or $.29/share last year. (even though the number of diluted shares jumped 22% in the quarter!) The company, with the Loegering acquisition, announced anticipated results for 2004 showing a 59-64% increase in sales. Also diluted eps was expected to increase 54-62% over 2003. This was a great report, strong revenues and earnings with bullish guidance from management!
How about longer-term? Taking a look at the
"5-Yr Restated" financials
on Morningstar.com, we can see a fairly steady increase in revenue from $36.2 million in 1999 to $44.2 million in 2002. However, from that point, revenue has exploded to $127.5 million in the Trailing Twelve Months (TTM).
Earnings were also relatively flat between 1999 and 2002 when they actually dropped from $.14/share to $.13/share. However, since then they have grown strongly to $.78/share in 2003 and $1.06 in the trailing twelve months.
Free cash flow which was a negative $(5) million in 2001, improved to break-even in 2002, and then to $18 million in 2003 and $13 million in the TTM.
Balance-sheet-wise, this stock looks nice. As reported on Morningstar, ASVI has $42.9 million in cash, plenty to cover BOTH the $12.8 million in current liabilities, and the $1.8 million in long-term liabilities three times over! In addition ASVI has $58.6 million in other current assets.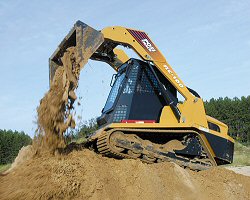 What about valuation? Looking at
"Key Statistics" on Yahoo
, we can see that this is a small cap stock with a market cap of $556.6 million. The trailing p/e is a bit rich at 39.67, with a forward p/e (fye 31-Dec-05) of 27.89. With the rapid growth rate predicted, the PEG comes in at a bit more reasonable 1.28.
Yahoo reports only 12.63 million shares outstanding with only 3.20 million of them that float. As of 10/8/04, there were 371,000 shares out short representing 11.59% of the float but only 2.576 trading days of volume. (I use 3 days arbitrarily as my cut-off for significant short position).
Yahoo reports no cash dividend, and the last stock dividend reported was a 3:2 split in May, 1998.
How about "technicals"? For this, I like to turn to
Stockcharts.com
, where I like to examine the Point and Figure charts: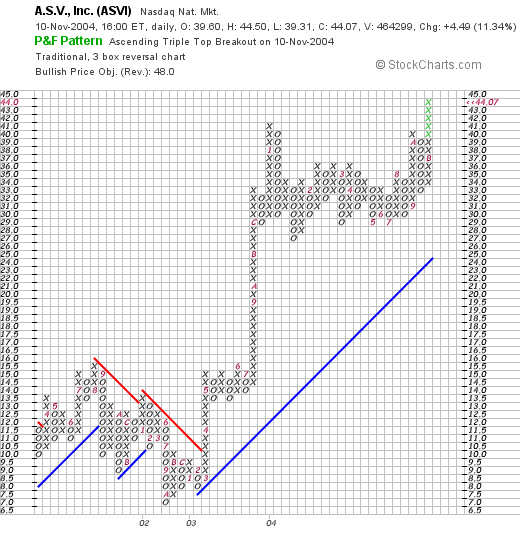 Here we can see a terrific chart, a stock that was trading lower through 2001, until March, 2003, when it broke through a resistance level at around $10.50, and has traded higher since. The stock looks quite strong imho.

So what do I think? Well I do OWN some shares already, but discounting that, the recent earnings/revenue report and the guidance is superb. The valuation is a bit cheap, this is no bargain. However, the balance sheet looks nice, and the chart looks just fine.

Thanks so much again for stopping by! I hope that my posts are helpful; if so, please email me and let me know how you use this information! I would love to share that as well with my readers! You can email me at bobsadviceforstocks@lycos.com .

Regards,

Bob