"Revisiting a Stock Pick" ResMed (RMD)

Hello Friends! Thanks so much for stopping by and visiting my blog,
Stock Picks Bob's Advice
. As always, please remember that I am an amateur investor, so please consult with your professional investment advisors prior to making any decisions based on information on this website.
If you have been reading my earlier posts from today, you will see that I had a nice move in HIBB and sold a portion at a gain, and then went ahead and purchased 120 shares of ResMed (RMD). Currently RMD is trading at $59.84, up $6.85 or 12.93% on the day. RMD is an old favorite of mine, although this is the first time that I have purchased shares. I first
mentioned ResMed (RMD) on Stock Picks
on December 5, 2003, when RMD was trading at $41.76.
According to the
Yahoo "Profile" on ResMed
, RMD "...is a developer, manufacturer and distributor of medical equipment for treating, diagnosing and managing sleep-disordered breathing (SDB)."
What drove the stock higher was an
earnings announcement from RMD
. Yesterday (2/3/05), after the close, RMD announced results for the quarter ended December 31, 2004. Revenue for the quarter jumped 26% to $103.9 million from $82.3 million in the same quarter in 2003. Net income came in at $18.3 million, a 27% increase over the prior year. Diluted earnings per share came in at $.49/share, up from $.40 the prior year. These were nice results and the stock moved higher today in response to the news.
How about longer-term? Taking look at a
Morningstar.com "5-Yr Restated" financials
, we can see the beautiful ramp-up of revenue from $115.6 million in 2000 to $354.2 million in the trailing twelve months (TTM).
Earnings dipped slightly from $.69 in 2000 to $.35/share in 2001, but have improved steadily since to $1.67 in the TTM.
Free cash flow has been solidly positive, increasing from $7 million in 2002 to $27 million in the TTM.
The balance sheet, as reported by Morningstar, shows $144.4 million in cash and $145.2 million in other current assets. This is more than enough to cover both the $64.3 million in current liabilities and the $122.5 million in long-term liabilities combined...and still have some $'s left over!
Looking at
Yahoo "Key Statistics"
to get some sense of valuation questions, we find that the market cap is a mid-cap $2.03 billion. The trailing p/e is moderate at 33.96, with a forward p/e (fye 30-Jun-06) more reasonable at 26.37. The PEG (5 yr expected) isn't bad at 1.33. Price/sales is rich at 5.08.
Yahoo reports 33.93 million shares outstanding with 32.60 million of them that float. Of these 2.20 million are out short (as of 1/10/05) representing 6.74% or a hefty 17.862 trading days of volume. I really do think this short interest is a factor today with the stock climbing sharply on good news. These short sellers must (?) be scrambling to cover their "shorts".
Yahoo reports no cash dividend and the last stock split was a 2:1 in April, 2000.
How about "technicals"? Taking a look at a
Stockcharts.com Point & Figure chart on RMD
: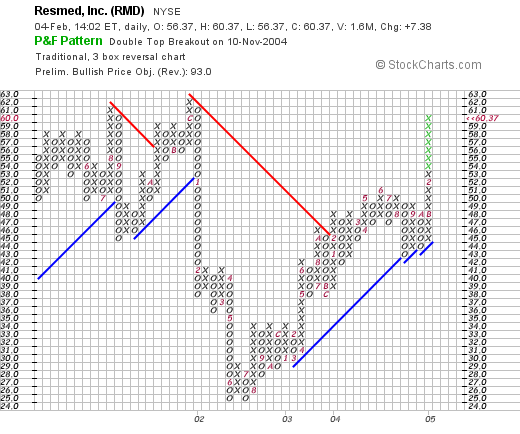 we can see that the stock was slowly appreciating between June and December 2001, reaching a high of $62. The stock then broke down in January, 2002, dropping from $62 to a low of $25.00 in June, 2002. The stock has been subsequently trading higher, and is testing those prior highs at the $57 level. The chart looks fine to me.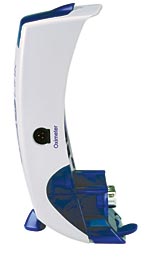 So what do I think? Well, first of all, this is a long-time Stock Picks selection, so I have liked this stock for awhile. In a Peter Lynch fashion, I actually USE their product as do many other sleep-apnea people...so I am biased. But in any case, the numbers look great, the company has been steadily ramping up revenue and earnings, the balance sheet is fine, free cash flow is growing, and the chart looks nice. The stock isn't downright cheap, but with the fast growth...well I think it may be worth the price.

In any case, I liked it enough to buy some shares! Thanks again for stopping by! If you have any questions or comments, please feel free to leave them here on my blog or email me at bobsadviceforstocks@lycos.com.

Bob