February 7, 2005 Manor Care (HCR)

Hello Friends! Thanks so much for stopping by and visiting my blog,
Stock Picks Bob's Advice
. As always, please remember that I am an amateur investor, so please always consult with your professional investment advisors prior to making any investment decisions based on information on this website.
Looking through the
list of top % gainers on the NYSE today
, I came across Manor Care Inc. (HCR) which was actually #2 on the list, and is currently trading at $34.90, up $2.48 or 7.65% on the day. I do not own any shares or options of this stock.
According to the
Yahoo "Profile" on HCR
, Manor Care "...provides a range of healthcare services, including skilled nursing care, assisted living, subacute medical and rehabilitation care, rehabilitation therapy, hospice care, home healthcare and management services for subacute care and rehabilitation therapy."
Apparently, what drove the stock higher today was a
earnings report from Genesis HealthCare (GHCI)
, a competing nursing home corporation, that beat their estimates.
As far as HCR's latest earnings, they
reported 4th quarter 2004 results
on January 28, 2005. Revenue rose to $806 million, compared with $787 million the prior year. And Net Income jumped 26% to $48 million compared with $38 million last year. On a per share diluted basis, this came out to $.55/diluted share vs. $.42/diluted share a year ago. In addition, the Board increased the quarterly dividend by 7%.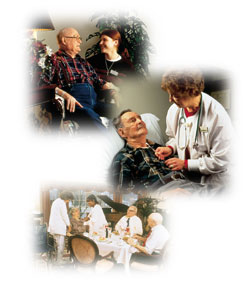 How about longer-term results? Looking at a
"5-Yr Restated" financial statement
on Morningstar.com, we can see that revenue has grown steadily from $2.1 billion in 1999 to $3.2 billion in the trailing twelve months (TTM).
Earnings during this period of time have improved from a loss of $(.41)/share to $1.77/share in the TTM. Dividends commenced at $.25/share in 2003 and amounted to $.55/share in the TTM.
Free cash flow has been strong with $194 million in 2001 and $177 million in the TTM.
The balance sheet is adequate. Morningsar reports HCR with $25.8 million in cash and $510.4 million in other current assets. Balanced against this is $418.6 million in current liabilities and $960.2 million in long-term liabilities.
What about "valuation"? For this I turn to
Yahoo "Key Statistics" on HCR
. Here we can see that the market cap is a large cap $3.01 billion. The trailing p/e is moderate at 18.32 with a forward p/e (fye 31-Dec-06) of 14.46. The PEG (5-yr estimated) is very reasonable at 1.03, and the Price/Sales is 0.88.
Yahoo reports 86.44 million shares outstanding with 83.70 million of them that float. Of these, as of 1/10/05, there were 1.74 million shares out short...a little heavy on the short shares with a ratio of 4.866.
The company pays $.60/share yielding 1.85%. The last stock split reported on Yahoo was a 3:2 in June, 1996.
How about "technicals"? If we look at a
HCR "Point & Figure" chart from Stockcharts.com
:
we can see that this stock was trading strongly higher between July, 2000, when it was trading at around $6.50 until February, 2002, when it broke support and appeared to be heading lower from $19/share. The stock bottomed at around $16 in late September, 2002, then headed higher, breaking resistance in February, 2003, at around $19. It has traded higher since then fairly strongly.

So what do I think? The stock is trading nicely today, came in with a very nice earnings report just a week ago, revenue has been steadily improving the past five years, and earnings have also been steadily increasing. Free cash flow is solid, the company pays a dividend, and valuation is nice. On a negative note, the company does have a lot of debt, but the current situation appears well-covered. I am also a bit leary of nursing-home stocks that are in a business that depends greatly on government largess...especially with all of the budget crunch publicity....and budget cuts that these may entail...so I would be cautious in this field imho.

However, the chart looks nice, and if you stick with some strong stops to prevent losses from building up, it might just be a worth investment to consider!

Again, thanks so much for stopping by! If you have any questions, comments, or words of encouragement, please feel to leave them right here on the blog, or email me at bobsadviceforstocks@lycos.com .

Bob