February 11, 2005 Trex (TWP)

Hello Friends! Thanks so much for stopping by and visiting my blog,
Stock Picks Bob's Advice
! As I always remind you, hopefully you will be inspired by what I write, but please consult with your professional investment advisors prior to making any investment decisions based on information on this website.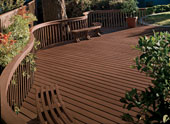 I managed to find a few moments to look through the
list of top % gainers on the NYSE
today, and came across Trex (TWP) which is trading at $48.46, up $2.17 or 4.69% on the day. I do not own any shares, nor do I have any options on this stock.
According to the
Yahoo "Profile" on TWP
, Trex "...is a manufacturer of non-wood decking alternative products that are marketed under the brand name Trex. Wood-Polymer lumber is a wood/plastic composite that offers an attractive appearance and the workability of wood without wood's on-going maintenance requirements and functional disadvantage."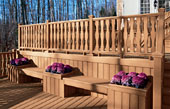 Looking for the latest quarterly report (apparently TWP will be reporting the 4th quarter on 2/17/05), I found the
3rd quarter 2004 earnings report
on the company's
website
.
On October 25, 2004, they reported the 3rd quarter results. And for the quarter ended September 30, 2004, net sales came in at $64.4 million, up from $41.2 million (a 56% increase) and Net Income for the quarter was $7.1 million or $.48/diluted share up 37% from $5.1 million or $.35/diluted share for the 2003 third quarter. In addition, the company announced expectations of 20-25% growth in both revenue and earnings in 2005. This was a great report!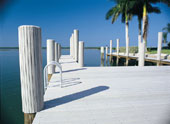 How about longer-term? For this, as you probably know if you are a regular reader here, I go to my ever-helpful
"5-Yr Restated" financials on Morningstar.com
. Here we can see a beautiful 'ramp-up' of revenue from $117.6 million in 2000, dipping slightly to $116.9 million in 2001, then a nice progression to $245.9 million in the trailing twelve months (TTM).
Earnings, which dipped from $1.36 in 2000 to $.64 in 2001, have been increasing steadily to $1.81 in the trailing twelve months.
Free cash flow has been a bit erratic, but has increased from a negative $(25) million in 2001, to a positive $33 million in the TTM.
The balance sheet also looks strong with $61.9 million in cash reported on Morningstar along with 41.4 million in other current assets. Opposed to this is a $35.4 million in current liabilities and $62 million in long-term liabilities.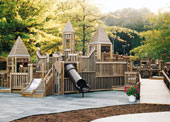 How about "valuation"? Looking at
"Key Statistics" on Yahoo
, we can see that this is a mid-cap stock with a market cap of $716.70 million. The trailing p/e is nice at 26.76 and the forward p/e (fye 31-Dec-05) is even nicer at 21.32. The 5-yr PEG is under 1.0 at 0.97, and the price/sales ratio isn't too bad at 2.79.
Yahoo reports only 14.81 million shares outstanding with 7.70 million of them that float. Of these, 1.53 million (!) are out short as of 1/10/05, representing 19.92% of the float (!) or 10.653 trading days. The rise in the stock price, if I may so suggest, might just be a bit of a crunch of the short-sellers, rushing to buy some shares to cover their "shorts" prior to the upcoming earnings announcement....now THAT is just a guess!
Yahoo does not report any cash nor any stock dividends.
How about "technicals"? For this I turn to
a Point & Figure chart from Stockcharts.com
: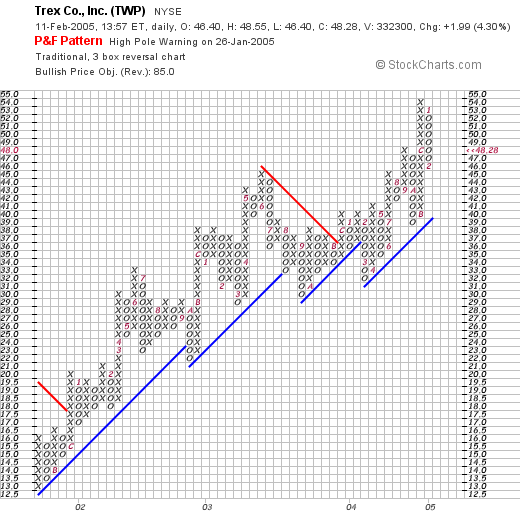 where the stock price makes an almost uninterrupted upward move from $12.50 in October, 2001, to the current $48.28 level. The stock price has really NOT broken down the last four years!


So what do I think? Well this is definitely a Valentine's Day stock! (Happy Valentine's Day to all of you!). I mean I actually think I am in LOVE....:). Well, if you COULD love a stock this might be it.

Let me review: earnings report is GREAT. LOT's of short-sellers on the stock...they may need to cover. Last five years great growth in earnings and revenue. Free cash flow positive. Balance sheet solid. Valuation reasonable. And the chart looks terrific (imho). So what is there NOT to like....now if I only had a nickel I could use to buy some shares....oh well.

Thanks so much for stopping by! If you have any questions, comments, or words of encouragement, please feel free to email me at bobsadviceforstocks@lycos.com .

Bob