February 15, 2005 ANSYS (ANSS)
Hello Friends! Thanks again for stopping by and visiting my blog,
Stock Picks Bob's Advice
. As always please remember that I am an amateur investor, so please consult with your professional investment advisors prior to making any investment decisions based on information on this website!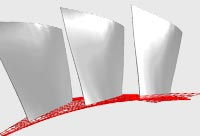 Looking through the
list of top % gainers on the NASDAQ today
, I came across ANSYS (ANSS), which closed at $37.03, up $2.63 or 7.65% on the day. I do not own any shares nor do I have any options on ANSS.
What drove the stock higher today was an excellent
4th quarter 2004 earnings results
. For the quarter ended December 31, 2004, total revenue came in at $38.9 million, up from $33.3 million the prior year. Diluted earnings per share came in at $.36 (or $.33 if adjusted for a one time tax benefit), compared with $.22/diluted share last year during the fourth quarter of 2003.
How about longer-term? Looking at a
"5-Yr Restated" financials
on Morningstar.com, we can see a nice 'ramp-up' of revenue from $63.1 million in 1999 to $128.9 million in the trailing twelve months (TTM). Earnings during this period have also fairly consistently grown from $.44/share in 1999 to $.90/share in the TTM.
Free cash flow has been solid and improving recently. This was $21 million in 2001, and has grown to $45 million in the TTM.
Balance-sheet-wise, ANSS looks good with $124.3 million in cash alone, adequate to cover the $54.2 million in current liabilities. There are NO long-term liabilities according to Morningstar.com. In addition, ANSS is reported to have an additional $33.6 million in other current assets.
How about valuation? Looking at
"Key Statistics" on ANSS from Yahoo
, we can see that this company is a mid-cap market cap of $1.15 billion. The trailing p/e is a bit rich at 41.10, the forward p/e is 32.77 and the PEG (5 yr expected) is also a bit rich at 2.25. The price/sales is 8.27.
Yahoo reports 30.97 million shares outstanding with 29.40 million of them that float. Of these 744,000 are out short as of 1/10/05. This represents 2.53% of the float or a mnodest 3.477 trading days of volume.
No cash dividend are reported. The stock did split recently 2:1 on 10/5/04.
How about technicals?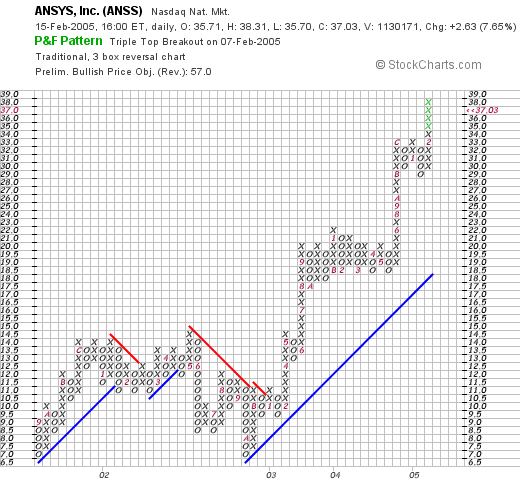 Taking a look at a Point & Figure Chart from Stockcharts.com, we can see a fairly pretty and steady advance in stock price. The stock did pull back after January, 2002, when it dropped from $14.00 to a low of $7.00 in October, 2002. However, since that October, 2002, date, the stock has been rising steadily and strongly to its current level of $37.03.

So what do I think? Everything appears to be in line, the recent earnings, the 5 year record, the free cash flow, and the balance sheet. The chart also looks very nice. I think the valuation is a little bit of concern to me....but will withhold judgement on that question for now. It has the characteristics that I like to see in a stock: good recent quarterly growth, steady growth in earnings, growing free cash flow, and a good balance sheet. I would prefer a cheaper valuation...but then again you cannot always have everything!

Now, if I only had a signal from my own trading account, and I might be buying a few shares!

Thanks so much again for stopping by! If you have any questions or comments, please feel free to email me at bobsadviceforstocks@lycos.com.

Bob