February 18, 2005 Allscripts Healthcare Solutions (MDRX)

Hello Friends! Thanks so much for stopping by and visiting my blog,
Stock Picks Bob's Advice
. For those of you who are new to this blog, please make yourself at home. I hope that what I write helps you think more clearly about investing. However, always remember that I am an amateur investor so please consult with your professional investment advisors prior to making any decisions based on information on this website!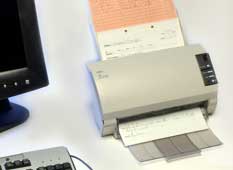 After many years of searching for stocks that would just 'cooperate' and move higher, I have found that some of the most likely candidates for purchase may be found by perusing the
list of top % gainers on the NASDAQ
. I also like to review the same list for the
NYSE
and the
AMEX
.
Today, reviewing the NASDAQ list, I came across Allscripts Healthcare Solution (MDRX) which is actually the 4th best gainer on the NASDAQ (as I write). Currently, MDRX is trading at $13.16, up $2.13 or 19.31% on the day! According to
the Yahoo "Profile" on MDRX
, Allscripts "...is a provider of clinical software and information solutions for physicians." I do not own any shares nor do I have any options on this stock.
One of the most important factors, imho, that drives a stock higher is earnings. That is positive earnings growth and postive revenue growth in a consistent fashion is very attractive to the investing world. What drove the stock higher today, was the announcement of
4th quarter 2004 earnings results
yesterday, just after the close of regular trading. For the three months ended December 31, 2004, total revenue was $26.3 million, up from $23.7 million in the prior year same quarter. Net income was $1.4 million or $.03/diluted share compared with $0.1 million or $.00/diluted share the prior year same period.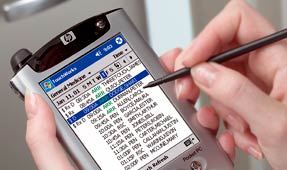 Please note again that important word "consistent" that I mentioned in the previous paragraph. While sometimes I am a very short-term investor, and may sell a stock a day after buying it on a loss, I really would love to own stocks that appreciate year after year! So, while a good quarter is nice, I am interested in stocks that repetitively deliver good results. That, imho, is what I call a "quality" investment. And that is what I believe is the key to investment success!
And
how
do I find consistent companies? Well, as you may know, I am fond of the
Morningstar.com website
. Fortunately, virtually all of the information that I use at this time is available as a free service!
For MDRX, I reviewed the
Morningstar.com "5-Yr Restated" financials
. Here we can see that first revenue growth has been very consistent, increasing from $28 million in 1999 to $98 million in the trailing twelve months (TTM).
Earnings have been erratic, dropping from a loss of $(.91)/share in 1999 to a low of a loss of $(11.07)(!)/share in 2001, then improving steadily since that point. It appears that MDRX just turned profitable this past year.
The next thing I like to check on the same Morningstar.com page is "Free Cash Flow". In my simplified understanding of this accounting term, free cash flow which is defined as the operating cash flow minus the capital expenditures, is the amount of real 'cash' that the company is either generating (positive) or consuming (negative). In the great dot.com era, the "burn rate" of these high tech firms was a constant factor in predicting how long a company would have before it ran out of money literally. I am looking for companies that are generating money and not consuming their assets!
For MDRX, we can find a steadily improving picture in the cash flow department, from a negative $(37) million in 2001, $(12) million in 2002, to $5 million in 2003 and $8 million in the trailing twelve months.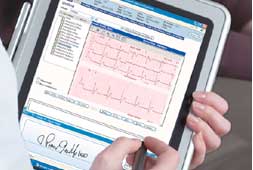 The next thing I like to review on Morningstar is a brief look at the assets and liabilities picture. Again, I am not an accountant, so my examination is fairly superficial...but still, it is helpful to have a handle on this. Basically, I am interested in companies that have lots of assets, and relatively little in the liabilities department. I am concerned that current assets, those, as I understand it, are either cash or easily turned into cash in the next 12 months, to be far greater than current liabilities, which are those liabilities, again as I understand it, that come due either immediately or in the next 12 months.
I would like to see very low levels of long-term debt, but as long as free cash flow is growing and positive, and current assets exceed current liabilities, I am not as concerned about this figure.
And what are the numbers for MDRX? Well, Morningstar shows that this company has $62.6 million in cash and $26.5 million in other current assets. This is plenty to cover the $30 million in current liabilities and still have additional funds to pay off a significant portion of the long-term liabilities. I am comfortable with this company's balance sheet.
How about "valuation"? Do we have to stick to one style of investing? Of course not. We can examine companies through a lot of different perspectives!
Again I turn to Yahoo and look at the
Yahoo "Key Statistics" for MDRX
. First off, how "big" a company is this?
Many investors confuse the size of a company with its stock price. A large cap stock has nothing to do with stock price nor does a small cap stock. Market capitalization is determined by multiplying the price of a stock by its # of shares.
There are actually many definitions out there on market cap and I have used the
Ameritrade definition
:
"Small-cap -- less than $500 million Mid-cap -- between $500 million and $3 billion Large-cap -- over $3 billion."
MDRX sneaks in below the mid cap level at $494.67 million, so we may call it a "small cap".
Since this company is just turning profitable, the p/e is HUGE at 299.77. However, going forward based on estimates (fye 31-Dec-05), we have a more reasonable 25.78 p/e. Thus, the PEG (p/e compared to growth rate), isn't bad at 1.70. Price/Sales is a bit rich at 4.31. I think that "cheap" has both of these ratios around 1.0.
On the same page, we can see that there are 38.38 million shares outstanding with 27.10 million of them that "float". Of these, 3.02 million shares are out short, representing 11.14% of the float (as of 1/10/05). To determine how long it would take to cover these shares which were borrowed and sold by investors speculating on a price decline, we have the "short ratio" which is the number of average trading days of volume required for the short-sellers to buy back their shorts. I personally have arbitrarily set 3 days as a cut-off of significance, that is, more than 3 days, imho, is significant. In this case, the short ratio (as of 1/10/05) is 9.063. Thus, with today's good news on earnings, there is the possibility that these short-sellers were scrambling to cover their "shorts" while the stock was rising.
Yahoo finishes this page off with the report that there is no annual dividend and no stock-split reported.
How about "technicals". As I pointed out earlier, I like to look at a stock from a variety of perspectives. The technician, or chartist, likes to look at the chart to determine future price action. Again, I am totally a novice at looking at charts, am not too sure how much I "believe" in them, but still would rather go long with a stock that has a chart that appears to be on the upswing then the other way around.
If you look at this blog much, you will realize that I like to use "Point & Figure" charts. As
explained on Stockcharts.com
:
Point & Figure charts consist of columns of X's and O's that represent filtered price movements over time. Their distinctive look may be alien at first to people who are more familiar with traditional price bar charts but once people learn the basics of P&F charts they usually become hooked.

There are several advantages to using P&F charts instead of the more traditional bar or candlestick charts. P&F charts automatically:

Eliminate the insignificant price movements that often make bar charts appear 'noisy.'
Remove the often misleading effects of time from the analysis process.
Make recognizing support/resistance levels much easier.
Make trendline recognition a 'no-brainer'.
Help you stay focused on the important long-term price developments."
Anyhow, here is the
MDRX "Point & Figure Chart" from Stockcharts.com
:
Here we can see that the stock price was actually declining from $11.00/share in February, 2001, to a low of $1.75/share in August, 2002, The stock broke through resistance in early 2003 at $3.00, and has traded higher above the support line since then. Overall, the graph looks strong!
So what do I think? How do I put all of this together? Well, in summary, the stock has moved nicely higher today, they just reported a very nice earnings report showing growth in both revenue and earnings. The company has been growing its revenue steadily for the past five years and has been improving its earnings picture for the last several of those years.
Free cash flow is excellent, the balance sheet is nice, and valuation is reasonable since the company is just turning positive. The chart looks nice...and there are a bunch of short-sellers out there who may well be providing some buying pressure.
And why don't I buy some shares? Well that is a whole different issue, certainly, my portfolio at 20 positions has 5 slots for new positions. However, I use my own portfolio as a barometer for adding new money or moving to cash. I am waiting for a sale of a portion of one of my holdings at a gain prior to buying a new stock! Otherwise, I would find this one to be attractive.
I hope that I wasn't too wordy today! Thanks again for bearing with me. If you have any comments, questions or words of encouragement, please feel free to email me at bobsadviceforstocks@lycos.com!
Bob
Posted by bobsadviceforstocks at 1:45 PM CST |
Post Comment
|
Permalink
Updated: Friday, 18 February 2005 5:33 PM CST