October 28, 2004 Cabot Microelectronics (CCMP)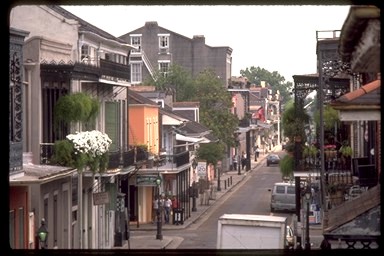 Hello Friends! Just came back from a week in New Orleans. This beautiful photo is courtesy of the State of Louisiana Tourism Office, and it is certainly worth a trip to see the original in person! After being a regular blogger for the last 18 months, I really do go through a bit of withdrawal as I stay away from the 'net. I found myself going to internet cafes to catch up with what was going on...I really need to get myself a good laptop with a nice WiFi port. As always, please remember that I am an amateur investor so please do your own due diligence on all stocks discussed and consult with your professional investment advisors before making any decisions to make sure that all investments are appropriate, timely, and likely to be profitable for you! If you have any questions or comments, please feel free to email me at bobsadviceforstocks@lycos.com.

Anyway, I am back in business! So, while scanning the
list of top % gainers on the NASDAQ
this afternoon, I came across Cabot Microelectronics (CCMP) which closed at $35.70, up 13.15% on the day. I do not own any shares of Cabot, nor do I own any options. According to the
Yahoo "Profile"
, CCMP "...is a supplier of high-performance polishing slurries used in the manufacture of integrated circuit (IC) devices within the semiconductor industry, in a process called chemical mechanical planarization (CMP)." O.K., I am not a wiz on this stuff, so it appears that this company's fortune is tied to the chip market. And they are doing just fine!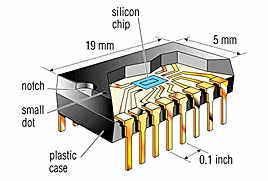 What drove the stock higher today, was the
4th quarter and year-end earnings announcement
. For the quarter ended September 30, 2004, revenue came in at $82.7 million, up 7.5% sequentially from $76.9 million in the prior quarter and up 21.8% from $67.9 million the prior year same quarter. Net income for the quarter was $13.2 million, up 7.5% from $12.2 million the prior quarter and up 36.5% from the $9.6 million the prior year. On a per share diluted basis, this came in at $.53/share this quarter, up sequentially from $.49/share the prior quarter and up from $.39/share the prior year. For the year, revenues were up 23.0% to $309.4 million, and diluted earnings per share came in at $1.88, up 22.9% from the $1.53 reported in fiscal 2003. These look like solid results to me!
How about longer-term? Looking at
a Morningstar.com "5-Yr Restated"
financials, we can see the steady growth in revenue from $98.7 million in 1999 to the $294.6 million in the trailing twelve months (TTM). (as the above paragraph notes, as of today the TTM came in actually at $309.4 million!). Earnings have been fairly flat with $1.72 reported in 2001, and $1.88 reported in 2004. Free cash flow is a bit nicer with $27 million in free cash flow increasing to $46 million in the trailing twelve months.
Also attractive, the balance sheet per Morningstar looks solid to me with $155.9 million in cash, more than enough to cover both the $28.4 million in current liabilities and the modest $16.1 million in long-term liabilities more than 4 times over. In addition, CCMP is reported to have an additional $69.8 million in other current assets. Looks nice to me!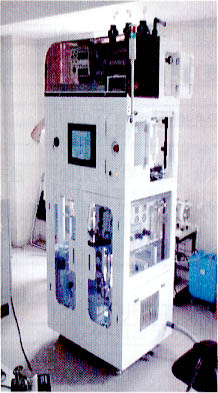 (The picture at right is a "Chemical Mechanical Polishing (CMP) Slurry Feeder Equipment made by Takada Corporation in Japan.)
How about valuation questions? Looking at
"Key Statistics" on CCMP from Yahoo
, we can see that this is small cap corporation with a market capitalization of only $885.1 million. The trailing p/e isn't bad at 20.62, with a forward p/e of 18.03 (fye 30-Sep-05). With the current fast growth rate, the PEG comes in at an attractive 0.69.
Yahoo reports 24.79 million shares outstanding with 24.70 million of them that float. As of 10/8/04, there were 6.67 million shares out short, representing 27.00% of the float, or 8.164 trading days. This is certainly significant to me, both in the large % of the float out short as well as the greater than 3 days of trading volume. With the great results reported today, we could be seeing signs of a "short squeeze".
No cash dividend is paid, and no stock dividend is reported on Yahoo.com.
How about technicals? If we look at
Stockcharts.com
for a
"Point & Figure" chart on CCMP
, we can see that this stock has been trading LOWER since breaking through a support level at $56 in September, 2003. Recently it has broken through a resistance level at around $37, to possibly change its current price direction. This is not an overwhelming picture of strength technically, but the stock has certainly NOT gotten ahead of itself!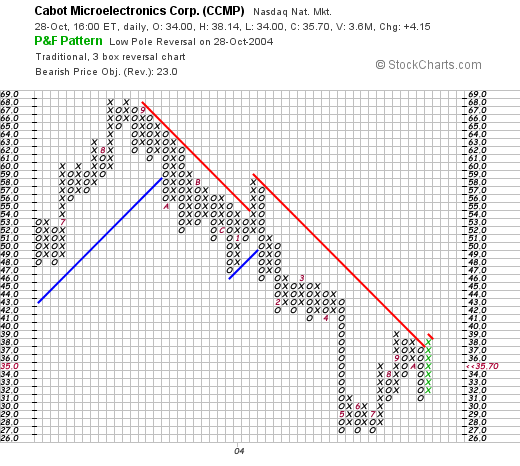 So what do I think? Well, the recent earnings and revenue report looks excellent, the company HAS been growing nicely the past five years, and the earnings while not growing steadily the past five years HAVE been growing nicely the past couple of years! The company is generating lots of cash and is quite solvent and the valuation is nice. It is just that the Industry the company has been in has been fairly week the past year, and this is holding back the stock price imho. Certainly valuation is also nice now with a PEG under 1.0. Personally, I am not buying this stock because I haven't sold any of my holdings at a gain...."allowing" me to add another position. However, I certainly would be game to pick up some shares if the timing WAS right!

Thanks again for stopping by! If you have any questions, comments, or words of encouragement, please feel free to email me at bobsadviceforstocks@lycos.com. I am a bit behind in responding to the mail, so bear with me, I shall be trying to post a couple of the notes right here on the blog!

And don't forget to vote on Tuesday!

Bob



Posted by bobsadviceforstocks at 1:48 PM CDT |
Post Comment
|
Permalink
Updated: Thursday, 28 October 2004 7:04 PM CDT