A Reader Writes "Comment on LSCP?"
Hello Friends! Thanks so much for stopping by and visiting my blog,
Stock Picks Bob's Advice
. As always, please remember that I am an amateur investor, so please consult with your professional investment advisors prior to making any investment decisions based on information on this website.

Looking through my email (you can drop me a line at bobsadviceforstocks@lycos.com and I shall try to answer you if possible, most likely right here on the blog!), I wanted to answer a question from P.C. who writes:
Bob,

I am enjoying your blog. I am wondering if you can
comment on LSCP.

Thanks in advance.

Regards,
P.C.
First of all, thanks for the kind words on the blog! I very much appreciate any and all feedback from readers so the comment is noted. Insofar as Laserscope (LSCP) is concerned, this is an old favorite of mine, I have actually owned it in my trading portfolio (until I hit my 8% loss), and I still have a few shares of it in one of my son's accounts, and I am pretty sure my stock club owns some shares of this as well. I do not personally have any LSCP stock or options as I write.

I first
posted Laserscope (LSCP) on Stock Picks
on December 31, 2004, when it was trading at $35.99. Laserscope is currently trading at $38.70, down $3.43 or (8.14%) on the day, on the heels of an
"underperform" rating by Jefferies today
. Even with this large drop, LSCP is trading up $2.71 from where I posted it, or 7.5% ahead. There was a recent and timely
article on Motley Fool
, pointing out the high "beta" of this stock, which is a measurement of volatility. My own sale on an 8% loss, and today's precipitous move confirms this volatility!
Let's take another brief look at this company! According to the
Yahoo "Profile" on LSCP
, the company "...engages in the design, manufacture, sale, and service of medical laser systems and related energy devices for the medical office, outpatient surgical center, and hospital markets worldwide. The company's product portfolio consists of lasers and other light-based systems for applications in the urology, dermatology, and aesthetic surgery markets."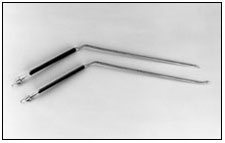 The first place I go in checking a stock out is the "headlines" section of Yahoo looking for the latest quarterly report. What do I require of a stock? That the revenue
and
the earnings are positive and growing!
On April 27, 2005, Laserscope
reported 1st quarter 2005 results
. In summary, revenue grew 50% to $28.2 million from $18.8 million the prior year. Net income rose over 100% to $5 million or $.22/share, from $2.2 million or $.10/share the prior year same quarter. These results look "solid" to me!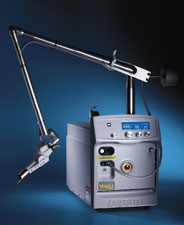 My next step is to go over to the Morningstar website and check out some of the longer-term financials. In particular, looking at the
"5-Yr Restated" financials on Morningstar.com
, we can note the following: a beautiful progression of revenue growth the past five years, except for a small dip from $35.4 million in 2000, to $35.1 million in 2001, climbing steadily since then to $103.2 million in the trailing twelve months (TTM).
Earnings, which also dipped from $.01/share in 2000 to a loss of $(.05)/share in 2001, have climbed steadily since then to $.77/share in the TTM.
Free cash flow has also been improving, growing from $1 million in 2002 to $8 million in the TTM.
The balance sheet, as presented on Morningstar.com is nothing short of gorgeous! The company is reported to have $22 million in cash and $46.6 million in other current assets, balanced against $24 million in current liabilities and NO long-term liabilities at all!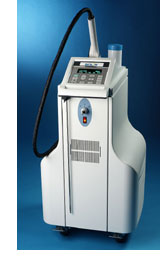 Generally, my next step in looking at a stock is to 'travel' back to Yahoo, in particular looking at the
"Key Statistics" on LSCP
. Here we can see that this is a "mid cap" stock with a market capitalization of $851.34 million.
The trailing p/e is a bit rich at 50.50, with a forward p/e of 35.72. The PEG is also a bit steep at 1.94, and the Price/Sales ratio is 9.01.
Yahoo reports 22.07 million shares outstanding with 20.16 million that float. Currently there are 3.13 million shares out short (!) representing 15.10% of the float (as of 6/10/05) or 13.8 trading days of volume. I use a 'three day rule' on short interest for my own purposes of determining significance, and this looks like a lot of shares out short that will need to be covered.
Yahoo does not report any cash nor any stock dividend by Laserscope.
Finally, I like to take a look at the price chart. I am in no way at all a technician, and I simply try to roughly see if the stock looks like the latest trend is higher, sideways, or lower!
Looking at the
"Point & Figure" chart on LSCP from Stockcharts.com
, we can see what looks like an uninterrupted move higher for LSCP, which is currently undergoing some price correction. The overall upward trend appears intact.
So what do I think?

Well in review, this is an old stock pick and a favorite of mine from this blog. I do not currently own any shares. However, the latest quarter was beautiful, the past five years have been solid, the company is growing its free cash flow, the balance sheet looks nice, but the valuation is a bit rich. Even with the correction today, the chart looks nice!

I generally buy stocks making strong moves higher on the day I purchase them, so I wouldn't personally be buying a stock moving down so strongly. However, the rest of the story is intact, and except for valuation including PEG, P/E, and Price/Sales, which are all a bit "rich" the stocks still looks nice to me!

I hope that was helpful for you! Thanks again for stopping by and if you or anyone else has any questions, please feel free to leave them right on the blog, or you can email me at bobsadviceforstocks@lycos.com.

Bob