A Reader Writes: "Here is my first pick: TPX"
Hello Friends! Thanks so much for stopping by and visiting my blog,
Stock Picks Bob's Advice
. As always, please remember that I am an amateur investor, so please consult with your professional investment advisors prior to making any decisions based on information on this website.

I was checking my mail today and found that Stan, who wrote earlier about starting to invest, wrote again! He wrote:
Bob,

Here is my first stock: TPX
I know it may be a bit conservative, but it is a stock that I have had my eye on & I noticed that Morningstar increased the rating to 5. I went through the criteria you set out & TPX seems to meet those.

This could be FUN.....

Stan

Stan, first of all thank you for letting me know about what you were thinking about investing. Of course, I CANNOT determine whether this would be a good investment for you or not and really mean it when I tell you that I am an amateur investor, so please consult with a professional investment advisor. However, a few words on TPX and whether it does actually fit my "rules".
One of the key things to my investing strategy, is that a stock must fit the rules
on the day
that I choose to purchase it. It is not enough that it fit the rules in the recent past.
What do I mean by that? Well, my FIRST rule and starting point is that a stock is on the list of top % gainers
that
day. Not a week or so ago.

So let's take a look at Tempur-Pedic (TPX). First of all, I
posted Tempur-Pedic (TPX) on Stock Picks
on July 1, 2004, when it was trading at $14.45. I do NOT own any shares of TPX nor do I own any options. TPX closed today at $17.00, down $.43 on the day, yet up $2.55 or 17.6% from when I posted the stock about a year ago.
First thing to note, TPX is not on the top % gainers list today. This is no small thing. When a stock is on the top % gainers list, it suggest something good happening to the stock, something like an earnings announcement, a news event, or somebody accumulating shares of the company. If TPX
were
on that list, I might be writing about it again.
In fact, if we look at the current
"Point & Figure" chart from Stockcharts.com
: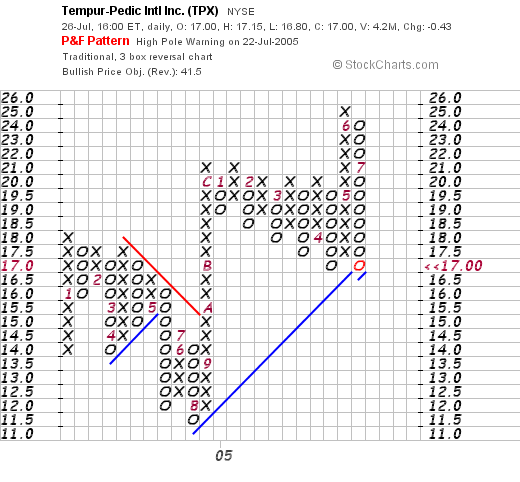 We can see that this stock actually is breaking through support levels, dropping today and fairly steadily from June, 2005, when it was trading at $24 to its current $17 level. This is not the kind of graph I am looking for.

The rest of the TPX story is intact. The latest earnings were strong, the Morningstar.com data looks reasonable and the valuation isn't bad.

But I believe that in order to invest in the fashion that I am doing, you need to apply all of the rules, including finding stocks the day that you wish to purchase them that are on the top % gainers list.

I hope this discussion isn't discouraging to you! I do think that as you develop a portfolio, and if you are successful it shall be fun. In fact, it could be a GREAT idea to purchase some TPX today, if it goes on to advance to higher prices. It is just that you commented on "my rules" and one of them, a key element, is starting out with the top % gainers!

Bob


Posted by bobsadviceforstocks at 4:40 PM CDT |
Post Comment
|
Permalink
Updated: Tuesday, 26 July 2005 5:15 PM CDT