"Weekend Trading Portfolio Analysis" Cal Dive (CDIS)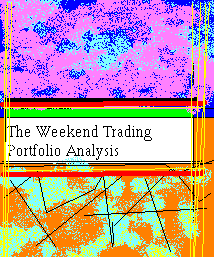 Hello Friends! Thanks so much for stopping by and visiting my blog,
Stock Picks Bob's Advice
. As always, please remember that I am an amateur investor so please remember to consult with your professional investment advisors prior to making any investment decisions based on information on this website.
It is hard to believe that it is once again the weekend and time to review some past picks and positions. I was in Target the other day with one of my kids who told me "Gee they have the Halloween stuff out already, it was
just
Halloween!"

This weblog is a diary of two things: stocks that I have looked at without purchasing, and my actual purchases in my trading portfolio. I have been going alphabetically through my 25 positions, and am currently up to Cal Dive (CDIS).
On November 3, 2004, I purchased 200 shares of Cal Dive (CDIS) at $38.158 and immediately
posted the trade on Stock Picks
. Later that evening, I wrote up a full
review of CDIS on Stock Picks
.
Cal Dive has been a good performer in my portfolio. I sold my first partial position, 50 shares representing 1/4 of my holdings, on 2/25/05 at $49.87, representing a gain of $11.71 or 30.7%. If you are familiar with my trading strategy, I sell my losers quickly at an (8)% loss, but sell my gaining stocks slowly at 30, 60, 90, 120, 180, etc. gain points.
On August 1, 2005, I sold my second 1/4 position, this time only 37 shares representing approximately 1/4 of my remaining 150 shares, at $60.84, representing a gain of $22.68 or 59.4%.
Where would I sell next? Since I have sold this stock twice, I would only let it retrace 50% of the highest gain, that is I would again be selling all remaining shares at the 30% gain on the downside, or at about a price of $49.61. On the upside, I would plan to sell 1/4 of my remaining shares or about 28 shares if an when the stock hits a price of approximately $72.50. Meanwhile, I wait patiently :). CDIS closed at $59.52 on 9/23/05, down $(.52) or (.87)% on the day.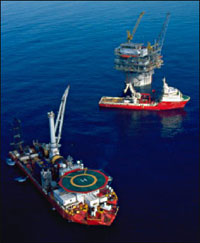 Cal Dive (CDIS) has turned out to be a "hurricane stock pick" with both Katrina and Rita barrelling through the Gulf of Mexico making a mess of offshore oil equipment/facilities. I did
not
purchase this stock because of this possibility. I used my usual technique of looking for stocks with strong daily momentum, great earnings and revenue growth, a good Morningstar evaluation consisting of steady revenue and earnings growth over the past five years, positive free cash flow, and a good balance sheet.
Let's take another look at Cal Dive! According to the
Yahoo "Profile" on CDIS
, the company "...operates as an energy services company in the Gulf of Mexico, and in the North Sea and the Asia/Pacific regions. It offers a range of marine contracting services, such as marine construction, robotic services, manned diving, and decommissioning services."
On August 2, 2005, CDIS
reported 2nd quarter 2005 results
. Revenue grew to $166.5 million from $127.7 million in the second quarter last year. Net income climbed to $26 million, from $18.2 million the prior year same period. On a diluted earnings per share basis, earnings came in at $.65/share, up from $.47/share in the same quarter last year.
Of some concern is the risk that this Gulf of Mexico, Houston-based company faces to its own assets with the hurricanes. On September 1, 2005, CDIS
reported on Katrina damage
and noted that preliminary reports "...revealed no significant damage from Hurricane Katrina to its Marine Contracting assets and offshore production facilities." I do not see any news yet on Hurricane Rita and whether CDIS incurred any damage. However, CDIS is involved in the repair and salvage of offshore assets and should be facing significant business opportunities as the offshore oil business in the Gulf responds to the hurricanes (imho).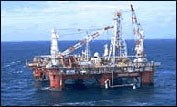 Reviewing the
Morningstar.com "5-Yr Restated" financials
, we can see the beautiful progression in revenue from $181.0 million in 2000 to $621.1 million in the trailing twelve monts (TTM).
Earnings have grown steadily (except for a dip in 2002) from $.72 to $2.51 in the TTM.
Free cash flow turned negative in the TTM on the back of a large $244 million capital spending. Currently at $(5) million, this is a "negative" in my book, but it is reassuring to see the dynamic growth in "Operating Cash Flow". Looking at the balance sheet, we can see that the cash stands at $199.7 million, plenty to pay off all of the $157.1 million in current liabilities. In addition, CDIS has $165.7 million in "other current assets", enough to make a nice dent in the $768.5 million in long-term liabilities.
What about the chart? Taking a look at the
Cal Dive "Point & Figure Chart"
: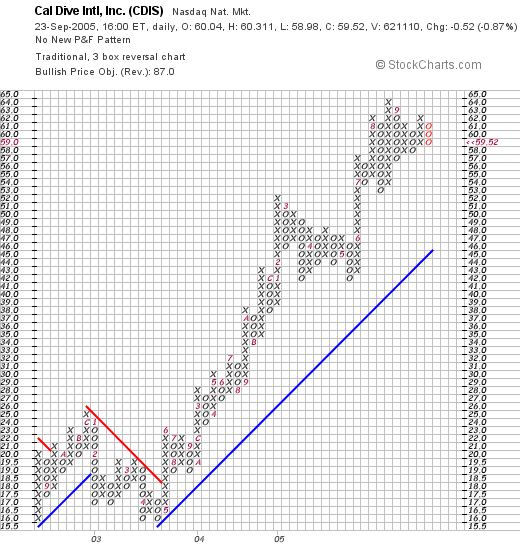 We can see what looks like a gorgeous looking chart with the stock initially trading between a range of $15.50 to $25, breaking through a resistance line at $18 in May, 2003, and trading steadily higher for the past 2 1/2 years! Looks quite strong to me!

Anyhow, that's another real stock holding for me. It doesn't mean it is better than my other stock picks that I discuss. I can tell you about lots of those other stocks that turned out better than anything I actually purchased. I just want to share with you my current holdings, which forces me to take a closer look at them as well!

Thanks so much for stopping by and visiting. I hope all of this discussion is helpful for you, I know it is good for me! If you have any questions or comments, please feel free to leave them right on the blog or email me at bobsadviceforstocks@lycos.com.

Bob