"Weekend Trading Portfolio Analysis" Jos. A Bank Clothiers (JOSB)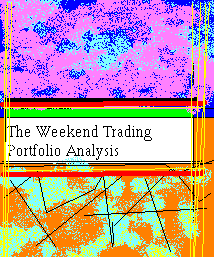 Hello Friends! Thanks so much for stopping by and visiting my blog,
Stock Picks Bob's Advice
. As always, please remember that I am an amateur investor, so please remember to consult with your professional investment advisors prior to making any investment decisions based on information on this website.
I am glad to be back blogging after a few days hiatus. Sometimes I get so busy in my daily responsibilities that I have a hard time finding the time to get to my computer and blog! If you missed my posting, well I appreciate your interest. If you didn't notice that I hadn't been writing, well, then I didn't disappoint I guess :).
This blog has two parallel activities going on. First, I generally have been writing about stock market ideas that I find attractive as potential stocks that might be showing appreciation in price in the future. In addition, I try to share with you my own experiences in dealing with the stock market, by posting my actual holdings and transactions within my trading portfolio. These holdings are generally stocks that I have purchased from the greater list of "stock picks" and share the same characteristics of stocks that I discuss on the blog.
Several weeks ago I started reviewing the stocks in my trading portfolio on weekends. Going alphabetically, last week I
discussed Hibbett Sporting Goods
. This week, I would like to share with you my experience with Jos. A Bank Clothiers (JOSB).

On April 4, 2005, I purchased 240 shares of Joseph A. Bank Clothiers (JOSB) at a price of $31.90/share. On June 7, 2005 I sold 60 shares of JOSB at $41.62/share for a gain of $9.72/share or 30.5% from my purchase cost. Thus, this represented 1/4 of my holdings at my first sale target, which as you may know is a 30% gain. Currently, I own 180 shares of JOSB which closed 11/11/05 at $46.21. This represents a gain of $14.31 or 44.9% from my purchase in April. My next sale will be at a 1/4 of my holdings sale at a 60% gain or 1.6 x $31.90 = $51.04, or if the stock should decline, I shall be selling
all
of my remaining shares at approximately break-even or $31.90.
O.K., let's take a look at the stock and update our review. By the way, I first
posted Jos. A Bank on Stock Picks Bob's Advice on August 7, 2003
when it was trading at $44.16. JOSB had a 3:2 stock split on 2/19/04, and a 5:4 stock split on 8/19/04 giving me an effective "pick price" of $44.16 x 2/3 x 4/5 = $23.55. Thus, the stock has actually appreciated $22.66 or 96.2% since first posting on the blog in August, 2003.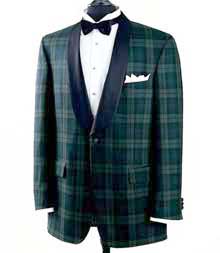 According to the
Yahoo "Profile" on Jos. A Bank
, the company "...engages in designing, retailing, and direct marketing men't tailored and casual clothing, and accessories in the United States. It offers formal, business, and business casual apparel, as well as sportswear and golf apparel."
Probably a step that I regularly do but do not always discuss on this blog is to scan the news stories for anything that might be affecting this stock. Looking through the headlines, a very significant recent story was the
announcement, on November 3, 2004, of October, 2005 sales
. Since JOSB does a lot of internet sales as well as actual "bricks and mortar" stores, it is helpful to look at total sales as well as same store sales. As I was discussing in the earlier post on a reader question on the Limited, I generally would like to see
at least
high single digit same store sales growth reports.
Jos A Bank, in this report, noted that October sales overall grew 28.5% to $37.0 million compared with sales of $28.8 million in October, 2004. This was a GREAT number to report! Better yet, look at the "same store sales" number: an increase of 16.2%! This company is having an outstanding period of growth with solid catalog and internet sales growth of 19.5% and same store sales growth in the mid teens! Looking at retail ventures, this is about as good as it gets!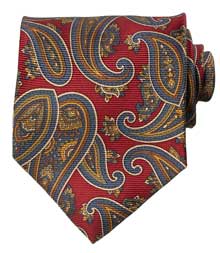 Having scanned the news on this stock, I like to look at the latest quarterly earnings report. On September 6, 2005, JOSB
reported 2nd quarter 2005 results
. During the quarter ended July 30, 2005, total sales increased 20.2% to $98.6 million, compared with $82.0 million in the prior year same period. During the quarter, same store sales increased 4.9%, and combined catalog and internet sales jumped 23.4% during the quarter. Net income increased to $5.3 million for the quarter up from $3.4 million and earnings per share increased 54% to $.37/share up from $.24 in the same period last year. The company actually raised guidance for the
second
time this year within the earnings report. As Robert Wildrick, CEO of JOSB stated:
"Based on these strong results and the current business outlook, we are raising our earnings guidance for the second time for the year ending January 28, 2006 (fiscal 2005) to at least $2.15 to $2.19 per share, compared with $1.72 per share in fiscal 2004."
This was a very strong earnings report!
What about longer-term? Taking a look at the
Morningstar.com "5-Yr Restated" financials on JOSB
, we can see the steady increase in sales from $206 million in 2001 to $406 million in the trailing twelve months (TTM). Earnings have also steadily improved from $.43/share in 2001 to $1.95/share in the TTM.
The free cash flow has been a bit erratic, dropping from $12 million to $(31) million in 2004 but has improved to $10 million in the TTM.
The balance sheet is solid with $1.1 million in cash and $189.5 million in other current assets, enough to cover both the $97.8 million in current liabilities and the $52.1 million in long-term liabilities.
How about valuation? Reviewing the
Yahoo "Key Statistics" for JOSB
, we can see that this is a small mid-cap stock with a market cap of $630.54 million. The company has a very reasonable p/e of 23.73 and a forward p/e (fye 29-Jan-07) of 17.70. The PEG is a reasonable .78. (Anything under 1.0 is a great buy imho if everything else is in order.) Yahoo reports only 13.65 million shares outstanding with 4.04 million shares (10/11/05) our short (!) representing 12.3 trading days of volume. With the reasonable valuation and fabulous earnings report, I have to wonder what these short-sellers were smoking, and whether they are now scrambling to buy some shares back. Looks like a squeeze to me. But then again I am just an amateur.
No cash dividend is reported and Yahoo reports, as I mentioned above, the 5:4 stock split on 8/19/04.
How about a chart? Looking at a
"Point & Figure" chart on JOSB from Stockcharts.com
: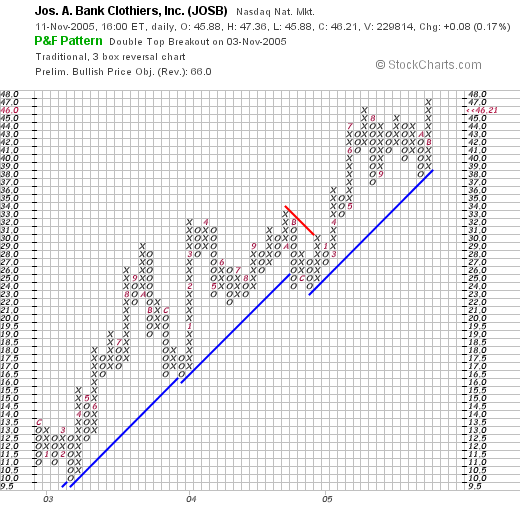 This chart looks quite strong with the stock bouncing off a support line at $10/share in March, 2003, and moving almost perfectly higher to the $47 range recently reported. A very strong chart with strong underlying fundamentals.

So what do I think? Well, I own the shares :). But seriously, the stock looks great with an accelerating earnings report, steady growth, great latest quarter, reasonable valuation, strong chart, and a bunch of short-sellers probably looking to cover their sales with a relatively limited number of shares to find to buy.

Thanks again for stopping by! Excuse my occasional absence from the blog. And do come back and visit, comment, and send me any of your questions or thoughts at bobsadviceforstocks@lycos.com. Also, feel free to comment right on the blog!

Bob