"Weekend Trading Portfolio Analysis" ResMed (RMD)
Hello Friends! Thanks so much for stopping by and visiting my blog,
Stock Picks Bob's Advice
. As always, please remember that I am an amateur investor, so please remember to consult with your professional investment advisors prior to making any investment decisions based on information on this website.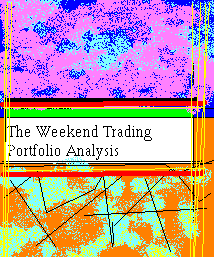 One of my goals on this blog is to allow you to understand investing from my perspective. That includes updates regarding my positions, my trading and my current thoughts on the investments that make up my portfolio. Several months ago, I started adding a weekly look at a single holding in my portfolio, working through the holdings alphabetically. Last week I
discussed Quality Systems (QSII) on Stock Picks Bob's Advice
; next alphabetically is ResMed (RMD).

On February 9, 2005, I purchased 120 shares of ResMed (RMD) in my trading account at $59.67/share. On September 27, 2005, I sold 30 shares of ResMed netting $77.64/share for a gain of $17.97 or 30.1%. This was 1/4 of my shares (as I like to point out, I have reduced my sales of shares to 1/6th positions) at my first "targeted sale price". RMD subsequently, on October 3, 2005, had a 2:1 split, making my effective purchase price actually $59.67/2 = $29.84. RMD closed 12/9/05 at $40.21, giving me an unrealized gain of $10.37 or 34.8% over my purchase price.
When will I be selling next? On the downside, since I sold a portion at the 30% gain level, I have moved my "mental stop" up to break even or $29.84/share. On the upside, the next point to sell 1/6th of my shares is at a 60% gain or 1.6 x $29.84 = $47.74.
Let's take an updated look at this company and see if it still looks like an attractive investment!
First of all, let's review the company's business. According to the
Yahoo "Profile" on ResMed
:
ResMed, Inc., through its subsidiaries, engages in the design, manufacture, and marketing of equipment for the diagnosis and treatment of sleep-disordered breathing and other respiratory disorders, including obstructive sleep apnea. Its products include airflow generators; diagnostic products; mask systems; headgear; and other accessories, including humidifiers, cold passover humidifiers, carry bags, breathing circuits, Twister remote, the Aero-Click connection system, and the AeroFix headgear.
And what of the latest quarter? On November 2, 2005, ResMed
announced earnings results
for the quarter ended September 30, 2005. Revenue came in at $127.1 million, a 45% increase over the same quarter last year. Even without acquisition related revenue, growth in revenue still amounted to a strong 30% growth. Net income came in at $16.4 million, up from $13.9 million last year. Diluted earnings per share amounted to $.23/share, up from $.20/share last year. The reported earnings included restructuring and amortization of "acquired intangibles" without which, earnings worked out to $.28/share. Still, even with this, earnings were up 15% for the quarter.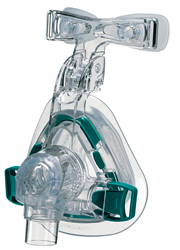 And what about Morningstar? Looking at the
Morningstar.com "5-Yr Restated" financials on RMD
, we can see the steady revenue growth from $155.2 million in 2001 to $464.9 million in the trailing twelve months (TTM). Earnings also show an uninterrupted pattern of steady growth from $.18/share in 2001 to $.94/share in the TTM.
A negative is the $(1) million in free cash flow due to a large increase in caital spending in the last twelve months. I shall need to continue monitoring this, although I do not think this is significant in the long run.
The balance sheet is solid with $134.2 million in cash and $236.4 million in other current assets, balanced against $230.3 million in current liabilities and $80.8 million in long-term liabilities.
And the chart? Looking at a
"Point & Figure" chart on RMD from Stockcharts.com
, we can see that since breaking through resistance in June, 2003, at the $21 level, the stock has been moving strongly higher. I don't think the chart looks at all negative, in fact, the stock is moving into new high territory.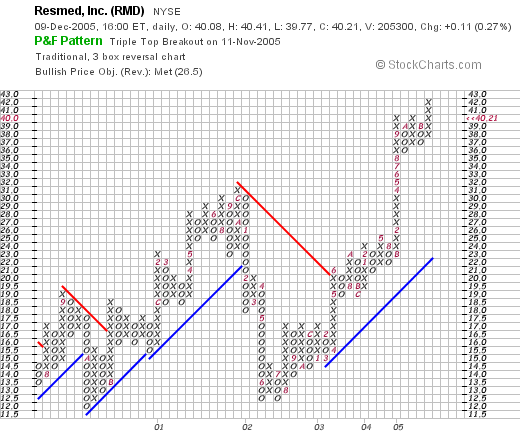 Thus, the stock still looks like a great investment to me! The recent quarter was solid, the Morningstar.com report is essentially intact (except for the negative free cash flow which deserves attention), the balance sheet looks nice, and the chart looks strong.

Thanks so much for stopping by and visiting! If you have any questions or comments, please feel free to leave them on the blog or email me at bobsadviceforstocks@lycos.com.

Bob




Posted by bobsadviceforstocks at 10:54 PM CST |
Post Comment
|
Permalink
Updated: Saturday, 10 December 2005 6:21 PM CST