Readers Write: Questions about XOM, BNT, and OSK
Hello Friends! Thanks so much for stopping by and visiting my blog,
Stock Picks Bob's Advice
. As always, please remember that I am an amateur investor, so please remember to consult with your professional investment advisors prior to making any investment decisions based on information on this website.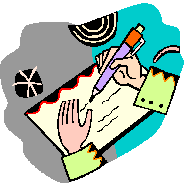 I always enjoy receiving notes and letters from readers and if you would like to drop me a line, you can reach me at bobsadviceforstocks@lycos.com. You can also leave comments after each entry. I will try to read and respond to as many of these comments and letters as I can. Please remember that I truly am an amateur, so for more definitive responses, please consult with your professional investment advisors.
There are three emails that I have been meaning to get around to commenting on. So please excuse me if it has taken me awhile to get back to you on these notes.
The first email was from Imran V. who wrote:
"Dear Bob, Good Morning, I will appreciate if you can kindly review
ExxonMobil (XOM). Have a good day. Sincerely yours, Imran"
First of all, I do not own any shares of ExxonMobil but I believe my children own a few shares that they received as gifts from their Grandmother several years back.
Before I comment on XOM, I would like to point out that I generally like to avoid commodity type stocks, which although they can be extremely profitable, are at the mercy of the price of the underlying material they are involved in exploring for, processing, or retailing. Thus Exxon's fortunes have been tied to the price of oil, which since it has been skyrocketing, has pushed all of the oil stocks higher. While I do not expect a collapse in the oil market, and suspect that it would be advisable for all investors to have some exposure to these companies, I like to invest in stocks with some kind of product or service that can be purchased independent of any price of a particular material.
That being said, let's take a look at two things with each of these stocks: the Morningstar.com report and a "point & figure" chart from Stockcharts.com.
First ExxonMobil (XOM). Reviewing the
"5-Yr Restated" financials on XOM from Morningstar.com
we find that revenue, except for a slight dip from $208.7 billion in 2001, to $200.9 billion in 2002, has grown steadily to $370.7 billion in 2005.
Likewise, earnings, which also dropped from $2.17/share in 2001, to $1.61/share in 2002, have since grown steadily to $5.71/share in 2005.
Free cash flow has been solid and growing from $15.6 billion in 2003 to $34.3 billion in 2005.
The balance sheet is also solid with $28.7 billion in cash, $44.7 billion in other current assets, giving us a current ratio of approximately 1.5 when compared to the $46.3 billion in current liabilities. The company has an additional $50.8 billion in long-term liabilities.
What about the chart? Looking at the
"Point & Figure" chart on XOM from StockCharts.com
:
We can see that the stock was actually trading lower between February, 2001, when the stock was at $42/share, down to a low of $29/share in July, 2002. However, in 2004 and 2005, the stock moved almost straight higher to $64, where it has been trading in a fairly tight range between $52 and $65 since. The chart looks bullish, and if the oil prices hold up, I wouldn't be surprised to see this stock move higher from this level.

So what do I think? Well, as I said, it is not my kind of stock. As long as the oil price remains high, the stock is likely to continue to move higher with the large amount of free cash flow and profits the stock is generating. The company is likely to increase its dividend and buy back shares as well as it scrambles to do something with the piles of cash it is accumulating.

Next question. I received a nice email from Jason T.B. who wrote:
"Hello My name is Jason. I'm a 28 year old new investor and I was thinking about buying some BNT stock. If you don't mind what do you think about this stock pick.

Thanks for your help,
Jason T. B."
First of all, thank you for writing Jason! I hope that my amateur perspective can also be helpful for you, but that you remember, like I advise all of my readers, to find a professional advisor who can assist you with your investing decisions.
I do not own any shares of Bentley Pharmaceuticals (BNT) but I have written about this stock twice on this blog. You might want to review my first
discussion of Bentley on Stock Picks Bob's Advice
on October 3, 2003, and then my
revisit
on November 21, 2005.
Let's take one more brief view of this company and a look at a chart.
Looking at the
"5-Yr Restated" financials on BNT from Morningstar.com
, you can see the steady growth in revenue from $18.6 million in 2000 to $73.4 million in 2004 with $92 million reported in the trailing twelve months (TTM).
Earnings growth has not been quite as steady with flat earnings at $.08 in 2001 and 2002, and a dip in earnings from $.28 to $.25/share in 2004. However, earnings in the TTM have come in at $.41/share. It is not unusual to see a bit of an erratic history of earnings growth in these small companies.
Free cash flow has also been erratic with $(2) million in 2002, $0 in 2003, $(6) million in 2004 and $3 million in the TTM.
The balance sheet is solid with $36.3 million in cash and $41.8 million in other current assets, which, when balanced against the $30.9 million in current liabilities, gives us a current ratio of over 2.0. A nice point is the fact that the cash, $36.3 million, is adequate in itself to pay off both all of the current liabilities of $30.9 million
and
the $4.8 million in long-term debt combined.
Thus, the Morningstar page looks attractive to me!
What about the chart? Taking a look at the
"Point & Figure" chart on Bentley from StockCharts.com
:
We can see that the stock actually appears to be trading weakly with a recent penetration of two year support levels. In general, I prefer to purchase shares on strength. I would like to see Bentley moving higher more convingly to suggest this would be a stock I would be buying at this time.

Finally, I had a letter from Allen T. who wrote today:
"Do you think OSK is ready to split again? or, is today's drop simple
"profit taking" ?"
Again, I do not personally own any shares of Oshkosh Truck, but my stock club did fortunately purchase some a year or so ago, and has done quite well with this company that manufactures fire trucks, garbage trucks, and military vehicles. I did not see any negative news on this company, so let's take a look at the chart. Here is a
"Point & Figure" chart on Oshkosh from StockCharts.com
: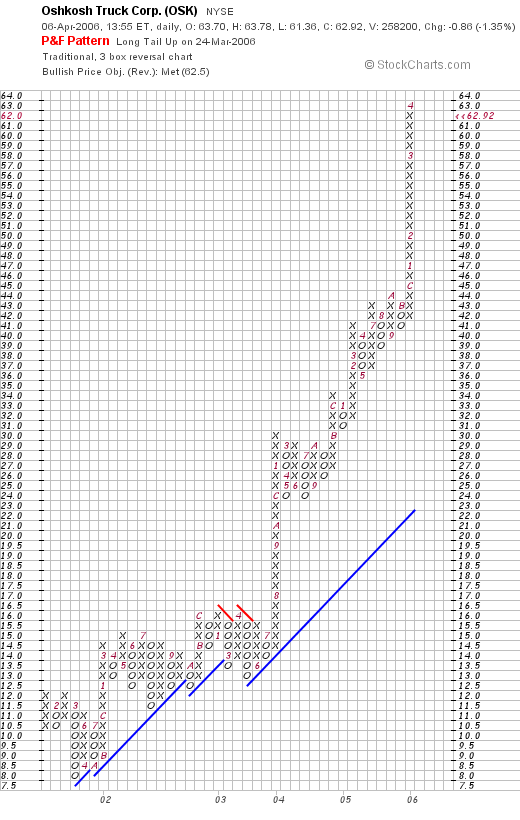 I would be hard-pressed to find any weakness at all in this stock chart. In fact, the rapid ascent in stock price means that the stock, one could say, really needs a bit of a rest, a pull-back, a bit of profit-taking, however you might put it, before moving higher once again. Without news, and in a stock that has risen dramatically the past year, I think you would be correct to call it "profit-taking". That doesn't mean you can't lose money on this stock over the short- or long-term. I just don't see anything fundamentally wrong with the company or the chart.

At least that's my amateur take on all of these questions!

Thank you all for writing and visiting here on the blog. I always hope that my words are helpful and that you might gain some additional understanding into stocks and investments after visiting here!

Bob