Healthways (HWAY) Weekend Trading Portfolio Analysis
Click HERE for my PODCAST ON HEALTHWAYS

Hello Friends! Thanks so much for stopping by and visiting my blog,
Stock Picks Bob's Advice
. As always, please remember that I am an amateur investor, so please remember to consult with your professional investment advisors prior to making any investment decisions based on information on this website.
One of my promises to all of you readers is to continue to share with you my actual trading portfolio and my analysis of the stocks that I actually hold. I do a lot of different things on this blog. Mostly, I am applying an investment strategy that I discuss throught this website, of selecting stocks with certain characteristics, and making decisions on when and how many shares to sell in each of my positionns, and how to shift back and forth between cash and equities.
Starting about six months ago, I started a weekly review of my actual holdings, going alphabetically through the list which currently consists of 21 positions. About a month ago, I realized that this review would be too frequent and thus decided to start reviewing my holdings every
other
weekend. Two weeks ago I
reviewed Hibbett (HIBB) on Stock Picks Bob's Advice
. This week I am up to "Healthways" (HWAY) which was renamed from the former American Healthways (AMHC).
I currently own 128 shares of Healthways which closed at $50.41 on 4/21/06. These shares were purchased 6/18/04, a little under two years ago, with a cost basis of $23.53. Thus, I have an unrealized gain of $26.88 or 114.2% on these shares.
I have sold portions of my holdings three times since my purchase: 75 shares sold 11/3/04 at a price of $32.65 (a 39% gain), 55 shares sold 4/25/05 at $39.69 (a 69% gain), and 42 shares sold 7/28/05 at $44.86 (a 91% gain). Thus, my fourth sale, which may be soon , should be at around a 120% gain level on the upside or 2.20 x $23.53 = $51.77. On the downside, I plan on selling all of my shares at the 50% of the highest sale point, which currently would work out to be at a 45% gain level (1/2 of 90%), or 1.45 x $23.53 = $34.12.
Well let's take a look at the stock today and see if it still deserves a place in my trading portfolio!
1. What does the company do?
According to the
Yahoo "Profile" on Healthways
, the company
"...provides health and care support programs and services in the United States. The company offers disease management and care enhancement services to health plans, the centers for Medicare and Medicaid Services, and hospitals, as well as wellness programs to health plans and employers in 50 states in the United States, the District of Columbia, Puerto Rico, and Guam."
2. How did they do in the latest quarter?
On March 20, 2006, Healthways
reported 2nd quarter 2006 results
. Revenue for the quarter ended February 28, 2006, increased 33% to $100,021,000 from $75,337,000 for the same quarter the prior year. Net income came in at $7.3 million or $.20/diluted share,
down
from $8.4 million or $.24/share in the same quarter the prior year. However, even though earnings were down year-over-year, the company
raised
guidance for both earnings and revenue for 2006. As they reported:
"Based on the Company's results for the second quarter and first six months of fiscal 2006, and its outlook for the remainder of the fiscal year, Healthways today raised its established guidance for fiscal 2006. The Company increased its guidance for revenues for fiscal 2006 to a range of $415 million to $435 million from the previous range of $412 million to $432 million, as a result of a $3 million increase in revenues expected to be produced by the MHS pilots. Because of the higher than anticipated participation rates in the MHS pilots, the Company expects fiscal 2006 revenues from these pilots to be in a range of $25 million to $28 million. The Company's guidance for revenues from its core commercial business remains unchanged at $390 million to $407 million. The Company's guidance does not include any revenues from international sources for fiscal 2006.

The Company's guidance for net income per diluted share for fiscal 2006 has been increased to a range of $1.16 to $1.19 from a range of $1.10 to $1.14, which includes the expected impact of the Company's LTI compensation program of $0.25 per diluted share. Excluding these costs, the Company's guidance for net income per diluted share for fiscal 2006 has been increased to a range of $1.41 to $1.44 from $1.34 to $1.38."
This raised guidance was enough to push the stock price higher!
3. What about longer-term results?
Reviewing the
Morningstar.com "5-Yr Restated" financials on HWAY
, we can see the steady picture of revenue growth from $75.1 million in 2001 to $312.5 million in 2005 and $331.9 million in the trailing twelve months (TTM).
Earnings have improved steadily except for the slight miss the latest quarter as noted above. Earnings have increased from $.11/share in 2001 to $.93/share in 2005 and dropped to $.89/share in the TTM. The company
has
increased its float slightly from 26 million shares in 2001 to 33 million in 2005 and 34 million in the TTM.
Free cash flow has been positive and basically growing with $11 million reported in 2003, $59 million in 2005 and $53 million in the TTM.
The balance sheet looks solid with $68.7 million in cash, enough to pay off both the $48.2 million in current liabilities and the $15.5 million in long-term liabilities combined. Insofar as the 'current ratio' is concerned, the company has $133.3 million in total current assetes (including the $64.6 million in other current assets), which when compared against the $48.2 million in current liabilities, yields a ratio of 2.77. Generally ratios over 1.5 are considered 'healthy'.
4. What about some valuation numbers on this company?
Examining the
Yahoo "Key Statistics" on Healthways
, we find first of all that this is a mid-cap stock with a market capitalization of $1.74 billion. The trailing p/e is quite rich at 59.31, and the forward p/e is a bit better at 34.06. The PEG is moderate at 1.50.
Reviewing the
Fidelity.com eresearch website
, we find that this company is in the "Specialized Health Services" industrial group. Even within this group, the company is richly valued with a Price/Sales ratio of 5.1, at the top of this group. Following HWAY is Lincare Holdings (LNCR) with a ratio of 3.3, United Surgical Partners (USPI) at 3.3, DaVita (DVA) at 2, Express Scripts (ESRX) at 0.8 and Caremark Rx. (CMX) at 0.6. Thus, by this ratio, this stock is also richly valued.
Going back to Yahoo, we find that there are 34.52 million shares outstanding with 32.88 million that float. Of these, 3.74 million shares are out short as of 3/10/06, representing 11.30% of the float or 20.2 trading days of volume. This is up from 3.54 million the prior month. Using my 3 day rule, this suggests that there are a LOT Of shares out short, and with any good news could develop into a short squeeze. On the other hand, these short-sellers may be looking at the same valuation richness I just reviewed and believe that the stock should be priced lower.
No cash dividends are reported, and the last stock split was a 2:1 split on December 22, 2003.
5. What about a chart?
Looking at a
"Point & Figure" chart on HWAY from StockCharts.com
, we can see that the company stock rose strongly in price from July, 2003, until October, 2005, when the stock broke through support, and then faltered once again in March, 2006. However, after the latest earnings report, the stock responded strongly and moved to new highs. The stock has pulled back slightly from its recent highs.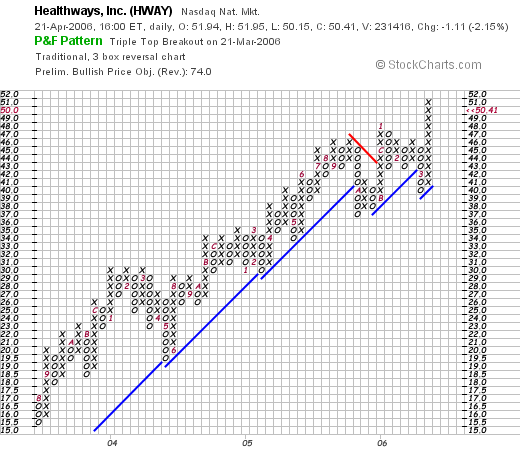 6. So what do I think?

This stock has been very kind to me, and recently was trading in what I could only describe as "tired". After the latest earnings report, the stock is alive once again as growth prospects have once again been rekindled. However, pricing is a bit rich with both the p/e and Price/Sales ratios at the high end of similar stocks. The large number of short sellers may well be helping propel the stock higher at this point as they scramble to cover. It will be interesting to see what the next month's short number show and if indeed some of these sellers have covered.

I do believe that intuitively this field of disease and healthcare management can only continue to be of great need as our society struggles with the growing healthcare needs of our aging population.

Thanks so much for stopping by! If you have any comments or questions, please feel free to leave them on the blog or email me at bobsadviceforstocks@lycos.com. Also, please come by and visit my Stock Picks Bob's Advice Podcast Site.

Bob
Posted by bobsadviceforstocks at 8:31 PM CDT |
Post Comment
|
Permalink
Updated: Sunday, 23 April 2006 12:57 AM CDT