AngioDynamics (ANGO) "Revisiting a Stock Pick"
Hello Friends! Thanks so much for stopping by and visiting my blog,
Stock Picks Bob's Advice
. As always, please remember that I am an amateur investor, so please remember to consult with your professional investment advisors prior to making any investment decisions based on information on this website.

Earlier today, as I noted in another post, I purchased 200 shares of AngioDynamics (ANGO) at $30.24/share. AngioDynamics (ANGO) closed at $2.91, up 10.33% on the day.
I recently had ANGO in my 'trading portfolio' and in fact,
reviewed AngioDynamics on Stock Picks Bob's Advice
on February 11, 2006, a little over two months ago.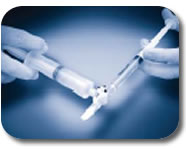 I purchased 240 shares of AngioDynamics at a cost of $26.26 on 1/6/06. These shares were sold on 3/2/06, last month (!), at a price of $23.46, for a loss of $(2.80) or (10.6)%. Showing up again on the list of top % gainers, and having a 'permission slip' to add a new position having sold 1/6th of my Ventana (VMSI) at a 90% gain, I decided to give ANGO another shot!
Let's review some of the latest information on this company and see if it is worth another purchase.
1. What does this company do?
According to the
Yahoo "Profile"on AngioDynamics
, the company
"...engages in the design, development, manufacture, and marketing of medical devices for the minimally invasive diagnosis and treatment of peripheral vascular disease. Its products include angiographic catheters, hemodialysis catheters, plasma thromboplastin antecedent dilation catheters, thrombolytic products, image-guided vascular access products, endovascular laser venous system products, and drainage products."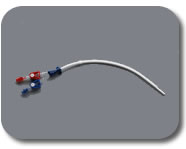 2. How did the company do in the latest quarter?
On March 21, 2006, AngioDynamics
reported 3rd quarter 2006 results
. For the quarter ended February 25, 2006, net sales increased 28% to $19.8 million, up from $15.5 million in the same quarter the prior year. Net income for the quarter was $1.9 million or $.14/diluted share, up 73% from $1.09 million the prior year and up 56% from the $.09/diluted share reported in the same quarter last year. To finish out what I call a "trifecta" in earnings reports, the company raised guidance stating:
"The Company is revising upwards its fiscal 2006 financial guidance. AngioDynamics now expects net sales growth to exceed 29% over fiscal 2005, to at least $78.0 million. Year-over-year net income growth is expected to exceed 60%, to $7.3 million, which includes an anticipated one-time charge totaling $400,000, net of income taxes, to be incurred in connection with the Company's requirement to comply by May 2006 with Section 404 of the Sarbanes-Oxley Act. This compares with the Company's prior guidance for net sales of at least $76.0 million, and net income of at least $6.7 million for fiscal 2006. The Company now expects its earnings per diluted share to increase to $0.57 for fiscal 2006, compared with its prior guidance of $0.52 per diluted share."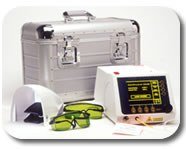 3. How about longer-term results?
Reviewing the
Morningstar.com "5-Yr Restated" financials on ANGO
, we see the steady progression in revenue from $23.4 million in 2001 to $60.3 million in 2005 and $72.2 million in the trailing twelve months (TTM). We have only two years of earnings to examine: the company reported $.37/share in 2005 and $.50/share in the TTM. Total shares were 12 million in 2005 and 13 million in the TTM.
Free cash flow is now positive and has been improving, with $(3) million in 2003, $1 million in 2004, $3 million in 2005 and the TTM.
The balance sheet is solid with $28.9 million in cash, enough by itself to pay off the combined $10.1 million in current liabilities and the $2.8 million in long-term liabilities more than 2x over. When combined with the $27.2 million in other current assets, the current ratio is calculated at 5.55. This looks solid to me!
4. How about some valuation numbers on this company?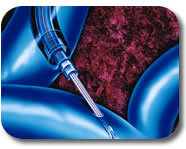 Looking through the
Yahoo "Key Statistics" on ANGO
, we find that this is a small cap stock with a market capitalization of only $388.50 million. The trailing p/e is rich at 61.52. The forward p/e (fye 28-May-07) is estimated at 41.43. However, with the rapid '5 yr expected' earnings growth, the PEG is a reasonable 1.39.
The company appears rather richly valued by Price/Sales ratio according to the
Fidelity.com eresearch website
. Fidelity reports AngioDynamics with the richest Price/Sales ratio in the group of "Medical Instruments/Supplies" industrial group. AngioDynamics (ANGO) leads the group with a Price/Sales ratio of 5.1. This is followed by Stryker (SYK) at 3.7, Boston Scientific (BSX) at 3.1, Becton Dickinson (BDX) at 2.9, Baxter (BAX) at 2.4, and Bausch & Lomb (BOL) at 1.2. Certainly, by this measure, ANGO is not a screaming bargain.
Referring back to Yahoo, we find that there are only 12.50 million shares of this company outstanding with 10.23 million that float. Of these shares, 187,230 or 1.60% of the float was out short as of 3/10/06, representing 2.4 trading days of volume (the short ratio). This does not appear to be much of a factor imho. No cash dividends and no stock dividends are reported on Yahoo.
5. What does the chart look like?
Looking at the
"Point & Figure" chart on AngioDynamics from StockCharts.com
:
We can see that the stock which was trading at $15/share in June, 2004, dropped to a low of $9.00/share in October, 2004, and since then, through fits and starts has been heading higher to the current $31.07 level. The chart looks strong to me but not over-extended.

6. Summary

So what do I think? Well, I liked this stock enough to take another position in this stock even after being stopped out last month at a loss! The latest quarter was very nice with the company even boosting guidance. The Morningstar record is also solid but there isn't a long record of increasing earnings as it appears that this company has not been public too long (a negative). However, revenue has been growing nicely, and whatever results on earnings shows steady growth. Free cash flow is now positive and growing and the balance sheet looks nice.

Valuation-wise, the p/e is rich although the PEG at under 1.5 isn't too bad. The Price/Sales ratio is also rich with the company at the top of its group. Finally, the chart looks nice.

I basically like this company that is doing just fine. Hopefully, the stock price will cooperate better allowing me to stay a little longer than last time!

Thanks so much for stopping by! If you have any comments or questions, please feel free to leave your comments on the blog or email me at bobsadviceforstocks@lycos.com. Also feel free to listen to my January 6, 2006 PODCAST on ANGO. Please excuse a few technical glitches on this early podcast of mine. For a list of all of my podcasts, be sure to come and visit my Stock Picks PODCAST Website.

I hope you all have a wonderful weekend!

Bob