Angiodynamics (ANGO) Weekend Trading Portfolio Analysis

Hello Friends! Thanks so much for stopping by and visiting my blog,
Stock Picks Bob's Advice
. As always, please remember that I am an amateur investor, so please remember to consult with your professional investment advisors prior to making any investment decisions based on information on this website.

I enjoy posting lots of stock market ideas on this blog. From these ideas I have built my own trading portfolio. About six months ago I started reviewing my positions which now number twenty-one. Two weeks ago I finished the list with
Ventana Medical Systems (VMSI)
. Having gotten to the end of the list, this week I am starting back at the top of the alphabet with AngioDynamics (ANGO).
I first
reviewed AngioDynamics on Stock Picks Bob's Advice
just last month on January 6, 2006 shortly after purchasing 240 shares at $26.22. ANGO closed 2/10/06 at $25.60, for a loss of $(.62) or (2.4)% since purchase. If the stock drops to an 8% loss or down to $24.12 or lower, I shall be selling my shares. On the other hand, if the stock appreciates 30% to my first 'sale target', or to $34.09, then I shall be selling a portion of my holdings at a gain.
Let's take another look at AngioDynamics and see if all of the reasons why I made the purchase are still intact.
First of all, the
Yahoo "Profile" explains the business
. The company
"...engages in the design, development, manufacture, and marketing of medical devices for the minimally invasive diagnosis and treatment of peripheral vascular disease. Its products include angiographic catheters, hemodialysis catheters, plasma thromboplastin antecedent dilation catheters, thrombolytic products, image-guided vascular access products, endovascular laser venous system products, and drainage products."
One of my key criteria for selecting stocks on this blog remains the latest quarterly report. I like to see growing earnings and revenue, and if the company can exceed expectations and/or raise guidance, that is all the better! On Decmber 19, 2005, ANGO
reported 2nd quarter 2006 results
. Net sales grew 30% to $18.7 million. Net income climbed 60% to $1.7 million or $.13/share. These were solid results that I reviewed previously on the original blog post.
Before "picking" a stock or even before purchasing a stock for my own portfolio, I like to see some consistency of financial results over the past several years. Looking at the
Morningstar.com "5-Yr Restated" financials on ANGO
, we can see the steady revenue growth from $23.4 million in 2001 to $60.3 million in 2005 and $63.6 million in the trailing twelve months (TTM).
Earnings are first reported in 2005 as $.37/share increasing to $.41/share in the TTM.
Free cash flow has been steadily improving from $(3) million in 2003 to $3 million in 2005 and $4 million in the TTM.
The balance sheet is gorgeous with $28.8 million in cash, enough to cover both the $6.4 million in current liabilities and the $2.9 million in long-term liabilities almost 3x over! In addition, the company has $22.2 million in other current assets.
And what about some "valuation" numbers? Looking at the
Yahoo "Key Statistics" on ANGO
, we can see that this is a Small-Cap stock with a market capitalization of $316.24 million. The trailing p/e is rich at 57.27, the forward p/e (fye 28-May-07) is estimated at 35.56, and the anticipated earnings growth is coming anticipated to be fast enough that the PEG is only 1.23. Generally under 1.5 on the PEG may be considered a good value.
According to the
Fidelity.com eResearch website
, AngioDynamics is moderately priced relative to its Price/Sales ratio in the group "Medical Instuments/Supplies". Topping this group is Alcon (ACL) with a Price/Sales ratio of 8.3, Guidant (GDT) at 6.8, then AngioDynamics (ANGO) at 4.9, Stryker (SYK) at 4.1, Boston Scientific (BSX) at 2.8 and Baxter (BAX) at the bottom of the list at 2.4.
Going back to Yahoo for some more numbers, AngioDynamics has 12.35 million shares outstanding with 10.11 million that float. Of these 207,380 shares are out short representing just 1 day of trading. No cash dividend and no stock dividend are reported.
What about the chart? Looking at the
"Point & Figure" chart on ANGO
: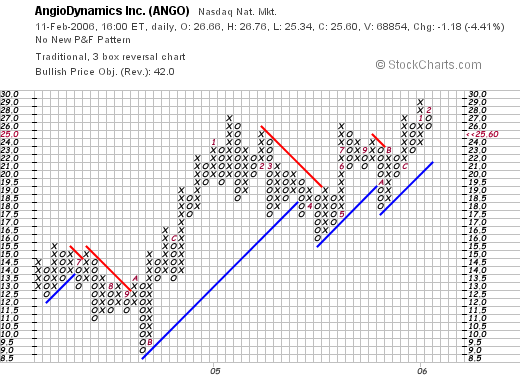 We can see that although I am personally down a little over 2% on my purchase, the chart on this stock appears intact with just a small retracement from its relatively steady upward move.

So what do I think? Well things still look strong to me. The latest quarterly report was solid, the Morningstar.com report looks very good, and valuation, although a bit rich, isn't bad with a PEG under 1.5. In addition the chart is solid. But rules are rules and if hits the 8% loss, out it goes!

Thanks again for stopping by! If you have any comments or questions, please feel free to leave them on the blog or email me at bobsadviceforstocks@lycos.com.

Bob