LoJack (LOJN) Revisiting a Stock Pick
Click HERE for my PODCAST on LoJack
Hello Friends! Thanks so much for stopping by and visiting my blog,
Stock Picks Bob's Advice
. As always, please remember that I am an amateur investor, so please remember to consult with your professional investment advisors prior to making any investment decisions based on information on this website.

I was reviewing the
list of top % gainers on the NASDAQ
today and came across Lojack (LOJN), an old favorite of mine, that is trading, as I write, at $23.51, up $1.50 or 6.82% on the day. I do not own any shares or options of this company.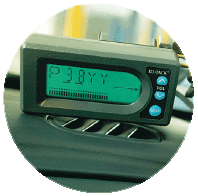 I first
posted LoJack on Stock Picks Bob's Advice
on April 13, 2005, when LOJN was trading at $13.94/share. With the stock currently trading at $23.51, the stock has gained $9.63 or 69.1% since posting this stock a little over a year ago!
Let's take another look at this company and I will show you why I think it deserves mention once again on this blog.
1. What does the company do?
According to the
Yahoo "Profile" on LoJack
, the company
"...together with its subsidiaries, provides technology products and services for the tracking and recovery of mobile assets worldwide. Its wireless network technology offers a means for the tracking and recovery of stolen vehicles, motorcycles, and construction equipment."
2. How did the company do on the latest quarterly report?
On February 21, 2006, LoJack
reported 4th quarter 2005 results
. For the quarter ended December 31, 2005, revenue climbed 17% to $45.4 million from $39.6 million in the same quarter last year. Net income did even better, growing 62% to $5.02 million or $.25/diluted share, up from $3.1 million or $.18/diluted share in the year-ago same period.
3. How has the company done 'longer-term'?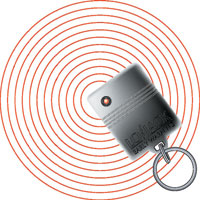 Looking at the
"5-Yr Restated" financials on LOJN from Morningstar.com
, we find that revenue growth has been very steady with $96 million reported in 2001 growing to $191 million in 2005. Earnings have been a bit more erratic, dropping from $.45/share in 2001 to $.12/share in 2002. However, since 2002, growth has once again been steady with increases to $.96/share in 2005. The company has increased the number of shares outstanding from 16 million in 2001 to 18 milion in 2005 and 19 million in the trailing twelve months (TTM). Free cash flow has also been positive and growing with $5 million in 2003, $8 million in 2004 and $18 million in 2005.
The balance sheet looks healthy with $47.6 million in cash and $63.8 million in other current assets. When these are compared against the $44.1 million in current liabilities, we can derive a current ratio of just over 2.5. The company also has another $43.5 million in long-term liabilities.
4. How about some valuation numbers on this company?
Reviewing
Yahoo "Key Statistics" on LoJack
, we can see that this is a small cap stock with a market capitalization of $447.9 million. The trailing p/e isn't too bad at 24.46 and the forward p/e (fye 31-Dec-07) is even nicer at 18.81. We don't have a PEG on this company.
According to the
Fidelity.com eresearch website
, LoJack is in the "Security/Protection Services" industrial group. Within this particular group, the Price/Sales ratio is relatively rich for LOJN at 2.2, the highest in its group. this is followed by Armor Holdings (AH) with a Price/Sales ratio of 1.3, Checkpoint Systems (CKP) with a ratio of 1.3, Brinks (BCO) with a ratio of 0.6, and Compudyne (CDCY) at 0.4.
Finishing up with Yahoo, we find that there are 19.05 million shares outstanding with 18.36 million that float. As of 4/10/06, there were 877,800 shares out short, representing 4.80% of the float or 3 trading days of volume.
5. What does the chart look like?
Reviewing the
"Point & Figure" chart on LOJN from StockCharts.com
, we can see that the stock which traded lower from $7.50 in February, 2001, to a low of $3.50 in June, 2002, literally hit a 'triple bottom', and in August, 2003, broke into new high territory at around $7.50 again, and since that time has been trading steadily higher to the current level of $23.56. This chart looks quite strong to me!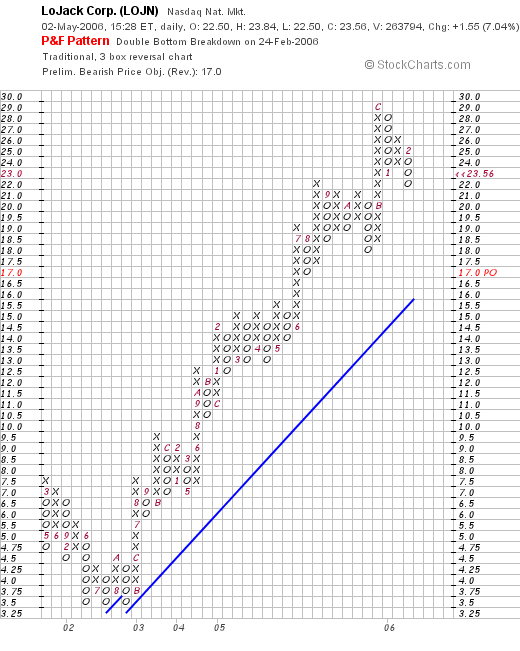 6. Summary

So what do I think? The stock moved higher today with the initiation of analyst coverage at J.P. Morgan at "overweight". The last quarter was strong. The five year Morningstar report also looks nice with steady revenue growth and almost as steady earnings improvement. Free cash flow is positive and growing and the balance sheet is solid. Valuation-wise, the p/e is a tad rich and the Price/Sales ratio is also no bargain, being at the top of its group. Finally the chart looks very strong.

I like this stock not so much for the business it is in, the story behind the company, but rather for the consistency of its results. This imho is the best reflection of good management.

Thanks again for visiting! If you have any comments or questions, please feel free to email me at bobsadviceforstocks@lycos.com or just leave them here on the blog. Also, be sure to visit my Stock Picks Bob's Advice Podcast Site.

Bob














Posted by bobsadviceforstocks at 3:33 PM CDT |
Post Comment
|
Permalink
Updated: Tuesday, 2 May 2006 9:57 PM CDT