CNS, Inc. (CNXS) Revisiting a Stock Pick
Hello Friends! Thanks so much for stopping by and visiting my blog,
Stock Picks Bob's Advice
. As always, please remember that I am an amateur investor, so please remember to consult with your professional investment advisors prior to making any investment decisions based on information on this website.

Yesterday I had a "permission slip" generated when I sold a portion of my ResMed (RMD) at a gain. Thus, being under my 25 position portfolio maximum, I looked through the
list of top % gainers on the NASDAQ
and came across CNS (CNXS) which was having a great day, and actually closed at $24.14, up $2.65 or 12.33% on the day. Earlier in the day I purchased 240 shares for $24.395. I moved my portfolio up to 23 positions, two under the maximum.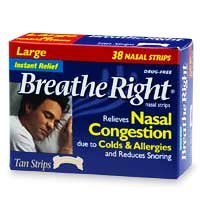 CNS is what I call an "old favorite" of mine, meaning I have previously written up this stock on the blog. On April 29, 2005, almost exactly one year ago, I
wrote up CNS on Stock Picks Bob's Advice
when it was trading at $18.09. With yesterday's close at $24.14, this stock has appreciated $6.05 or 33.4% since posting.
Let's take an updated look at this company so I can explain why I picked this stock to purchase in my trading portfolio!
1. What does this company do?
According to the
Yahoo "Profile" on CNS Inc.
, the company
"...engages in developing and marketing consumer health care products, including Breathe Right branded products focused on better breathing and FiberChoice branded products focused on digestive health."
(Does anyone else see the irony of selling shares in a company treating sleep apnea machines, and buying shares in a company that makes nasal strips and sprays to treat snoring?)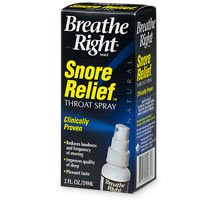 2. How about their latest quarterly result?
In fact, it was the
announcement of 4th quarter 2006 results
Thursday, after the close of trading, that pushed the stock higher on Friday! As reported:
"Net sales for the fourth quarter of fiscal 2006 were $32.1 million, up 13% compared to $28.4 million in the same period last year. Net income for the fourth quarter grew 14% to $4.7 million, or $0.32 per diluted share, compared to $4.1 million, or $0.28 per diluted share, for the fourth quarter of fiscal 2005."
As an added plus, the company boosted the quarterly dividend 17% from $.06/share to $.07/ share for shareholders of record as of May 26, 2006.
3. What about longer-term results?
Regular readers of this blog will know that this is my critical part of an assessment of a stock. Consistent good results = quality. At least that is my perspective!
Reviewing the
"5-Yr Restated" financials from Morningstar.com
, there is a gap for the 2002 results (? changing fiscal years?), but the company had revenue of $84 million in 2001, dropping to $79 million in 2003, but then increasing steadily to $94 million in 2005 and $109 million in the trailing twelve months (TTM).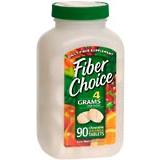 Likewise, earnings which were $.01/share in 2001, climbed to $.46/share in 2003, $.59/share in 2004, $.93/share in 2005 and $1.11/share in the TTM.
The company initiated dividends in 2004 at $.12/share and has raised dividends each year since. The number of shares outstanding has remained stable at 14 million.
Free cash flow, while a bit erratic, has been positive with $19 million in free cash flow in 2003, $15 million in 2005, and $13 million in the TTM.
The balance sheet is quite solid imho, with $59.7 million in cash alone, enough to cover the $18.3 million in current liabilities more than 3x over. Added to the $29.1 million in other current assets, the current ratio works out to 4.9. (over 1.5 is generally considered 'healthy'). Morningstar shows NO long-term liabilities at all!
4. What about some valuation numbers on this company?
Looking at
Yahoo "Key Statistics" on CNS
, we see that this is a small cap stock with a market capitalization of $341.92 million. The trailing p/e is a very moderate 21.81, with a forward p/e (fye 31-Mar-07) estimated at 18.86. Thus, the PEG (5 yr expected) is quite nice at 1.16.
According to the
Fidelity.com "eresearch" website
, CNXS is in the "Medical Appliances/Equipment" industrial group, and its Price/Sales ratio of 3.3 places it on the low side with St. Jude (STJ) topping the list at 5.1, Zimmer (ZMH) at 4.6, Biomet (BMET) at 4.5, followed by CNXS at 3.3, Edwards Lifesciences (EW) at 2.8.
Yahoo reports 14.16 million shares outstanding with 12.98 million that float. Interestingly, as of 4/10/06 there were 1.77 million shares out short representing 11.60% of the float or 12 trading days of volume (the short ratio). With the sharp rise yesterday on good earnings results, we may have been observing a bit of a squeeze on the short-sellers scrambling to cover their bet against the company.
As already noted, the company pays a dividend of $.28/share with a forward estimated yield of 1.3%. According to Yahoo, the last stock split was a 2:1 split on June 23, 1995.
5. What does the chart look like?
Looking at the
"Point & Figure" chart on CNXS from StockCharts.com
, we can see the stock consolidating between $4.75 and $3.00 between February, 2001, and September, 2001. In December, 2001, the stock broke through resistance at $4.75 and has been moving higher since. Recently the stock has pulled back from the $31 level, dropping to the $20 level. However, the stock appears well above support levels and does not appear to have broken down in terms of price momentum.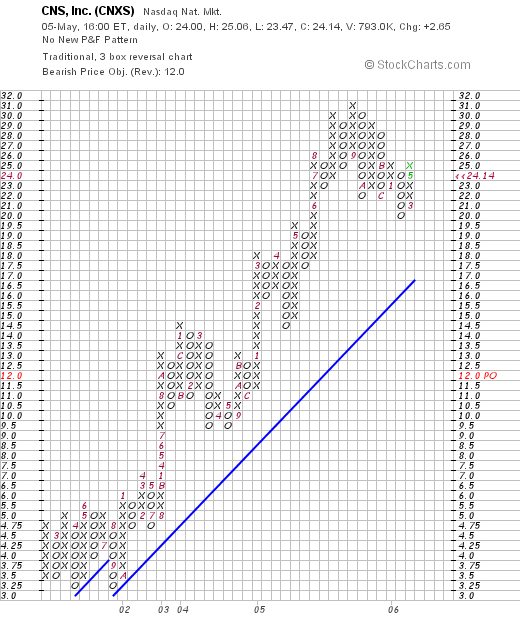 6. Summary: What do I think?

Let's try to put this all together. First of all, I do own some shares (as of yesterday) of this stock. But I first wrote this one up a year ago and it subsequently appreciated 30% in price. The stock made a good move yesterday on a solid earnings report. Nothing spectacular but just the usual steady earnings growth, steady revenue growth, and an added plus of a raised dividend. The past several years have also seen steady growth.

The valuation is quite reasonable with a p/e at 21 with a PEG just over 1.1. The Price/Sales ratio isn't too rich on what appears to be a rather arbitrary group assignment. The company is generating free cash and has a beautiful balance sheet with lots of cash and NO long-term debt. The company even pays a dividend and is raising it as well. The chart looks pretty strong. And there are lots of short-sellers that need to cover if the stock continues to move higher.

On the downside this may be a "two-hit wonder" with just two main products, the nasal strips and the fiber tablets. However, the products are well-regarded and the management appears able to continue to manage these assets in a productive fashion.

I like the stock enough to buy it :).

Thanks so much for stopping by and visiting! If you have any questions or comments, please feel free to leave them on the blog or email me at bobsadviceforstocks@lycos.com. Please be sure to come and visit my Stock Picks Bob's Advice Podcast Site where you can hear me discuss more about many of the same stocks in the blog!

Bob