Gildan Activewear (GIL) "Revisiting a Stock Pick"
CLICK HERE FOR MY PODCAST ON GILDAN
Hello Friends! Thanks so much for stopping by and visiting my blog,
Stock Picks Bob's Advice
. As always, please remember that I am an amateur investor, so please remember to consult with your professional investment advisors prior to making any investment decisions based on information on this website.

It is great to be back blogging after a few days off. Nothing much has happened to my trading portfolio. The market seems to be bouncing around in here looking for some support. Hopefully, the stock continues to move higher from this level.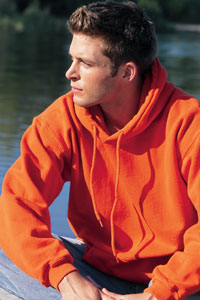 Looking through the
list of top % gainers on the NYSE today
, I came across an old favorite of mine, Gildan Activewear (GIL), which as I write is trading at $41.65, up $3.05 or 7.90% on the day. I do not own any shares or have any options in this stock.
I first
posted Gildan on Stock Picks Bob's Advice
on December 2, 2004, when the stock was trading at $32.65. GIL had a 2:1 stock split on June 1, 2005, making my effective stock pick price actually $16.33. With the stock currently trading at $41.65, this represents a gain of $25.32 since my original post or 155.1%! (It's too bad that I
didn't
buy any shares of this one!)
Let's take a closer look at this stock and I will show you why it still deserves a spot on this blog.
1. What does the company do?
As
described in the Yahoo "Profile"
, the company
"...engages in the manufacture and marketing of basic activewear for sale principally into the wholesale imprinted activewear market in Canada, the United States, Europe, and Asia/Pacific. The company manufactures and sells 100% cotton t-shirts and 50% cotton/50% polyester t-shirts, placket collar sport shirts, and fleece products in various weights, sizes, colors, and styles. It also sells its products as 'blanks', which are decorated with designs and logos for sale to end users."
2. Is there any news to explain today's move?
In a
news story
today (6/20/06), the company reported an acquisition of Kentucky Derby Hosiery, a U.S. hosiery manufacturer based in Hopkinsville, Kentucky. As the report noted:
"Based on Kentucky Derby's current level of profitability, the acquisition will initially be neither accretive nor dilutive to Gildan's earnings. However, once the integration of Kentucky Derby is complete, Gildan currently expects the acquisition to enhance annual E.P.S. by approximately U.S. $0.30. Gildan plans to undertake the integration process during fiscal 2007 and 2008."
On top of this acquisition, the company
raised
guidance for its third fiscal quarter, and indicated it should achieve or exceed analyst consensus of $.67. Previously, the company had guided at $.63/share. They also raised guidance for the full 2006 fiscal year to $2.00/share, up from $1.96 previously estimated. Both the acquisition, which was thought to be
accretive
for the company's finances and the overall raised guidance was enough to push the stock higher today.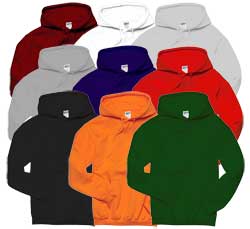 3. How about the latest earnings results?
Last month, on May 4, 2006, Gildan
reported 2nd quarter 2006 results
. For the quarter ended April 2, 2006, Gildan reported net earnings of $31.0 million and diluted eps of $.51/share, with net earnings up 40.3% and eps climbing 37.8% from the $22.1 million and $.37/diluted share reported in the second quarter of fiscal 2005. Sales for the quarter increased 11.2% to $183.8 million, from $165.3 million in the same quarter last year.
Importantly, this $.51/share reported, exceeded previous company guidance of $.45/share. At the same time, the company raised guidance for the full fiscal year to $1.96/share, up from $1.90/share of previous guidance. (As I wrote above, this month, the company went ahead and raised guidance again to $2.00/share for the fiscal year.)
Thus, with this report, the company did what I call a "trifecta-plus", that is, they reported increased earnings and revenue, beat expectations, and raised guidance!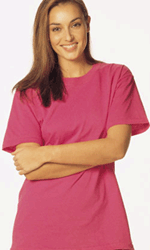 4. What about longer-term results?
For this information, let's review the
Morningstar.com "5-Yr Restated" financials
. Starting out with revenue, the bar-graphs show a perfect picture of steady revenue growth from $330.4 million in 2001 to $653.9 million in 2005.
Earnings have increased steadily from $.01/share in 2001 to $1.01 in 2004 and $1.43/share in 2005. The company has slowly increased the float from 53 million shares in 2001 to 60 million in 2005. This is a 14% increase in shares accompanied by an almost 100% increase in revenue from 2001 and an almost 100% increase in earnings from 2002. In other words, while I would prefer to see shares not increasing, if the company can increase its revenue and earnings many times faster than the increase in shares, I can handle it!
And the free cash flow? Unfortunately, I don't see these numbers on Morningstar.com. However, if we look at the balance sheet, we can see that the company has $69.8 million in cash and $258.0 million in other current assets, giving them a total of $327.8 million in total current assets. When compared to the $112.9 million in current liabilities, this results in a current ratio of 2.90. In addition, the company has $64.1 million in long-term liabilities.
5. What about some valuation numbers?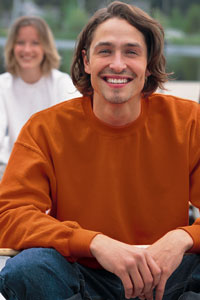 Reviewing
Yahoo "Key Statistics" on Gildan
, we can see that this is a mid-cap stock with a market capitalization of $2.52 billion. The trailing p/e is a moderate 23.08 with a forward p/e of 16.61. Utilizing the 5-yr expected earnings, gives us a PEG of only 0.81.
Using the
Fidelity.com eresearch website
, we can see that within the industrial group of "Textile-Apparel Clothing", Gildan is richly priced with a Price/Sales ratio of 3.4. This is the top of the group and is followed by Bebe Stores (BEBE) with a Price/Sales ratio of BEBE. Next is Guess? (GES) at 1.9, Columbia Sportswear (COLM) at 1.4, Quiksilver (ZQK) at 0.8, and Hot Topic at 0.7.
In terms of profitability, Gildan is at the tops of its group with a Return on Equity (ROE) of 25.7%. This is followed by Guess? (GES) at 24.3%, Bebe (BEBE) at 19.9%, Columbia (COLM) at 17.5%, Quiksilver (ZQK) at 10.8%, and Hot Topic (HOTT) at 7.9%. Thus, while valuation is rich by Price/Sales ratios, profitability is also tops in its group.
Finishing up the data from Yahoo, we find that there are 60.07 million shares outstanding, with 311,030 shares out short as of May 10, 2006. This represents 1.7 trading days of volume and doesn't seem significant to me. As noted earlier, the company last split June 1, 2005, when they declared a 2:1 split.
6. What does the chart look like?
Looking at a
Gildan "Point & Figure" chart from Stockcharts.com
: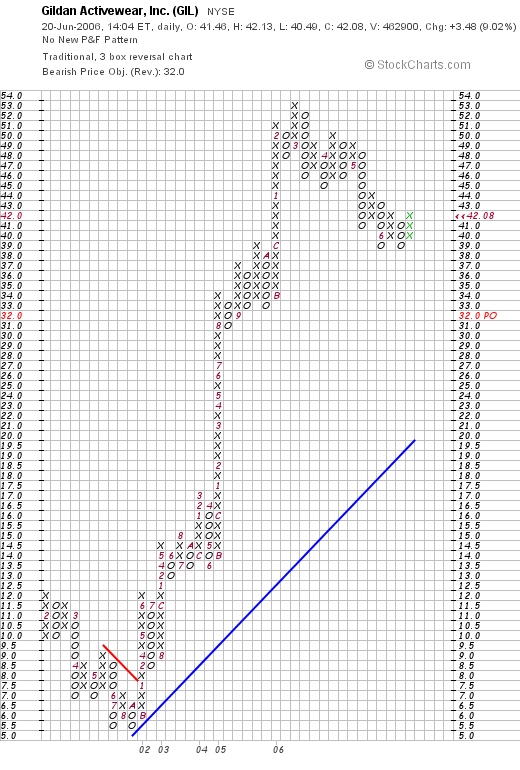 We can see the initial decline in stock price from $12.00 in February, 2001, to a low of $5.50 in September, 2001. Since then, the stock has climbed sharply to a level of $53 in March, 2006. The stock has retreated to the current levels around $39, and appears to be moving higher once again. The graph appears to be consolidating at this level, but the strong upward move does not appear to be reversed.

7. Summary: What do I think?

Let's review some of the data that I have been reviewing from this company. First of all, the company announced that earnings should be higher than expected today and that they are acquiring a hosiery manufacturing company to add to their line of merchandise. This acquisition was also estimated to be additive (or accretive) to the financial picture. The last quarter was quite strong (and the company also raised guidance at that time), and the past five years also have been good for GIL. Unfortunately, Morningstar.com doesn't report the free cash flow, but with the solid balance sheet, this doesn't appear to be a problem.

The company valuation-wise looks nice from the perspective of a P/E under the growth rate (with a PEG under 1.0). However, the Price/Sales is a bit rich within its industrial group, although the profitability puts the company at the top of similar companies--again suggesting reasonable valuation.

Finally the chart looks nice.

So in summary, I like this company. I don't know much about the Tee-shirt and sweatshirt business. However, this company appears well run and is doing quite well.

Thanks so much for visiting! If you have any comments or questions, you can leave your comments on the blog or email me at bobsadviceforstocks@lycos.com.

Please also be sure to visit my Stock Picks Bob's Advice Podcast Site.

Bob
Posted by bobsadviceforstocks at 1:37 PM CDT |
Post Comment
|
Permalink
Updated: Tuesday, 20 June 2006 2:55 PM CDT