"Revisiting a Stock Pick" inVentiv Health (VTIV)
CLICK HERE FOR THE INVENTIV PODCAST
Hello Friends! Thanks so much for stopping by and visiting my blog, Stock Picks Bob's Advice. As always, please remember that I am an amateur investor, so please remember to consult with your professional investment advisors prior to making any investment decisions based on information on this website.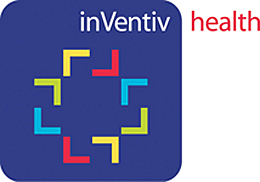 I was looking through the list of top % gainers this evening and I came across an old favorite of mine inVentiv Health (VTIV) that had traded strongly higher today, in fact closing at $29.88, up $2.89 or 10.71% on the day in an otherwise weak stock market. I do not personally own any shares of this stock but my son does own 40 shares of VTIV in an account that I manage for him. This company, which used to be called Ventiv Health, formally changed its name to inVentiv Health (VTIV), a act approved by shareholders on June 16, 2006.
I first posted Ventiv Health on Stock Picks Bob's Advice exactly one year ago on August 8, 2005, when the stock was trading at $24.19. With today's close at $29.88, this represents an appreciation of $5.69 or 23.5% since posting. Let's take another look at this stock and I will try to share with you my thoughts why this company deserves a spot on this blog.
First of all, what they do?
According to the Yahoo "Profile" on inVentiv, the company:
"...provides commercialization services to the pharmaceutical and life sciences industries in the United States and internationally. It operates through three segments: inVentiv Clinical, inVentiv Communications, and inVentiv Commercial."
And how about the latest quarterly report?
Actually, it was the earnings report announced just before the opening of trading that pushed the stock higher today. This morning, VTIV announced 2nd quarter 2006 results. For the three months ended June 30, 2006, total revenue increased 39% to $183.0 million in the second quarter of 2006 compared to $131.8 million for the same quarter in 2005. Net income increased 100% from $10.5 million to $21 million this year. Net income increased almost 100% to $.69/share, up sharply from $.38/diluted share the prior year. Also adding to the bullish sentiment on the stock was the announcement today of a multiyear contract with Novartis pharmaceuticals Corp. All-in-all a very nice day for this company!
How about longer-term results?
For this, the Morningstar.com "5-Yr Restated" financials report on VTIV is most helpful. On this page, we can see that revenue results, which first declined from $294.8 million in 2001 to $215.4 million in 2002, has since been increasing steadily to $556.3 million in 2005 and $609.1 million in the trailing twelve months (TTM).
Earnings, which were at a loss of $(2.58) in 2001, improved to $.35/share in 2002, then dipped to $.24/share in 2003. However, since 2003, earnings have climbed strongly to $1.56/share in 2005 and $1.57/share in the TTM. The latest quarter just commented on continues this strong growth record.
The company has increased its shares slightly from 23 million in 2001 to 27 million in 2005 and 29 million in the trailing twelve months.
Free cash flow has been improving steadily the past few years from $13 million in 2003 to $49 million in 2005 and $68 million in the TTM.
Looking at the balance sheet as reported on Morningstar.com, we find VTIV with $43.9 million in cash and $172.5 million in other current assets. This combined $216.4 million, when compared to the $127.4 million in current liabilities yields a current ratio of 1.7. In addition, the company $205.4 million in long-term liabilities. While the level of liabilities appears manageable imho, there are stronger balance sheets on the stocks we have reviewed elsewhere. However, with the growing free cash flow, this really doesn't seem to be a problem for this company.
What about some valuation numbers?
Reviewing the Yahoo "Key Statistics" on VTIV, we find that the company is a small mid-cap stock with a market capitalization of only $871.24 million. The trailing p/e is a very reasonable 19.06 imho, with a forward p/e (fye 31-Dec-07) of only 17.79. The PEG ratio (5 yr expected) is reported at 1.27.
According to the Fidelity.com eresearch website, VTIV is in the "Management Services" industrial group. Within this group, VTIV has a reasonable Price/Sales ratio of only 1.3. Topping this group is Ceridian (CEN) with a Price/Sales ratio of 2.3. This is followed by Heidrick & Struggle (HSII) at 1.5, Accenture (ACN) at 1.4 and then inVentiv at 1.3. Companies with lower Price/Sales ratio than Ventiv include Hewitt Associates (HEW) at 0.8, and Bearing Point (BE) at 0.5.
inVentiv is also one of the most profitable (as measured by the higher return on equity) stocks in this group with a ROE of 18%. Topping the group is Accenture at 62.2%. After inVentiv is Heidrick & Struggle at 16.9%, Ceridian at 10.9%, Hewit Associates at 10.3% and Bearing Point at a negative (53.7)%.
Returning to Yahoo, we see that there are 29.16 million shares outstanding with only 27.50 million that float. Currently there are 1.91 million shares out short (as of 7/11/06), representing 7% of the float or 8.9 trading days of volume. With today's excellent earnings report, the large number of shares out short (greater than my own 3 day short interest rule), this may well have been a bit of a squeeze on all those shorts scrambling to cover their pre-sold shares with new purchases of this stock! Just a thought :).
No cash dividend is paid and no stock split is reported on Yahoo.
What does the chart look like?
If we take a look at the "Point & Figure" chart on VTIV from StockCharts.com, we can see that the chart, which was declining though 2001 and 2002, turned around in 2003 and moved sharply higher. This coincides with the turn-around in earnings which once again emphasizes the close relationship between earnings performance and stock price imho. Since breaking through resistance in September, 2003, at $8.00/share, the stock has been trading very steadily higher to its current level around $29.88, a little below its recent high of $33 made in March, 2006.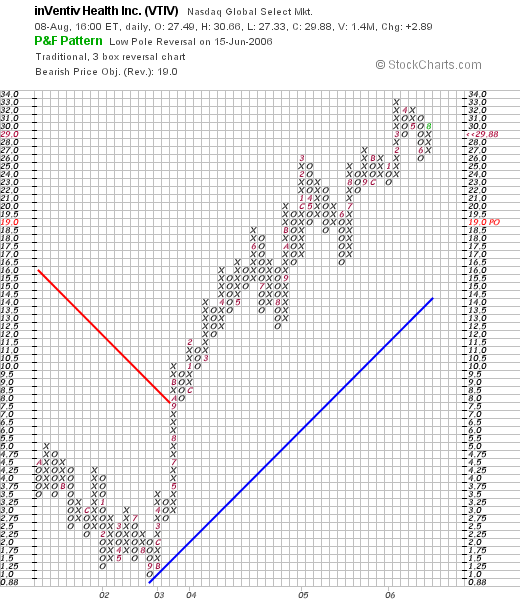 Summary: 'So what do I think about this stock?'
Let's review some of the things I have discussed in this blog entry. First of all, the stock moved higher today in an otherwise anemic trading day. A plus. The company did this on a strong earnings report and the announcement of a multiyear contract with Novartis. Both pieces of good news.
Longer-term, the Morningstar.com "5-Yr Restated" financials look strong with steady five year revenue and earnings growth (except a dip 3 or 4 years ago). Earnings have been expanding strongly the past several years as well. The company is releasing a few shares the past few years, but certainly the financial reports have been staying ahead of the expanded float. Free cash flow is positive and growing strongly. The balance sheet is adequate if not fabulous.
Finally, valuation is reasonable with a p/e in the teens, a PEG just over 1.2, and a relatively reasonable Price/Sales ratio with a strong ROE.
In addition, the graph shows a strong upward movement to the stock price. Helping this along today appears to be a relatively large short interest of investors betting against this company.
In conclusion, I like this stock. I am not in the market to be purchasing any but I have bought just a few shares for my son this past year. Thanks so much for stopping by and visiting my blog! If you have any comments or questions, please feel free to leave them on the blog or email me at bobsadviceforstocks@lycos.com. Also, please remember to drop by and visit my Stock Picks Bob's Advice podcast site, where you can hear me drone on and on, if reading me wasn't enough. jk.
Bob

Posted by bobsadviceforstocks at 8:54 PM CDT |
Post Comment
|
Permalink
Updated: Tuesday, 8 August 2006 10:17 PM CDT