Johnson Controls (JCI) "Revisiting a Stock Pick"
Hello Friends! Thanks so much for stopping by and visiting my blog, Stock Picks Bob's Advice! As always, please remember that I am an amateur investor, so please remember to consult with your professional investment advisors prior to making any investment decisions based on information on this website.

I was looking through the list of top % gainers on the NYSE and was pleased to see one of my old favorites on the list, Johnson Controls (JCI). Johnson Controls closed at $86.50, up $3.06 or 3.67% on the day. My wife has some shares of JCI in her IRA and my son has some shares of JCI in his account. I do not own any shares or options of Johnson Controls.
I write that this is an 'old favorite' because I have reviewed this stock previously on the blog. In fact, I first discussed JCI on Stock Picks Bob's Advice on July 9, 2004, when the stock was trading at $53.24. With today's stock close at $86.50, this represents a gain of $33.26 or 62.5% since posting.
I next "revisited" Johnson Controls on October 12, 2005, when the stock was trading at $63.60. Again, using today's closing price of $86.50, this still represents an increase of $22.90 or 36.0% since it was re-posted just over a year ago.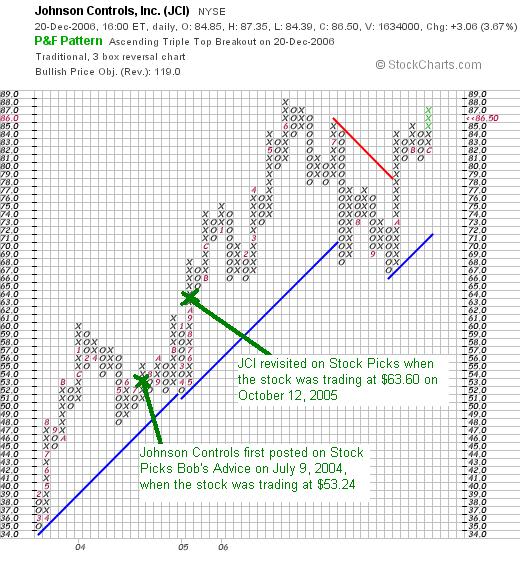 Let's take another look at this stock and I will try to share with you my thinking about why this stock may have been such a strong 'stock pick' here on the blog and why it still deserves a spot in my "vocabulary" of investment candidates.
What exactly does this company do?
According to the Yahoo "Profile" on Johnson Controls (JCI) the company

"...is an interior experience, building efficiency, and power solutions company. It operates in three segments: Building Efficiency, Automotive Experience, and Power Solutions."
How did they do in the latest reported quarter?
On October 25, 2006, Johnson Controls reported its 4th quarter 2006 results. For the three months ended September 30, 2006, sales totaled $8.2 billion, up 18% from $6.9 billion in the same quarter in 2005. Net income was $360 million, up strongly from $283 million in the same quarter last year. The company came in at $1.82/diluted share, up from $1.45/diluted share last year. The company actually missed expectations of $1.85/share on sales of $8.21 billion. On November 15, 2006, the company announced an 18% hike in its annual dividend to $.33/share, with an indicated annual rate of $1.32/share for 2007. This is the company's 32nd consecutive year of dividend increases!
What about longer-term results?
Reviewing the Morningstar.com "5-Yr Restated" financials on JCI, we see a steady picture of revenue growth from $17.4 billion in 2001 to $27.5 billion in 2005, and $31 billion in the trailing twelve months (TTM).

Earnings during this period have steadily increased from $2.52/share in 2001 to $3.90/share in 2005 and $4.90/share in the TTM.

Also, as noted above, the company pays a dividend and has been steadily increasing it! They paid $.62/share in 2001, increasing it annually to $1.00/share in 2005 and $1.09/share in the TTM.

The company has been issuing a few shares with 176 million shares outstanding in 2001, increasing to 192 million in 2005 and 196 million the TTM. This slightly greater than 10% increase in shares has been accompanied by an almost doubling of revenue and earnings. From my perspective, whenever a company can grow its revenue and earnings far faster than a small increase in shares, I can overlook this dilution.

Free cash flow has been strongly positive but slightly erratic with $205 million in 2003, $520 million in 2004, $263 million in 2005 and $572 million in the TTM.

The balance sheet is adequate, although a tad heavy on debt compared to some other stocks on this blog. They are reported to have $380 million in cash and $8,964 million in other current assets. The combined current assets of $9,344 million, when compared with the $8,683 million in current liabilities yields an adequate if tad anemic current ratio of 1.08. In addition, the company has $6,464 million in long-term liabilities.
What about some valuation numbers?
Checking the numbers on Yahoo "Key Statistics" on JCI, we find that this is a large cap stock with a market capitalization of $16.94 billion. The trailing p/e is a reasonable 16.54, with a forward p/e (fye 30-Sep-08) estimated at 12.39. The growth is estimated to continue strong as demonstrated by the '5 yr expected' PEG at 0.89. Stocks with PEGS beetween 1.0 and 1.5 are reasonable imho. Those under 1.0 are downright 'cheap'.

According to the Fidelity.com eresearch website, the Price/Sales (TTM) ratio for JCI is a cheap 0.51, compared to an industry average of 7.31. This puts the company at the 54th percentile in its industrial group in regards to its richness in valuation per this particular criterion.

Looking at the Return on Equity (TTM), we find that once again JCI exceeds its peers with a ROE of 15.42%, compared to an industry average of (64.05)%, putting JCI at the 72nd percentile in its industrial group.

Thus, the company is relatively cheap while relatively more profitable than comparable companies in its group.

Finishing up with Yahoo, we can see that there are 195.79 million shares outstanding with 194.85 million that float. As of 11/10/06, there were 1.89 million shares of JCI out short, representing 1% of the float or 1.9 trading days of volume (the short ratio). This is not very significant relative to my own '3 day rule' of short interest.

As I noted earlier, the company is paying a nice $1.32/share in dividends going forward with a forward yield of 1.60%. The last stock split was a 2:1 split that was paid out in January, 2004.
What does the chart look like?
If we examine a "Point & Figure" chart on Johnson Controls from StockCharts.com (see chart above), we can see that the stock, which was trading as low as $35 in March, 2003, moved sharply higher, to peak at $88 in June, 2006. The stock has corrected recently down to the $67 level, but now appears to have broken through resistance and is moving towards its previous record high. The stock looks strong to me!
Summary: What do I think?
Unfortunately, even though this is the third time I have reviewed this stock, and I have put a few shares in my wife's IRA, and even a smaller amound in my son's account, I still do not own any shares of this great WISCONSIN firm! (You know how loyal I am to these Badger State companies!). They moved higher today in a weak market. They reported superb earnings (although they did miss expectations by a cent or two). The Morningstar.com report is gorgeous with a steady growth in earnings, revenue and nice free cash flow.

The company does have some debt but this doens't appear to be a problem. Valuation-wise, the PEG is under 1.0, and the Price/Sales is cheap for its group, while the company is also profitable relative to other similar companies. On the downside is the fact that much of the company's business is tied up with the auto industry. However, on the upside, Johnson Controls is working on the increasingly popular hybrid auto business. While not requiring even the payment of dividends to find a stock suitable, this is an added plus, and the steady increase (32 years!) of dividends is quite impressive and another attraction to other investors.
Thanks again for stopping by and visiting! If you have any comments or questions, please feel free to leave them on the blog or email me at bobsadviceforstocks@lycos.com. Also, be sure and visit my Stock Picks Podcast Site where I discuss some of the stocks and issues I discuss here on the blog! Have a great week trading and a healthy and happy holiday season!
Bob