Synovis Life Technologies Inc. (SYNO) "Long-Term Review #9"

Hello Friends! Thanks so much for stopping by and visiting my blog, Stock Picks Bob's Advice! As always, please remember that I am an amateur investor, so please remember to consult with your professional investment advisers prior to making any investment decisions based on information on this website.
I had a little time this evening to do another one of those 'long-term' reviews on this blog. If you don't realize it, this blog had its first entry back on May 12, 2003, over four years ago and over 1,500 entries ago as well!
So many of those early posts are easily forgotten (and I wish I could forget more than a few of those!). But there are lessons to be learned from the first entries I made on this website as I was just developing my investing strategy and the investment rules were just forming.
As an exercise in this, I have been trying, from time to time, to go back to the beginning--so to speak--and see what happened to the stocks discussed early on. Last week, on August 5, 2007, I reviewed my stock pick #8, Home Depot (HD) which was first posted on May 20, 2003. The next pick was on May 21, 2003, when I discussed Synovis Life Technology (SYNO) on Stock Picks Bob's Advice.
On that date I wrote:
"May 21, 2003

Synovis Life Technology (SYNO)


The market cannot make up its mind today about direction. Appears to need to correct after its fairly good run-up the last two months.

Was checking the CNN-money list of most ups this morning....almost noon here at 11:55 am.....and thought we wouldn't find any candidates for our list. Came across this Synovis Life Technology stock....have never heard of it before....not exactly Peter Lynch investing....and it fits the bill.

SYNO is trading currently at $14.39 up $.94 (or 6.99%) Volume running at 184,572. Stock is SMALL with a market cap of $139.3 million...and only 9.683 million shares outstanding.

What moved the stock today is an outstanding earnings report which showed a 61% growth in Revenue and 63% increase in net income for the second fiscal quarter....not too shabby!

The net revenue increased to $15.3 million in the second quarter of fiscal 2003 from $9.5 million last year per the New York Times report of earnings today.

By the way the company "manufactures medical devices used in cardiac, brain, lung, and other surgeries. Its products include vascular grafts, patching materials, blood-flow interruptors, and vascular probes." That is per Morningstar.com.

Looking at the 5 year growth in revenue we see revenue of 12.0 million in 1998, 19.1 million in 1999, 22.1 million in 2000, 28.5 million in 2001 and 40.0 million in 2002. Extrapolating from the second quarter without acceleration we can anticipate a $60.0 million revenue in 2003.

There appears to be an ACCELERATION of this growth recently (!)....last four quarters before the reported quarter above...show 27.32%, 32.55%, 49.88%, and 48.07% increases in revenue year over year....free cash flow is positive by $1 million....and current assets are over $20 milllion with no long term debt and current liabilities at only $5.8 million.

This is a BEAUTIFUL stock. I don't own a share, never heard of it before scanning the lists today....but might just buy some shares in the future. Great luck investing! Bob"
Let's take a closer look at Synovis and see whether it deserves to be actively considered on this blog!

Synovis (SYNO) closed at $12.32 on August 10, 2007, for a net loss of $(2.07) or (14.4)% since posting.

On May 30, 2007, Synovis announced 2nd quarter 2007 results. Revenue increased 11% to $16.6 million and earnings turned around for a profit of $759,000 or $.06/diluted share, improved from a net loss of $(475,000) or $(.04)/share the prior year.
Longer-term results as reported on Morningstar.com are less satisfactory with revenue peaking at $60.3 million in 2005, then dipping to $55.8 million in 2006 and only increasing to $56.7 million in the TTM.
Earnings have gone nowhere with $.50/share reported in 2003, dipping to $.10/share in 2004 and 2005, then back to a loss of $(.10)/share in 2006 and up to $.10/share in the TTM.
Free cash flow has improved from $2 million in 2005 and $2 million in 2006 to $3 million in the TTM.
The balance sheet is solid with a current ratio of 11!
Let's take a look at the "Point & Figure" chart on SYNO from StockCharts.com. Here we can see that the stock moved sharply higher after being picked on the blog. However, in September, 2003, after bumping twice into the $32 level, the stock turned lower, finally bottoming twice at the $7 level, first in August, 2004, then again in October, 2006, before breaking through resistance and moving higher. Recently the stock has been under pressure with the turbulence in the market, but has not broken down from its short-term move higher.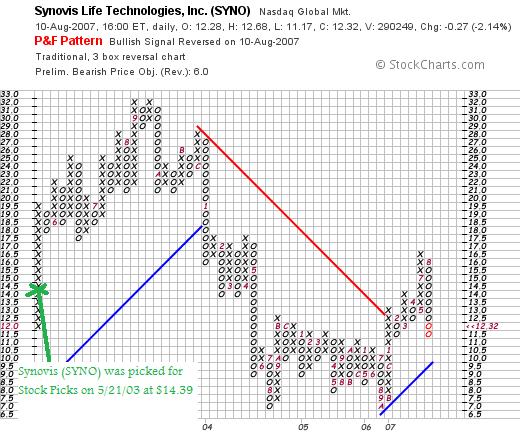 With the satisfactory quarterly report, but the spotty Morningstar.com report with decent news just over the past 12 or so months, and a chart that only short-term looks encouraging, the best I can do is to decide that
SYNOVIS LIFE TECHNOLOGIES (SYNO) IS RATED A HOLD
Thanks so much for stopping by and visiting my blog! I hope that this week finds the markets trading a little less wildly, and that reason and calmness returns to your trading and your lives.
Have a good week my friends!
Bob