Dicks Sporting Goods (DKS) "Long-Term Review #11"

Hello Friends! Thanks so much for stopping by and visiting my blog, Stock Picks Bob's Advice! As always, please remember that I am an amateur investor, so please remember to consult with your professional investment advisers prior to making any investment decisions based on information on this website.
For those of you who may be new to this blog, I try to accomplish many different task. For me, I use this blog to refine my own thinking and develop my own discipline in investing, including buying and selling stocks, and managing my own trading portfolio. I write about individual equities that I find attractive, share with you thoughts on portfolio management, and also write about my own stock portfolio, letting you know what I own, when I buy and sell stocks, and why I do what I do!
This blog dates back to May 12, 2003, when I first posted about St Jude Medical. Since that time, I have made nearly 1,600 entries about stocks, stock trades, and investing philosophy. I hope that you take the time to look through these entries and you can find links to them along the left side of each page on my blog linked to by date. I know that there isn't a very good index system at all here. In fact, when I go to look for my own entries I find myself using Google, and will find a past stock pick, such as Dicks by searching the terms "Stock Picks Bob's Advice" Dicks Sporting Goods. In that way, you will find most of my entries as well as related entries such as my Podcast and websites that carry my blog or podcasts as well. It does get very confusing sometimes :).
With the large number of stocks I have discussed on this blog, some time back I decided to do my "Looking Back One Year" reviews which now are reviewing stocks from about 18 months earlier. However, that still leaves an older bunch of stock picks that should be revisited. For this I started the Long-Term Review entry, and try, as often as I can get a chance, to go sequentially through my older entries. As you can see, I am just up to #11, Dicks Sporting Goods. On August 18, 2007, I reviewed New Century Financial; let's take a look at a more successful stock pick, Dick Sporting Goods, that I originally wrote up on May 22, 2003.
On that date I wrote:
"May 22, 2003

Dicks Sporting Goods (DKS)


When the market is strong, more of our kind of stocks come to the fore. Is that a proper word? Anyhow, DKS is a relatively recent issue...came public recently. I do NOT own any shares of this anywhere....I do have a managed account that COULD own shares of anything....but don't own this one.

DKS is trading today (10:04 am) and $29.75, up $1.62 or a 5.76% rise. The graph is beautiful...and appears to have come public in mid-October, 2002. Stock has moved up fairly steadily from about $14 to its current price of $29.75.

They are making an additional move today as they announced that they will discuss their first quarter 2003 results today after the close of the market. It appears that the 'street' thinks that there will be positive comments made.

For the last quarter ending 2/1/03, revenues rose 18% to 1.27 Billion. Net income rose 63% to $38.3 Million. This was due to solid increased comparable store sales and the opening of seven new stores. I believe the same store sales were up in the 5% range.

Looking at Morningstar we see sequential annual revenue growth from 0.6 billion in 1998, $0.6 billion in 1999, 0.7 billion in 2000, $0.9 billion in 2001, and $1.1 billion in 2002. Unfortunately, Morningstar suggests that the company is still burning through some cash and is $20 million NEGATIVE cash flow the trailing twelve months.

Anyhow, that is it for pick #2 today. Good luck and remember those 8% stops and when things get good, peel a little off each 50% gain....Bob"

This was probably one of my best stock picks from those early days in the blog. Dicks had a 2:1 stock split on April 6, 2004, making my effective stock pick price actually $14.88. DKS closed at $64.90 on August 31, 2007, giving that pick (I do not own any shares of DKS) a gain of $50.02 or 336.2% since posting!
DICKS SPORTING GOODS (DKS) IS RATED A BUY
Let's take a look at a few of the things I like to review on stocks in the blog.
Is there any recent news that could affect the stock price?
Dicks is also a favorite of Motley Fool and they did a nice write-up recently on August 22, 2007.

Ryan Fuhrmann commented:
"The strong third quarter last year is expected to lead to a dip in earnings for the coming quarter, but that is not likely to qualify as a near-term hiccup. That's because Dick's is rarely caught by surprise and has informed investors of what they can expect for the balance of fiscal 2007. For the full year, it is calling for 23% earnings growth, and fiscal 2008 will bring further Golf Galaxy integration upside, as well as the customary new store openings.

With only 315 namesake stores and 77 Golf Galaxy stores, Dick's has plenty of room to expand. Management plans to grow its store base 15% annually until it reaches 800 stores, implying at least another five years of expansion before any significant market-saturation concerns. Growth investors are likely salivating at these prospects."
I always like writing up a stock that is also liked by as reputable a group of investment writers as the folks at Motley Fool. Sometimes I think my approach is a bit of a cross between the CAN SLIM approach and the Motley Fool philosophy. In any case, they like the stock as well.
What about the latest quarter?
On August 21, 2007, Dick's Sporting Goods reported 2nd quarter 2007 results. Net sales for the quarter increased 38% to $1.01 billion. More importantly, same store sales for the quarter increased 7.2% (or 5.8% adjusting for a changed retail calendar). Net income grew 87% to $47.9 million and earnings per diluted share were up 77% to $.83 vs $25.7 million or $.47/diluted share the prior year.

The company beat expectations of analysts which had been on average expecting earnings of $.76/share. In addition, the company raised guidance for the full year from $2.40/share to a new estimate of $2.47 to $2.50/share.

It is difficult to read a better earnings report in which strong growth in earnings and revenue is reported, with solid same-store-sales numbers, and raised guidance.
What about longer-term results?
Reviewing the Morningstar.com "5-Yr Restated" financials on DKS, we can see that the revenue growth has been steady the last five years, earnings growth uninterrupted, and while shares have modestly increased from 35 million to 52 million beetween 2003 and 2007, during this time revenue has more than doubled as has earnings. This is acceptable to me.

Free cash flow is positive and recently growing and the balance sheet looks solid.
What about a chart?
Looking at the "point and figure" chart from StockCharts.com, we can see that the steady appreciation in stock price has been almost without break since 2002. Really an extremely strong pattern imho.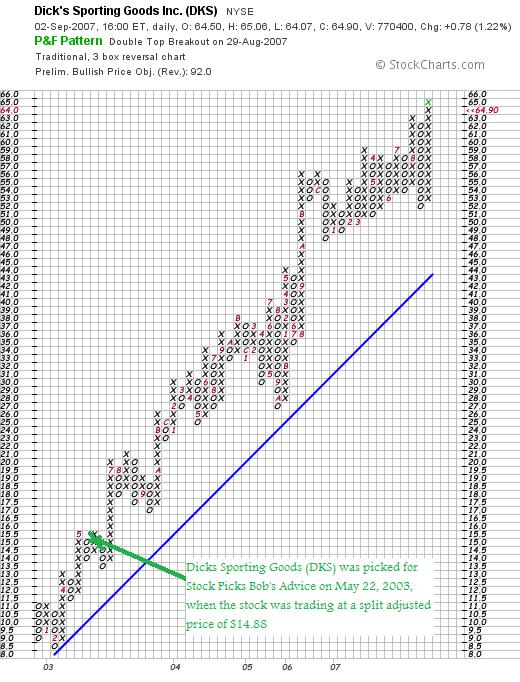 Summary: What do I think?
This has been a phenomenal stock pick from 2003! My biggest mistake is now owning shares! Anyhow, the company just reported earnings which beat expectations and they raised guidance. The Morningstar report appears intact and the chart is incredible.
Thanks again for visiting! If you have any comments or questions, please feel free to leave them on the blog or email me at bobsadviceforstocks@lycos.com. Have a great weekend everyone!
Bob
Posted by bobsadviceforstocks at 12:17 PM CDT |
Post Comment
|
Permalink
Updated: Sunday, 2 September 2007 12:33 PM CDT