Cerner Corp. (CERN) "Weekend Trading Portfolio Analysis"

Hello Friends! Thanks so much for stopping by and visiting my blog, Stock Picks Bob's Advice! As always, please remember that I am an amateur investor, so please remember to consult with your professional investment advisers prior to making any investment decisions based on information on this website.
As one of my weekend tasks, I try to examine one of my actual holdings every few weeks. Going alphabetically through the list of what is now 15 holdings, I am up to my holding in Cerner (CERN). Two weeks ago I reviewed my holdings in Bolt (BTJ). Let's review my experience with CERN and see if it still deserves a spot in my blog as well as a holding in my Trading Portfolio!
Currently I own 120 shares of Cerner which were acquired 2/2/07 at a cost basis of $49.76. I have not sold any shares from my original purchase. Cerner closed at $57.04 on August 31, 2007. This represents a gain of $7.28 or 14.6% since my purchase of these shares.
At what price would I sell shares?
There are always at least two situations in which I will sell my shares. That is if they appreciate on the upside to a targeted level then I plan on selling 1/7th of my shares. On the downside, if they hit a targeted depreciation level, then I plan on selling all of my shares. Since I have not sold shares yet, my first sale on the upside would be at a 30% appreciation level at which time I would sell 1/7th of my 120 shares or 17 shares if the stock hits 1.3 x $49.76 = $64.69. On the downside, again since I have yet to sell any shares on the upside, my 8% loss limit still applies, meaning that if the stock should decline to .92 x $49.76 = $45.78, then all of my 120 shares would be sold.

As is my plan, sales on the upside are signals to add new positions assuming under the maximum number of positions planned; sales on the downside direct me to 'sit on my hands' with the proceeds.
How did they do in the latest quarter?
On July 24, 2007, Cerner announced 2nd quarter 2007 results. Revenue came in at $386.6 million, up from $330.6 million last year. Earnings were $31.1 million or $.37/share, up 30% from $23.9 million or $.29/share last year. "Adjusted" per share earnings came in at $.41 vs $.33/share last year.

The company met expectations on earnings at $.41/share. They exceeded analysts' expectations of revenue of $376 million.

In addition, the company raised its guidance for 2007 from $1.72/share on revenue of $1.54 to $1.57 billion up to $1.72 to $1.73/share on revenue of $1.55 to $1.57 billion. This is in line with analysts' expectations of earnings of $1.73/share on revenue of $1.56 billion.
What about longer-term results?
Reviewing the Morningstar.com "5-Yr Restated" financials on CERN, we find that the steady revenue growth from $.8 billion in 2002 to $1.4 billion in 2006 and $1.5 billion in the trailing twelve months (TTM) remains uninterrupted. Earnings have continued to steadily increase except for a dip in 2003, from $.70/share in 2002 (to $.60/share in 2003), $.90/share in 2004, $1.30/share in 2006 and $1.50/share in the TTM.

Free cash flow is positive albeit not especially growing at $112 million in 2004, $101 million in 2006 and $62 million in the TTM.

The balance sheet on Morningstar.com is solid with a current ratio over 2.0.
What does the chart look like?
Looking at a "point & figure" chart on Cerner from StockCharts.com, we can see a beautiful graph of Cerner stock which dipped from $19.50 in January, 2003, to a low of $8.50 in April, 2003, before breaking through resistance at $17.50 and moving steadily higher since that time.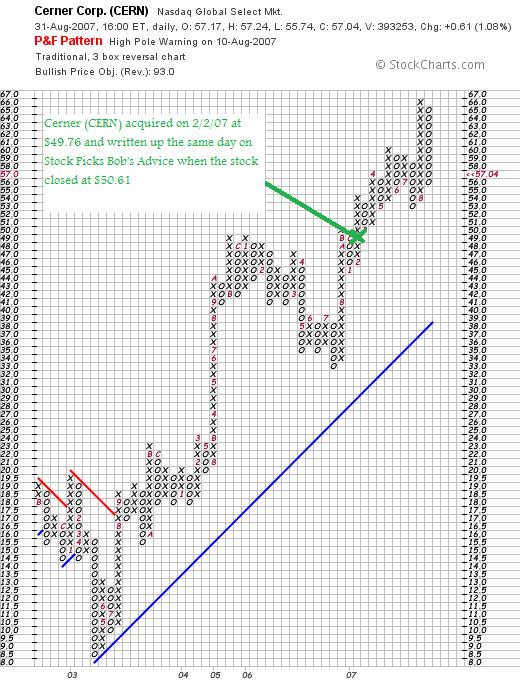 In light of the solid earnings report, the continued strength in the Morningstar.com evaluation, and the chart staying well above support levels,
CERNER (CERN) IS RATED A BUY
Summary: What do I think?
Well, as the last note above recorded, I am still impressed with the consistency of this company, the steady revenue and earnings growth, the solid Morningstar.com financials and the strong chart. I am happy to be owning this stock but of course shall be following my own sell strategy as this stock either continues to climb or corrects!
Thanks again for stopping by and visiting! If you have any comments or questions please feel free to leave them on the blog or email me at bobsadviceforstocks@lycos.com. If you get a chance, be sure and visit my Stock Picks Podcast Website, my Covestor page where my trading portfolio is reviewed, and my SocialPicks page where all of my "picks" are reviewed since January, 2007.
Have a great Labor Day everyone!
Bob