Bolt Technology (BTJ) "Weekend Trading Portfolio Analysis"

Hello Friends! Thanks so much for stopping by and visiting my blog, Stock Picks Bob's Advice! As always, please remember that I am an amater investor, so please remember to consult with your professional investment advisers prior to making any investment decisions based on information on this website.
One of my weekend assignments on this blog is to update my trading portfolio. This blog serves several simultaneous tasks. I try to post as many stock market ideas as possible, I discuss my own stock holdings which I call my "Trading Portfolio", and I spend time suggesting and exploring portfolio management strategy. I hope that all of this is useful for all of you. If any of you have any comments or questions, I am always interested in reading them as comments on the blog or you can email me at bobsadviceforstocks@lycos.com.
Currently I am at 16 positions, down from my maximum of 20, yet well above my minimum of 5. I have been trying to review a holding every two or three weeks so that it takes close to a year to get through the list. Going alphabetically, following Baldor (BEZ), a stock I no longer own and that I reviewed on August 5, 2007, I am up to Bolt Technology (BTJ).

I first reviewed Bolt (BTJ) on Stock Picks Bob's Advice on January 19, 2006, when the stock was trading at $17.86. Currently I own 129 shares of Bolt (BTJ) which were purchased 1/12/07 with a cost basis of $17.44. Bolt closed on August 17, 2007, at $39.45, for an unrealized gain of $22.01 or 126.2% since purchase. I have sold portions of Bolt five times, at 30, 60, 90, 120, and 180% levels of appreciation.
On the upside, I would plan on selling 1/7th or 129/7 = 18 shares if the stock should appreciate to a 240% appreciation level or 3.40 x $17.44 = $59.30. On the downside, with the latest sale at a 180% appreciation level, I am planning on selling all remaining shares should the stock decline to a 90% appreciation point (1/2 the highest appreciation target at which the stock has been sold), or 1.90 x $17.44 = $33.06. You can see that this particular stock is closer to a sale on the downside rather than near the upside target at least for now.
Let's take a look at the 'point and figure' chart on Bolt (BTJ) from StockCharts.com: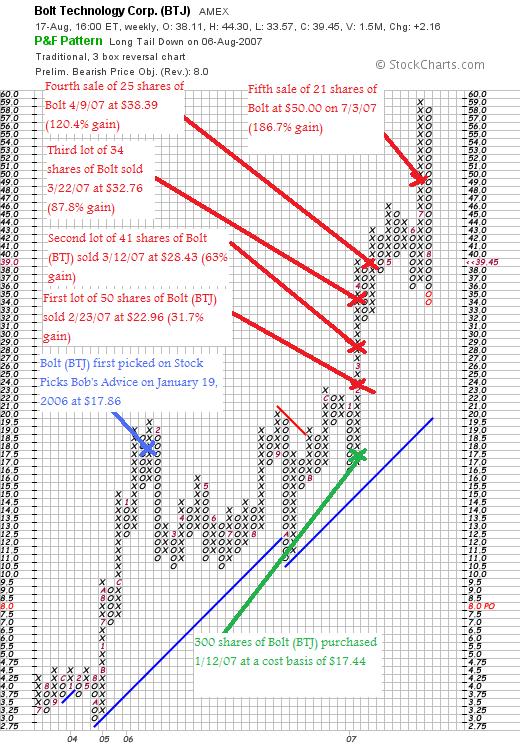 The upward move of Bolt (BTJ) has not quite broken down but the stock is indeed coming close to a sale according to my own trading strategy.

The latest earnings report that I could locate was the 3rd quarter 2007 results which were reported on April 25, 2007, and are available on the Bolt website. For the quarter ended March 31, 2007, revenue increased 51% to $12.7 million from $8.4 million last year. Net income increased 118% to $2.85 million or $.50/diluted share, up sharply from the $1.3 million or $.23/diluted share reported in the prior year. As is often the case, the year-end and 4th quarter often take a bit longer than the 3 month interval we normally expect on quarterly reports. However, I would expect that these results would soon be forthcoming.
Finally, the Morningstar.com "5-Yr Restated" on Bolt is intact with steady revenue growth, earnings growth, and stable outstanding shares. Free cash flow is positive and increasing, and the balance sheet is solid.
With the solid earnings report, a chart that while showing some recent volatility is still showing an intact upwards move, and a solid Morningstar report,
BOLT (BTJ) IS RATED A BUY
Thanks again for visiting my blog! If you have any comments or questions, please feel free to leave them on the blog or email me at bobsadviceforstocks@lycos.com. If you get a chance, be sure and visit my Covestor page where my current Trading Portfolio is analyzed and monitored. Also, be sure and visit my SocialPicks page where all of my picks are reviewed and analyzed as well. If you still have time after all of that, consider listening to a podcast or two on my Stock Picks Podcast Website.
Phew....that's a mouthful of stuff to do!
Good luck next week in the market. Let's find out if the Fed's action has staying power and if the market can hold on to Friday's gains. Just like an increase in the Fed rate, a cut in the rates may well lead to another!
Bob