Wolverine World Wide (WWW) "Weekend Trading Portfolio Analysis

Hello Friends! Thanks so much for stopping by and visiting my blog, Stock Picks Bob's Advice! As always, please remember that I am an amater investor, so please remember to consult with your professional investment advisers prior to making any investment decisions based on information on this website.
As one of the things I like to do to share with all of my readers what I am thinking about investments, I have chosen to share with all of you my actual trading portfolio and my actual trades. On weekends, I have been trying to go through each of my now 19 positions, and update you as I once again review some of the basic fundamental information about each of these stocks.
On June 17, 2007, I wrote up my holding Ventana Medical Systems (VMSI), which I recently sold after a 25 point rise after Roche announced a bid for the stock. Going alphabetically, I am now back to the bottom of my list with Wolverine World Wide (WWW).
WWW is an old favorite of mine. I first wrote up Wolverine when the stock was trading at $28.90 (or actually $19.27 when adjusted for a 3:2 stock split February 2, 2005) on October 6, 2004. I "revisited" Wolverine on April 19, 2006, when the stock was trading at $23.91.

Currently, I own 200 shares of Wolverine World Wide (WWW) in my trading account that have a basis of $23.55, purchased on 4/19/06. WWW closed at $28.51 on July 6, 2007, for an unrealized gain of $4.96 or 21.1% on these shares. On January 31, 2007, I sold 40 shares of my 240 original shares (1/6th of the holding) at $30.57 for a gain of $7.02 or 29.8%.
I am now trying to sell 1/7th of my holdings at appreciation targets, not 1/6th as I did with Wolverine, and would plan on the upside of selling 1/7th of my 200 shares or 28 shares if the stock should reach a 60% gain or 1.6 x $23.55 = $37.68. On the downside, after a single sale at a 30% gain, my sale point would be at break-even or $23.55.
First, let's take a look at the "point & figure" chart on Wolverine World Wide from StockCharts.com: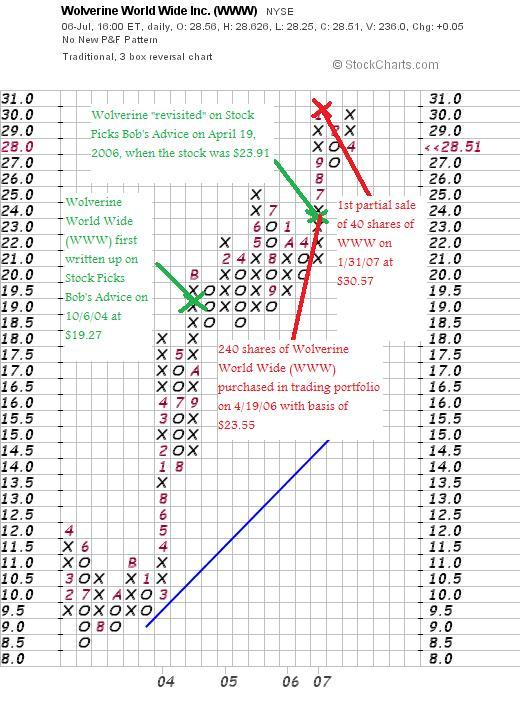 Let's take another brief look at WWW and see if it deserves a spot on the blog!

On April 18, 2007, Wolverine World Wide (WWW) announced 1st quarter 2007 results. Revenue totalled $281.1 million, up 6.9% over last year's first quarter revenue of $262.8 million. First quarter earnings per share climbed 14.7% to $.39/share, up from $.34/share. Net earnings were $22.3 million, up from $19.6 million last year.
In light of the solid quarter, the upping of guidance at that time, the strong price chart, the impressive Morningstar.com "5-Yr restated" financials which show steady revenue, earnings, and dividend growth. Stable outstanding shares. Solid free cash flow, and a solid balance sheet.
WOLVERINE WORLD WIDE (WWW) IS RATED A BUY
Thanks so much for stopping by and visiting my blog! If you have any comments or questions, please feel free to leave them on the blog or email me at bobsadviceforstocks@lycos.com.
Bob